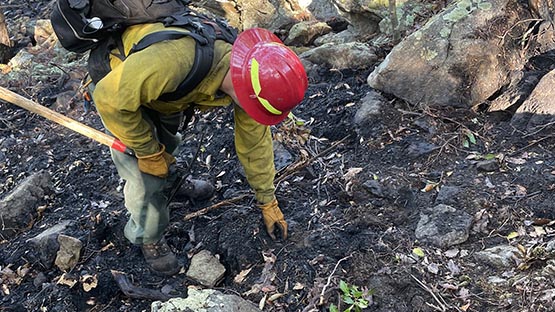 The Virginia Department of Environmental Quality has issued a Code Red Air Quality Action Day for Fine Particulates for much of Virginia through midnight tonight.
Augusta, Clarke, Frederick, Page, Rockingham, Shenandoah and Warren counties are included in the code red area.
An Air Quality Action Day means that fine particulate concentrations within the region may approach or exceed unhealthy standards.
For more information, visit www.deq.virginia.gov
Related stories
Smoke in region due to shift in wind, active wildfires throughout Virginia
Forest Service announces temporary closure of portions of Blue Ridge Parkway due to fire
Matts Creek fire disrupts visitation to James River Face Wilderness trails
Fire Marshal: Burn ban issued in City of Waynesboro 'until further notice'
Staunton Fire & Rescue issues citywide burn ban due to drought conditions
George Washington & Jefferson National Forest issues Stage 1 fire restriction order
Lack of rain fueling wildfires throughout Virginia; all outdoor burning should be delayed
Burn ban: Open burning prohibited in Augusta County for next 60 days
Blue Ridge Parkway bans backcountry campfires due to increased fire risk
Shenandoah National Park closes Rapidan camp area, trails due to wildfire
State of emergency: Virginia governor to deploy resources to assist with wildfires
Rockbridge County issues open-air burn ban to prevent spread of wildfires
Albemarle County issues burn advisory due to moderate drought conditions
Shenandoah National Park imposes fire ban; crews dedicated to Quaker Run fire