Our Team
Contact Us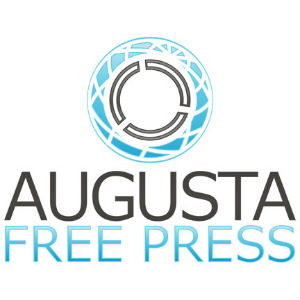 Augusta Free Press LLC
Founded in 2002
200 S. Wayne Ave. #1193
Waynesboro, Va. 22980
Phone: 540.949.6574
Fax: 866.295.8799
Email: chris@augustafreepress.com
About AugustaFreePress.com
The Augusta Free Press launched on July 2, 2002. The site serves as a portal into life in the Shenandoah Valley and Central Virginia – in a region encompassing Augusta County, Albemarle County and Nelson County and the cities of Charlottesville, Staunton and Waynesboro, at the entrance to the Blue Ridge Parkway, Skyline Drive, Shenandoah National Park and the Appalachian Trail.
PRINT MAGAZINE ARCHIVES: Read past issues of the award-winning AFP: The Magazine, New Dominion Magazine and New Dominion Tourist Magazine.
Chris Graham, President and Editor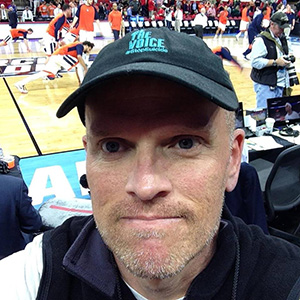 Chris Graham, the editor of AugustaFreePress.com, an award-winning journalist and editor, is a 1994 graduate of the University of Virginia, and has covered Virginia politics since 1997.
An author of seven books, Chris co-wrote Team of Destiny: Inside Virginia Basketball's Run to the 2019 National Championship, published in 2019, and also co-wrote a book on the history of University of Virginia basketball, Mad About U: Four Decades of Basketball at University Hall, which was published in 2006.
Chris has covered University of Virginia sports since 1995, and is a commentator on ESPN3 college football and baseball broadcasts.
This fall, Chris will serve as the play-by-play voice on radio broadcasts for VMI football, marking his fifth season as a broadcaster for Keydets' radio broadcasts.
He is a member of the Football Writers Assocation of America, the U.S. Basketball Writers Association and the National Collegiate Baseball Writers Association.
From 2009-2014, Chris was the play-by-play voice of the Waynesboro Generals, a team competing in the Valley Baseball League, a premier college summer baseball league affiliated with Major League Baseball and the NCAA.
The former co-host of ACC Nation, a syndicated radio show that ran for four years, ending in 2007, Chris is currently a contributor to The Mark Moses Show on 95.9-The Fan in Melbourne, Fla.
Chris also served as a member of the creative team and on-air TV commentator for Awesome Wrestling Entertainment on AWE's Night of the Legends live pay-per-view event in 2011.
Chris wrote a book on that experience, The Worst Wrestling Pay-Per-View Ever, that was published in 2018.
He is also the former co-host of "Viewpoints" on WVPT, a weekly news affairs TV show that aired from 2016-2017.
Crystal Abbe Graham, Vice President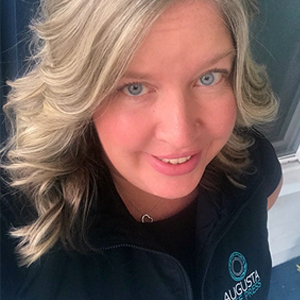 Crystal Abbe Graham is the vice president of Augusta Free Press LLC.
A graduate of Virginia Tech, she is a member of Gamma Phi Beta and Girl Boss Networking of Augusta County.
Crystal began her professional career at The News Virginian (Waynesboro, Va.) in 1999. She has worked as a reporter and editor for several Virginia publications, written a book, and garnered more than a dozen Virginia Press Association awards for writing and graphic design.
Crystal covers news and sports for Augusta Free Press. Her news coverage includes a series on the aftermath of Hurricane Katrina and national and local politics. She has also covered UVA athletics for Augusta Free Press, as well as Nascar, ACC Football Kickoffs and the 2017 and 2018 ACC Basketball tournaments. She is a regular contributor to the "Street Knowledge" podcast also produced by Augusta Free Press.
She was the co-host of Viewpoints, a weekly TV news show on WVPT, a PBS affiliate in Harrisonburg, Va., from 2016-2017, and co-host of Virginia Tonight, a nightly TV news show on WVPT that aired from 2004-2005. Her work on Virginia Tonight earned her a national Telly award for excellence in television.
Crystal served on the board of directors of the Virginia chapter of the American Foundation for Suicide Prevention, and was the area director for AFSP's Virginia chapter in 2017. Under her leadership, the chapter raised $641,155.43 in campus and community walks. In 2017, the chapter also increased event participation (190 events to 111 previous year), educated more people (10,839 vs 3,711 in previous year) and increased community partners from 38 to 98. The team also secured more than 120 corporate sponsorships during walk season and organized the most successful month of fundraising at Baker's Crust in the restaurant's history.
In 2017, she received the Dr. and Mrs. C. Lennart Sanquist Prevention Award from Mental Health America of Augusta for her work in suicide prevention including the formation of a Suicide Prevention Roundtable. Graham was certified in 2019 by LivingWorks Education to teach safeTALK, a half-day workshop that teaches participants to be a suicide alert helper. She completed the two-day ASIST intervention training in 2016 also offered by LivingWorks Education and has presented programs to local populations (general public, high school and colleges) including Talk Saves Lives, More than Sad, and It's Real.
She is currently serving on the mental health expert review committee for the Virginia Department of Education working on revisions to the mental-health portions of the SOLs. In 2019, she founded The Ditto Project. Her dedication to prevention stems from the loss of her identical twin sister, Christina, who died by suicide and suffered from depression. In addition to suicide prevention and mental health, she also advocates for animals, the arts, youth and LGBTQ+ rights.
She has also previously served as the associate director of the Wayne Theatre Alliance, marketing director of the Waynesboro Generals collegiate summer baseball team and was a volunteer business ambassador with the Greater Augusta Regional Chamber of Commerce.
She is most proud of her series covering local efforts to rebuild after Hurricane Katrina, a prevention campaign with the Central Shenandoah Office on Youth titled "Be the Influence" and efforts around Mental Health Month and a Suicide Prevention Roundtable started in 2016 by Graham.
Contributors
Scott German covers UVA Athletics for AFP. Scott has been around the 'Hoos his whole life. As a reporter, he was on site for UVA basketball's Final Fours, in 1981 and 1984, and has covered UVA football in bowl games dating back to its first, the 1984 Peach Bowl.
Rod Mullins covers NASCAR for AFP. A graduate of UVA-Wise, Rod began his career in journalism as a reporter for The Cumberland Times, later became the program director/news director/on-air morning show host for WNVA in Norton, Va., and in the early 1990s served as the sports information director at UVA-Wise and was the radio "Voice of the Highland Cavaliers" for football and basketball for seven seasons. In 1995, Rod transitioned to public education, where he has worked as a high school English, literature, and creative writing teacher and now serves as a school program coordinator in addition to serving as a mentor for the robotics team.
Jerry Carter covers sports for AFP. Jerry is an entrepreneur and innovator in the newspaper circulation industry who moonlighted as a sportswriter for several publications in Virginia. He has covered two ACC Tournaments for AFP, in 2014 and 2015.
Guest Columnists
Alon Ben-Meir, international relations professor, New York University
Shepherd Bliss, author and retired college professor
Morgan Griffith, member of Congress, Ninth District, Virginia
Emmett Hanger, member of the Virginia State Senate
Creigh Deeds, member of the Virginia State Senate
Ken Plum, member of the Virginia House of Delegates
Roddy Scheer & Doug Moss, editors of Earth Talk
David Swanson, author, activist, director of WorldBeyondWar.org
John W. Whitehead, constitutional attorney and author