Seeking.com Review: Is Seeking the Best Dating App in 2022?
Searching for the perfect online dating platform can often feel like looking for a needle in a haystack. 
With thousands of different sites available, you will have to spend some time researching them to find the one that suits your preferences the best. 
In most cases, people will opt for platforms that already have a stellar reputation and years of experience in the online dating industry. One of these platforms is Seeking.com. 
Detailed Review of Seeking.com
Not only does Seeking have years of experience, but it also has a massive user base that caters to all types of people. 
Sugar daddies, cougars, one-night stands, or even serious relationships – you name it, Seeking has it. 
In this article, we will take a deep dive into everything this online dating site has to offer and show you why it's one of the industry leaders. 
Seeking.com Review – The Registering Process 
The registering process on Seeking.com is pretty simple and straightforward. 
You fill in the necessary details (name, sex, email address, etc.) and specify whether you are interested in meeting men or women. 
Then, you answer a questionnaire that revolves around your preferences, hobbies, interests, and so on. It's important that you include as many details as you can in this section since the algorithm will use it to find your perfect match. 
After that, Seeking will have to verify your account, but this won't last longer than one or two business days. Waiting for verification might be a bit annoying, but it's in everybody's best interest since it helps the platform get rid of scammers and fake accounts. 
In case you want to stay somewhat anonymous, we recommend that you open up a separate email address that you will use on the site. 
Seeking.com Review – Free Features 
When joining new dating sites, people often get worried that they will have to spend a fortune to do pretty much anything. 
This isn't the case on Seeking.com. 
After having your account verified, you can browse around the platform to see what it's all about before paying for anything specific. 
However, while this is great for getting a feel for how everything works, you won't be able to do much more without a premium membership. For instance, you can't reach out to other members or see who your matches are. 
The modus operandi on Seeking is fairly similar to other platforms – they want you to fantasize about all the handsome and accomplished people you can match with, but to do that, you will have to spend a bit of money. 
Even though this might feel a bit frustrating, it's how the vast majority of online dating platforms work. On some platforms, you aren't even allowed to browse freely as you can on Seeking.  With that said, users have a chance to get a free membership if the platform considers them distinctly desirable. We can say that Seeking.com is one of the best free dating sites in the UK.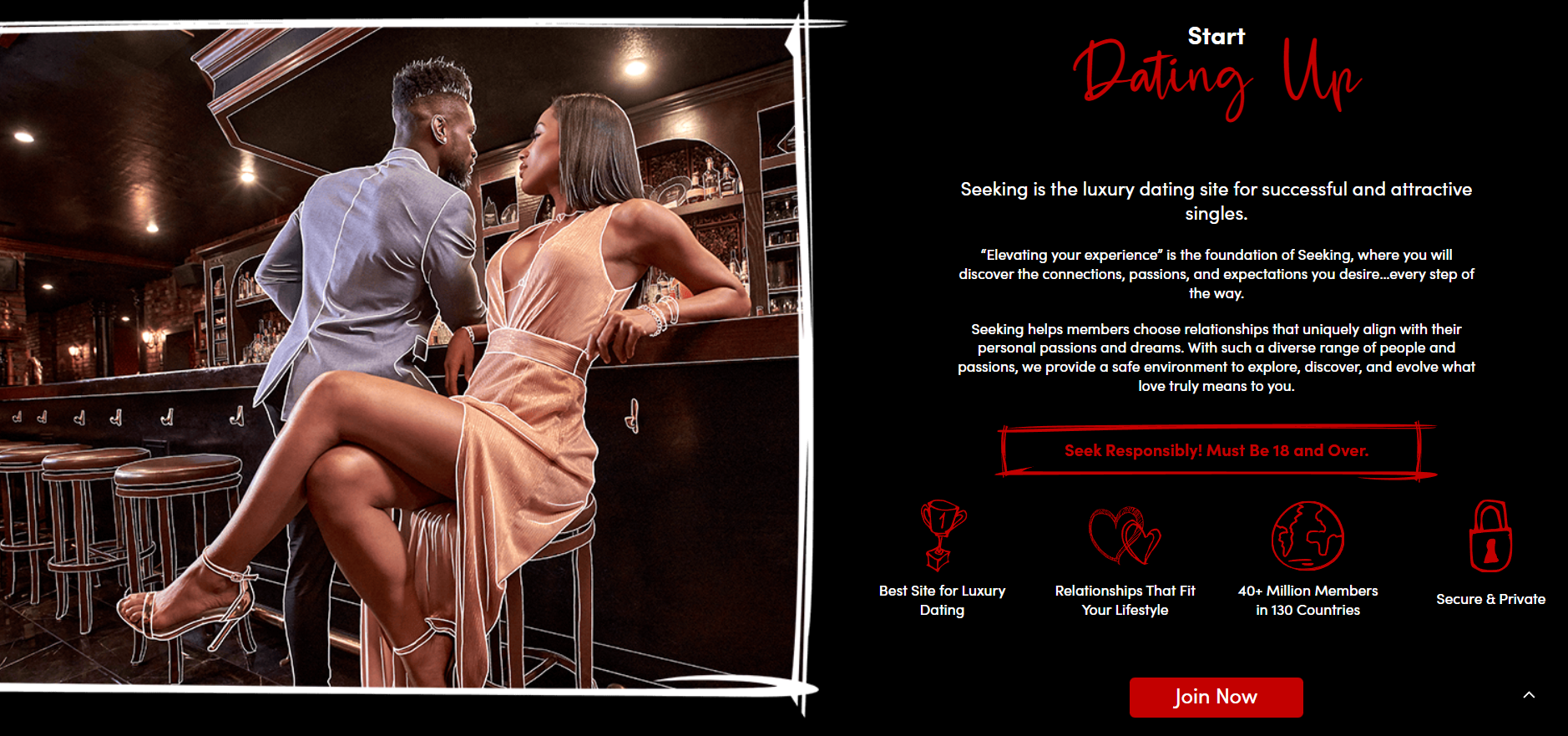 Seeking.com Review – Organizing Your Profile 
Okay, so you have registered to the website, got your account verified, and browsed through the platform to check out what it has to offer. 
Time to start setting up your Seeking profile!
First, you'll have to pick a username and upload a photo. Try to come up with something catchy, but mature, and avoid usernames like "BlackWhereItCounts". 
For the photo, find something flattering, but realistic. 
On Seeking.com, you can put up as much information as you want. Include your height, weight, education, whether you have any children, and so on. 
Some people even add their income or net worth, so don't be afraid to do the same if you're comfortable with it. 
Next, to streamline the matching process, you will have to add different 'tags' that explain what you are seeking on Seeking (pun intended). 
These tags can be anything from "romance", "attentiveness", "emotional connection", and much more. 
Finally, you'll need to edit your 'About Me' box. Aim for the middle ground between honest and modest, don't over exaggerate, but don't undervalue yourself either. Adding a bit of humor can go a long way here. 
Seeking.com Review – Pricing 
As we explained, you can browse Seeking for free and even get a free membership if the platform deems you "desirable". 
But, to gain access to all the useful features, you'll need to open up your wallet.
For men, the subscription amount tends to be a bit higher, which probably has something to do with the fact that Seeking used to be a sugar daddy website (now, they don't focus on any specific user base). 
Here is precisely how much the premium membership costs:
1 month – $90 

3 months – $80 per month

6 months – $70 per month 
While this might be a bit more expensive compared to other online dating sites, it's worth every dime considering the variety of advanced features, security measures, and the large user base. 
Seeking.com Review – How to Find a Date 
Now, the part you've been waiting for – finding a date on Seeking. 
With years of experience and millions of successful matches, you won't have to worry about paying a fortune only to wind up with no actual date or hookup. 
Seeking has a user base of over 50 million people around the world, which means that there is someone for everyone. 
Generally, finding a date on Seeking is fairly easy, but it can be competitive if you're a young and attractive woman (or are looking for one). 
Also, the interface is very user-friendly and it has a sleek feeling to it, which is a huge factor in the matchmaking process seeing that a large number of dating platforms look downright "shady". 
It's nice to see that Seeking has put an effort into generating a good user experience by investing in a modern interface. 
Since you will have an easy time navigating through the platform, it won't take you very long to find someone interesting to communicate with. 
In fact, there are even "VIP rooms" that you can join where all the members go through very detailed background checks, and there are practically zero scammers. However, these rooms require a Diamond Membership which costs $250 a month. 
If you find that too expensive, you can always use the basic search options and filter users through different categories. 
One of the most important things you should remember about Seeking.com is that not everyone is prepared to "jump in the sack" right away. There are lots of people that want to work on serious relationships and aren't interesting in one-night stands and casual hook-ups. 
This is great news for all of you that are looking to find an interesting partner that you can settle down with.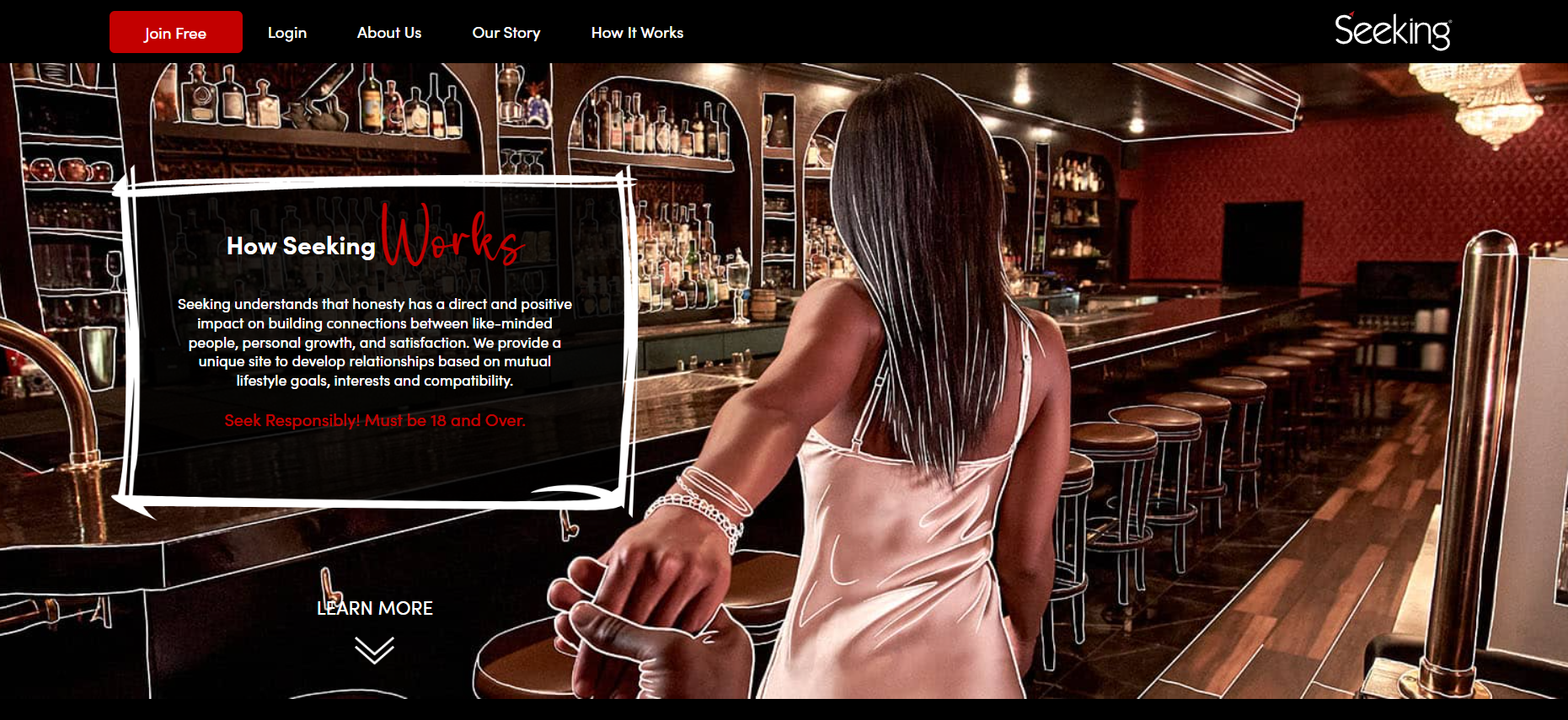 Seeking.com Review – Does it Work? 
Simply put, Seeking is everything that it says it is. 
The platform has a track record of successful matchmaking, it's been in the online dating industry for years, and it has one of the largest user bases on the market. 
With all of this combined, there is an extremely high chance that you will meet someone interesting to go out on a date with, no matter your preferences. 
Of course, the amount of time it will take you to find someone compatible will depend on how much effort and money you put in. 
Even though you might find some negative reviews online, it's nothing out of the ordinary for a platform this big. And, it shouldn't make you doubt Seeking's legitimacy. 
Best Tips for Seeking.com 
To make sure you have a positive online dating experience on Seeking, we came up with a list of some of the most notable tips to help you out. 
Transparency is Key 
As with any other online dating site, you should aim to be as transparent and open as possible on Seeking. 
Even if you're searching for casual hookups and one-night stands, you should make that clear, there is no reason to be embarrassed about it. 
If you're looking for something long-term, you should also specify that since it will help you avoid people that don't have the same intentions as you do. 
Work on Your Profile 
The number (and quality) of matches you get will largely depend on the way you set up your profile. 
Your profile is pretty similar to an ad campaign – anyone can scroll past and see it. This is why it's important to leave a good first impression and make yourself captivating to the other users. 
While being open is great, don't be afraid to add in a bit of mystery as well. 
Overall, you should try and stand out from the crowd, while also making sure you don't come off as weird or creepy. 
If you have doubts regarding your profile, you can ask a close friend to take a look and give you their opinion on whether something needs to be changed. 
Most importantly, tell the truth. Don't say that you're higher than you really are or anything similar. If you do find a date, they won't be very pleased to find out that you've been dishonest. 
Watch Out For Scammers and Fake Profiles 
Even though Seeking.com does a tremendous job of minimizing and eliminating fake profiles and scammers, some do find their way onto the platform. 
The situation is pretty much the same on all dating sites since it's impossible to keep track of every single profile (especially when there are tens of millions of them). 
If the person you are talking to seems shady or asks for money at some point, you should block them immediately. 
Although they might seem charming at first, you'll ultimately end up with the shorter end of the stick. If you've seen "The Tinder Swindler", then you know what we're talking about. (http://rxreviewz.com/)  
Pay Attention to Spending 
While finding the perfect match for each user is one of Seeking's main focuses, its primary objective is to make money doing it. 
For instance, the $250 Diamond Membership isn't really suited for the "average Joe", so if you can't afford it, you should simply stick to the plans that are in your price range. 
Take things slowly and start off with the three-month membership, this will provide you with enough time to decide whether you should keep using the platform. And, who knows, you might even find the love of your life during this period. 
On the other hand, if money is not an issue for you, you should definitely check out all the premium services that Seeking has to offer since it will bring you the most amount of interesting matches. 
Seeking.com Review – Pros & Cons 
To sum up everything that we've talked about, let's go through all the pros and cons of Seeking.com. 
Pros:
Active community

Diversified user base

User-friendly interface

Modern design

Meticulous verification process

Great female-to-male ratio

Supported in multiple countries and languages

Stellar reputation 

Free browsing feature
Cons:
Not for everyone's wallet

Abandoned profiles are still available

Lots of prostitutes – be careful not to break any laws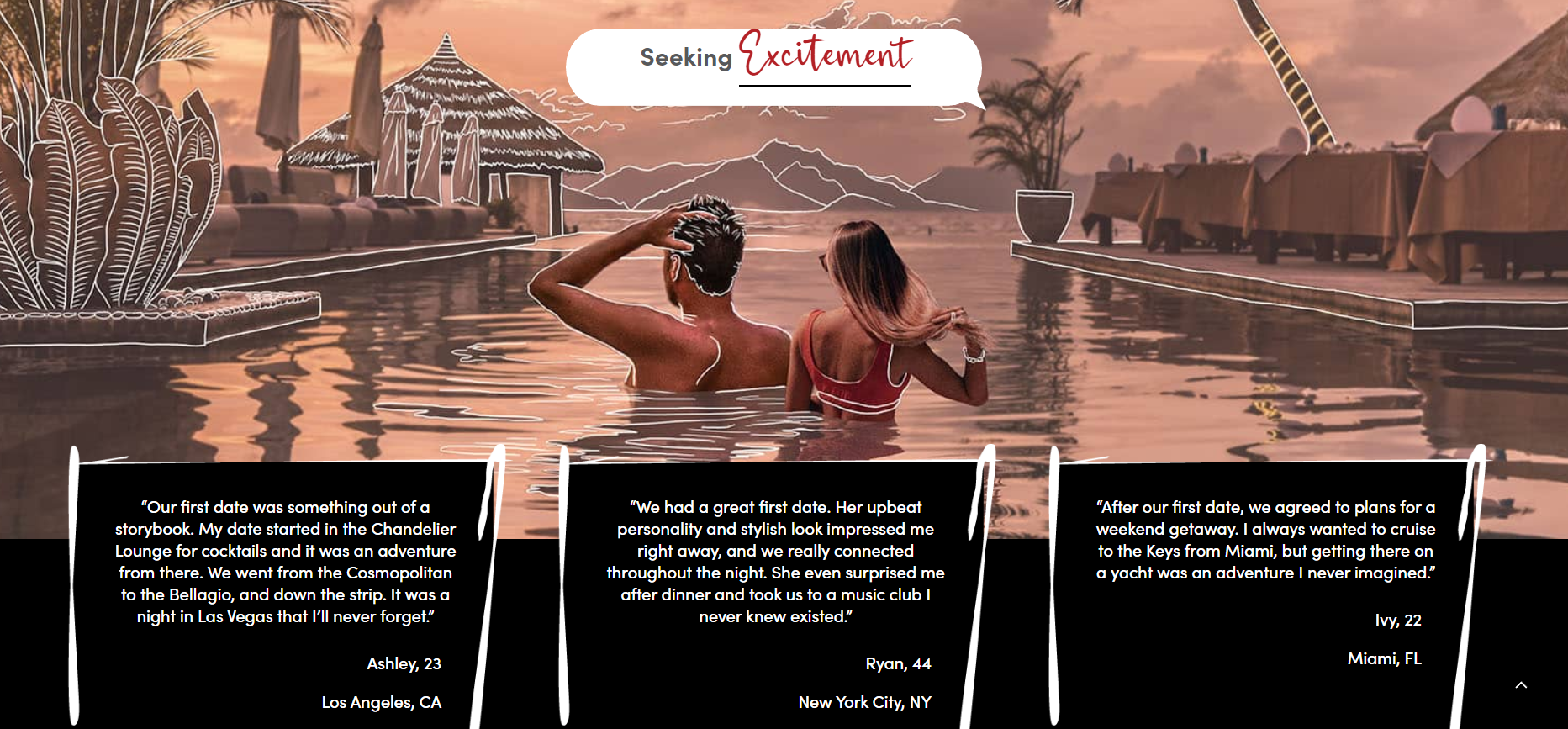 Seeking.com Review – The Takeaway 
Seeking is one of the world's largest and most popular online dating platforms. 
With a variety of premium features, a diversified user base, and a reputation for matching the right people, it's not surprising that it stands out from its competitors. 
But, is it the right platform for you?
The answer will depend on your preferences, age, attractiveness, and bank account. 
If you know how to "sell yourself" and have the money to subscribe for a premium membership, finding a match on Seeking will be a piece of cake.
Is Seeking.com one of the best dating apps?
Is it better to use Seeking dating sites better than Seeking dating app?
Is Seeking.com free to use?
Is Seeking the most popular dating site?
What are the most used dating sites UK?