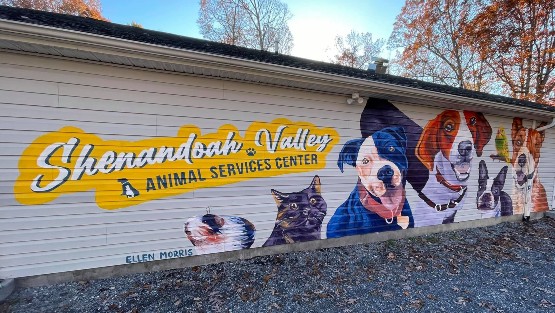 Petco Love has awarded the Shenandoah Valley Animal Services Center a $25,000 grant earmarked toward creating a future "in which no pet is unnecessarily euthanized," the non-profit's president, Susanne Kogut, said.
Credit to the non-profit for the grant, but we can't report on it without bringing up something uncomfortable.
Two months ago, SVASC euthanized Annabelle, the family pet of Craigsville resident Jessica Evans, after Annabelle ran away in fear from noise related to a structure fire and was picked up by an Augusta County animal-control officer approximately a block from her house.
Evans was told that she would need to pay fees to be able to pick up Annabelle, and she asked to be able to wait until her next paycheck to take care of the fees.
Annabelle, tragically, was euthanized before Evans was able to pay the fees, sparking outrage across the community.
County leaders have been demanding answers, led by Scott Seaton, a member of the Augusta County Board of Supervisors, leading to a three-day closure of SVASC earlier this month to give staff time to develop administrative procedures as well as handle other internal housekeeping.
The $25,000 Petco Love grant will go toward supporting spay and neuter surgeries, according to SVASC Director Jon Hilbert.
"We are grateful for this lifesaving investment and will start putting the grant to good use immediately," Hilbert said.
In 2022 the shelter's total intake included 1,680 animals. Of that total, 634 dogs, cats, and small animals were adopted, 459 dogs, cats and small animals were transferred to rescues or other shelters, and 389 dogs and cats were returned to their owners.
Since its founding in 1999, Petco Love has invested $350 million in adoption and other lifesaving efforts. Petco Love strives to find loving homes for pets in partnership with Petco and more than 4,000 organizations across North America, with 6.7 million pets adopted and counting.
"Our investment in Shenandoah Valley Animal Services Center is part of more than $15 million in investments recently announced by Petco Love to power local organizations across the country as part of our commitment to create a future in which no pet is unnecessarily euthanized," Kogut said. "Our local investments are only part of our strategy to empower animal lovers to drive lifesaving change right alongside us. We recently launched Petco Love Lost, a national lost and found database that uses pet image technology to simplify the search for lost pets."
Related stories
Shenandoah Valley Animal Services Center makes progress on internal procedures
Animal shelter closed May 3-5 for development of 'administrative procedures'
Augusta County leader demands answers on questionable animal shelter deaths
Animal advocates ask Waynesboro City Council to use tragedy as catalyst for change
Jessica Evans: Injustice caused by Augusta County Animal Control, SVASC
Augusta County residents demand justice after shelter euthanizes four dogs
Craigsville dog euthanized by shelter; owner was waiting for paycheck to pick up pet
Critics question Shenandoah Valley Animal Services Center move, citing costs, capacity
Municipal animal shelter to move to Verona Elementary School in 2024
More stories
Friends of SVASC steps in to help dog owner in need with life-saving surgery
#Adoptdonotshop: Why a shelter dog named Sky should matter to you
Shenandoah Valley Animal Services Center receives $30,000 from Petco Love
Shenandoah Valley Animal Services Center welcomes new executive director
Shenandoah Valley Animal Services Center hosting Kitten Shower
Hope: Local artist battles mental health illness and creates mural
Future of Shenandoah Valley Animal Services Center up for discussion
Service changes for animal control, Animal Services Center
Shenandoah Valley Animal Services Center lets the dogs out – for adoption
Shenandoah Valley Animal Services Center gets Petco Foundation grant