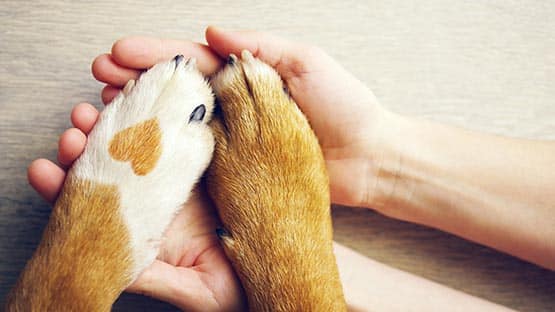 Critics of the Shenandoah Valley Animal Services Center and four recent euthanizations at the shelter came out in force Wednesday night to the Augusta County Board of Supervisors meeting demanding change.
On Friday, four dogs were euthanized, and according to Shelter Director Jon Hilbert in an email to a concerned citizen, three dogs were killed due to a bite history or biting staff, and one dog due to owner surrender.
As first reported by Augusta Free Press, Jessica Evans, a Craigsville resident, had her dog get out after a nearby structure fire where the ongoing noise scared her pet. It was the first time her dog had gotten out and had been picked up by an Augusta County animal control officer, or ACO.
As previously reported, Evans didn't have the money to pay fines related to her dog running at large – and was convinced to sign paperwork surrendering her dog to the shelter. She told the animal control officer and the clerk handling the paperwork that she wanted to re-adopt her dog when she got paid. As an Augusta County Schools employee, her next check was on the 15th. She was told both times that shouldn't be a problem.
However, her dog was euthanized at the shelter on Friday after being deemed unadoptable.
Ashley Delaney read a statement on behalf of Evans, and her dog, Annabelle, at the meeting.
"She was a blessing to us – smart, sweet and kind. She loved hugs and belly rubs," Delaney read. "What she thought was a freedom ride was her last ride.
"We lost more than a dog. We lost a piece of our family. I can't find it in myself to tell my 7-year-old daughter where her Fluffo is or that she was killed.
"What is done cannot be undone. The ACO and their shelter management chose to play picker without a second glance, warning or care. They have failed the community, the rescues, the advocates, but mostly my children, my boyfriend and myself."
The statement thanked the Board for their support – and asked for justice – not only for her baby but for the other babies as well.
One dog euthanized had previously been promoted as the "Nice Dog of the Week" in February. Another was listed just last week as the "Naughty Dog of the Week" with a note that said he had been mouthy lately but had "a lot of potential" and needed to be worked with.
Animal advocates speaking at the meeting offered alternatives to current polices at the SVASC. They suggested that animal owners have due process before fines are required, that fines are sent by invoice instead of being required before you pick up your pet, and that the communication and social media policy of SVASC is updated so they can ask more regularly reach out to others for help – and to alert the community before euthanizations take place.
Personal property should be returned to owners
Amy Swoope, owner of Blue Ridge Canine Safehouse, a training center and sanctuary for homeless dogs, said SVASC did a disservice to Evans.
"I want to point out that this entire situation could have been avoided had the county not implemented an accepted procedure which steps outside of the law forcing constituents to either surrender or leave their animals at the animal shelter when they can't pay their fines," she said.
Swoope pointed to Article One of the Bill of Rights of the Constitution of Virginia which reads "no person shall be deprived of his life, liberty or property without due process of the law."
"According to Virginia code 3.2 6545. Annabelle is or was the property of Jessica Evans," she said. "Ms. Evans was never afforded due process. She was never given a written citation and never even told where her fines and fees would be or how much they would be. This faulty system needs to be addressed so it can be congruent with the methods used throughout Virginia.
"Additionally, I feel it's necessary to point out that every single person that had any decision-making matter in this process, failed a fellow county employee, Ms. Evans, and her dog, Annabelle," Swoope said. "The county itself failed Ms. Evans by implementing this fine which she could not immediately pay and offering her no other option but to surrender her dog.
"This fine could have been billed and paid at a later date similar to any other fine in this county," she said.
"The Augusta County animal control officer failed Ms. Evans by misleading her to believe that she could be arrested and charged with felony charges for her dog at large. The treasurer's office failed Ms. Evans when they told her that she could surrender her dog and retrieve it 10 days later after a stray hold, which no longer exists upon the surrender of a dog, but did not acknowledge that her dog could be legally euthanized.
"In the meantime, the shelter director failed Ms. Evans by not educating himself on the behavioral aspects of what is an acceptable reason for euthanasia at a local community shelter.
"The shelter staff failed Ms. Evans when they chose her dog to euthanize amongst the group of dogs that needed to be killed that day to make space for newcomers. A healthy social dog who would have been deemed moderately easy to rehome in the animal welfare community.
"Civil servants have a responsibility to their community members to stand for what's right and to be trustworthy. The situation is shameful."
Tragic situation could have been prevented
Augusta County resident Dulcey Fuqua also spoke at the meeting about the situation with Evans and her dog. She was upset that a simple running at large situation turned into her pet losing her life within 72 hours.
"Why would an ACO officer suggest an owned beloved pet be surrendered to a shelter that was busting at the seams and getting ready to euthanize for space?" Fuqua asked. "Reuniting the family with their pet and getting them out of an overcrowded shelter seemed to be what would have been the better solution.
"An issue we want to explore moving forward is the lack of due process when refusing to give a resident their personal property back. Are tickets or summons even being written? Did citizens have the opportunity to go court and defend themselves against such charges?
"Some questions I have for the board of directors are why couldn't Jessica retrieve her dog who's considered her personal property as soon as she found her and requested that property back. I'm wondering if the county can legally hold this dog in custody once the rightful owner was asked to pick her up.
"Can our residents receive an invoice in the mail and pay the penalty later?" Fuqua asked. "This is a case where a woman was coerced into surrendering her pet to the county by using a threat of a potential felony charge and leading her to believe she could not retrieve her personal property, Annabelle Annie, without paying the fee first.
"Annabelle only lived at the shelter 72 hours before she lost her life. She was a friendly dog who loved other dogs. She had an owner who wanted her back. This should not have happened. We hope this tragic situation will be a catalyst for changes moving forward."
Shelter employee stands by decision to euthanize pets
While the shelter manager did not speak at the meeting, two people who work there did address the supervisors during the public comment period.
Dorothy Via, a shelter employee, said she stands by the decision to euthanize the pets saying they "can't release an unsafe dog to the public."
She said the staff worries that a dog with a bite history or that has bitten them might go home with someone else and something happen to them.
"I can honestly say that we try our best with each individual dog," Via said. "I can tell you that we love our animals. I am proud to be one of the staff members there. And I can say that it has not been an easy thing for any of us.
"Most of us would do anything for an animal there," Via continued. "And they're not just animals to us. They're like family, and part of our thing is to provide safe and loving places for these animals to go. And when we feel like we can't, we have to make one of the hardest decisions, and it doesn't come easy.
"But I do believe that we all have what's in the best interest of the animals that are at the shelter. And I do believe our call was right … because we can't release an unsafe dog out to the public.
"We try to make good decisions. And it's not always easy. And it's not always right. But we try."
Via seemed to address the three dogs with bite history, but she did not specifically address why Evans' dog was euthanized.
New shelter capacity, communication needs to be addressed
Rockingham County resident Carolyn Peake said the communication and social media policies at the shelter also need to change.
"This room is filled with people who will help. So if you post something on Facebook, that there are animals in need, the shelter is full, our pantry is empty … all of us will rally around to help," Peake said.
"I also urge you to revisit your decision to move the shelter without increasing capacity. This shortsighted plan sets this community up for continuous crisis. It's obvious the population in this area is growing."
As previously reported by AFP, Augusta County, Staunton and Waynesboro are investing $2.7 million in the renovation of the former Verona Elementary School to serve as a new location for SVASC. According to the SVASC board, the square footage of the shelter will increase from 5,000 to 39,000 square feet. Initially, the board said, they will hold the same number of animals at the new location due to funding and staff levels. The board said that if and when more funding is available, there is "additional capacity" at the new location.
Renee Clark reiterated the need for better communication between the shelter and people willing to help.
"When these guys are in an urgent situation, we all want to come together and help you," she said. "Ultimately, it sounds like the four dogs in question, really, it was a space issue. There were three dogs that may or may not have had behavioral issues. And then there was another dog, one dog, that just sounded like there was a lot of miscommunication.
"A lot of people didn't know that they had space issues. And I think that between all of us in this room, we want to help you save those animals," Clark said.
Clark suggested implementing policies of other shelters: for example, weekly reports notifying others when space is tight, if food is needed, or spay and neuter assistance.
"I do not think this is any staff issue, I want to put that out there, I just think that we need a more open communication policy that allows them to feel free to communicate with us and ask for help," Clark said.
Clark also addressed the planned shelter in Verona.
"With space being I think the primary issue and … the new shelter that's being considered for potentially $3 million … there's always a population growth, we need to also consider capacity.
"So if you're gonna build something great, let's build it great. Let's do a great job. And let's have more space for the animals. So we don't have to make these decisions."
Clark also said she'd like to see more space for the animals at the new shelter because even wonderful cats and dogs struggle in confined spaces where there is no room for exercise.
"We want to remove the barrier to getting the animals back to the people," she said.
Clark said that almost all successful communities that have lowered their euthanasia rate are those that have policies that get animals back to owners as quickly as possible.
"You shouldn't have to worry that they're gonna get killed within 72 hours," Clark said.
Many advocates, like Clark, said that paying fees in Verona and picking up animals in Lyndhurst is also an issue. She suggested that the localities come up with some electronic way of dealing with fees or allow fees to be paid at the shelter.
"And also, let's look at what those fees are. And make sure they're affordable. And they're not a barrier. Because essentially, if you make it that expensive, you're encouraging the shelter to have to keep the animal. We don't want to do that."
Lack of adequate training contributes to issues with dogs
Robin Hopkins, a shelter volunteer who also provides a foster home for dogs, said that the shelter has many good staff members and volunteers. However, she said, a major problem she has encountered is the lack of adequate training on how to handle dogs properly, especially dogs with kennel stress.
"This is a liability for the government for their safety, but also contributing to the issues that led to the events on Friday," she said. "I also want to stress that most of us here today understand that animals in shelters will be euthanized sometimes. But the four dogs that were put down were the results of months of mismanagement. And that is what needs to be addressed."
As a foster, she said three applications were submitted to adopt the dog in her care. However, it took them so long to process the applications that the potential adopters moved on. She also said in the five months she fostered one dog, there was only one adoption event held in that timeframe. She said that out-of-date vaccines for shelter animals is a major issue.
"We also need people who are qualified to make behavioral assessments to play a role in the future when decisions are having to be made about euthanasia," Hopkins said.
Related stories
Critics question Shenandoah Valley Animal Services Center move, citing costs, capacity
Craigsville dog euthanized by shelter; owner was waiting for paycheck to pick up pet
Friends of SVASC steps in to help dog owner in need with life-saving surgery
#Adoptdonotshop: Why a shelter dog named Sky should matter to you
Municipal animal shelter to move to Verona Elementary School in 2024