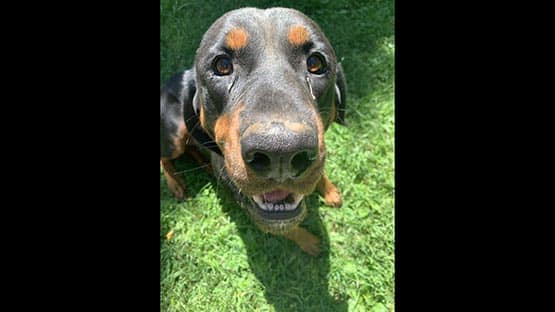 A Craigsville resident whose dog ran away Tuesday night after noise related to a structure fire nearby was relieved when she found out her dog had been picked up approximately a block from her house and was safe at Shenandoah Valley Animals Services Center in Lyndhurst.
SVASC has provided local animal control services since September 2011 for Waynesboro, Staunton and Augusta County.
After hearing the good news late Wednesday night, Jessica Evans put a call in to an Augusta County animal control officer on Thursday morning who told her that her Rottweiler Lab mix was available at the center but there were fees that needed to be paid before she could pick up her dog.
Living paycheck to paycheck, Evans said she would need to wait until she got paid again on the 15th to pick up her dog, known as Annabelle, or Queenie, by her family.
What happened next is unimaginable to any pet owner.
Evans was advised by an Animal Control officer to come to Verona to fill out some paperwork basically surrendering her dog to the shelter until she got paid again. She told AFP she filled out the paperwork and asked if she could adopt her dog again when she got paid, and the employee, she said, told her that would be fine – after the stray hold.
Some time Friday, her dog was euthanized. Evans found out through a group on social media that shared her dog's photo with the sad news.
Evans made a heartbreaking post on social media after hearing what happened.
Shelter director Jon Hilbert has not returned a request from AFP asking for more information.
However, he has communicated with others by email that two of the four dogs euthanized on Friday were due to "bite histories," another due to biting shelter staff, and a fourth due to owner surrender.
The email response from Hilbert shared on social media read: "The fourth dog that was euthanized was another owner surrender. The owner acknowledged that this dog cannot be housed with cats or small farm animals, i.e. chickens, because the dog will kill or maim these types of animals. These types of animals require a special homing option, and unfortunately, there is simply a not lot of folks looking to adopt or foster animals with these restrictions."
Was it a lack of communication between the animal control officer and the shelter that led to this terrible outcome? Or a misunderstanding about the paperwork Evans signed and what it meant as far as the fate of her dog?
Evans thought she would have a 5-10 stray hold before her dog could be adopted by anyone else – and she planned to pay the fines before then. Evans said she was very clear that she intended to bring her dog home.
She said the animal control officer told her that after she paid the fine, she could take the receipt to Lyndhurst to retrieve her dog.
No post was made to social media in advance of the euthanizations – giving local rescue groups a chance to step in.
No call was made to Evans as a courtesy before the euthanization. There was no chance for her to try to borrow the funds or make arrangements to prevent this outcome. As very few animals are euthanized at the shelter, she thought her dog was safe there.
She was wrong.
Evans said the 4-year-old dog was in her care since September 2021 when the previous owners moved out of state and couldn't take her with them.
While Evans had once considered rehoming her dog due to a potential move to an apartment that didn't happen, she never wanted to see her dog die.
"She was a great dog," Evans said. "She couldn't be around farm animals of any type due to trauma and injuries as a puppy, but she was a blessing. She was our dog.
"She didn't even get to make it three whole days in there," she said. "Imagine how scared she was.
"My boyfriend and I broke down this morning," Evans told AFP Monday. "I have two kids who loved her dearly. I haven't told my 7-year-old who is a huge animal lover. I don't know how to tell her that our girl was murdered."
A group of residents plan to attend the Augusta County Board of Supervisors meeting on Wednesday at 7 p.m. at the Government Center to address the euthanizations.
Hilbert said in an email response to someone questioning the euthanizations that he has a tremendous amount of responsibility in his position.
"And I take staff concerns and staff safety above anything else. Moreover, I have an obligation and liability to the community. If these animals were adopted out with a bite history, and were to bite or attack or maim again, this could potentially come back on me, the shelter, or the localities," the email read. "Many of the comments on social media and through email have been critical of our dog program. I appreciate these comments, and want to ensure you that I am totally aware, and understanding of these comments. I am working towards making improvements to this program."
There are posts making the rounds on social media saying that six more dogs are scheduled to be euthanized this week. Hilbert said this is "entirely untrue."
For Evans, she feels like she let her dog down. She feels like she let her kids down. All because she didn't have the money for the fines.
"They were all adoptable dogs (the four dogs euthanized)," Evans said. "Pits or Rotts that weren't given a chance. Dogs labeled as such should not be treated like this. Given the right person, a rescue or advocate, they all could have lived longer and had a great life.
"I feel deceived and let down by SVASC. I can't bring my dog back. I can't even get closure."