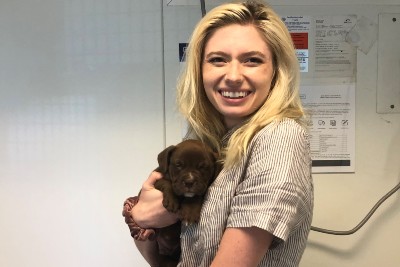 LYNDHURST — As a freshman in high school in Louisiana, Alidia Vane volunteered for the local animal shelter.
"I always really enjoyed being around animals and people who enjoy being around animals," Vane said. She loved working with the animals and helping plan events.
After high school, Vane pursued her bachelor's degree in New York and continued to volunteer at animal shelters.
Vane, who earned her bachelor's degree in politics and recently completed her master's degree in public administration, became a teacher through Teach for America. She taught high school science for students with special needs in New York before the COVID-19 pandemic encouraged her to rethink her career plan.
She worked for New York's parks department, managing budget and funding to renovate parks. Vane worked with local elected officials to obtain funding and helped design new parks. Her favorite part was planning community events, such as ribbon cuttings, to open new parks.
"And getting to see the kids actually enjoying the playground equipment that we worked on for three years or something like that was always very exciting and very rewarding to see that all come to fruition," Vane said.
On July 5, Vane began as executive director of the Shenandoah Valley Animal Services Center. After eight years in New York, she now calls Churchville home with her dog, Buddy, and cat, Mika. She is glad to be closer to her mother who lives in Newport News.
"This felt like a really good match," Vane said of SVASC, "because I could work with animals but also work with members of the community who are passionate about similar things." She said that Waynesboro feels like being home in rural Louisiana again. She appreciates the support from the community in helping her get settled in the Valley. "It's great to have that feeling. I feel really welcomed."
Vane's new position comes after a reorganization of the shelter's ownership by the city of Waynesboro, and much outcry from the community at local government meetings regarding the shelter's future. Augusta County is now fiscally responsible for the shelter and made a higher compensation for the executive director position possible.
"I have a lot of respect for people who take time out of their free time to go in and advocate for things they care about, and to support the shelter and things like that. It really means a lot. We couldn't do it without people who come out, show up to meetings, volunteer and foster," Vane said.
Vane is fostering two six-week-old Pit Bull puppies, Bridget and Brantley, who were recently orphaned when their mother experienced health issues after giving birth to them a third puppy who did not survive. The decision was made to humanely euthanize their mother.
Vane said she enjoys meeting members of the community, and has already noticed the community support in Waynesboro for the shelter.
"It's a huge community, and I'm really enjoying meeting everyone, looking forward to continuing to meet everyone and working together with them to continue to build and support this shelter like it deserves," Vane said.
Two years after the onset of the COVID-19 pandemic, during most of which the shelter was closed except by appointments only for those serious about adopting or fostering, Vane said shelter staff continue to encourage use of hand sanitizer and wearing masks when visitors come to Lyndhurst. Residents should call for an appointment if they need to surrender an animal. And anyone interested in adopting a dog or cat is also encouraged to call and schedule an appointment.
The shelter has a small entrance area and staff would like to keep everyone, including the animals, as safe and calm as possible. Vane said it is also important to staff to show the animals in the best light, not in a noisy lobby area, which can agitate some animals.
Two weeks ago, the shelter put out an urgent call for adoptions and fosters when it reached capacity with dogs. As Waynesboro, Staunton and Augusta County's municipal shelter, SVASC must keep space open for admissions from animal control situations.
"We had a huge outpouring of community support when we mentioned that we were at capacity," Vane said. Through social media, volunteers and community members, word spread of the need for adoptions and foster homes. As a result, no dogs were euthanized. Dogs were adopted, put in short-term foster homes or put in foster-to-adopt homes.
This does not mean that the shelter does not still have dogs and cats looking for furever homes.
"We still are very high capacity right now," Vane said.
The shelter welcomes donations of funds, food and supplies, as well as volunteers. Closed Thursdays and Sundays, anyone interested in volunteering, adopting or fostering should check out the shelter's website.