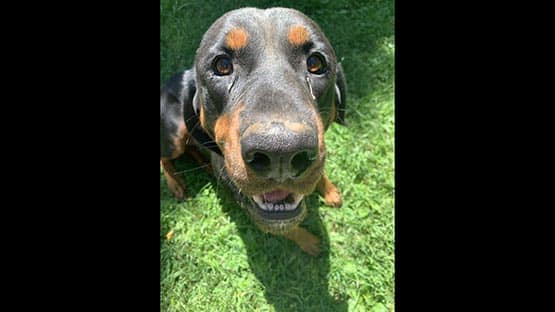 The Augusta County Board of Supervisors weren't the only ones to get an earful about the Shenandoah Valley Animal Service Center in Lyndhurst. On Monday night, Waynesboro City Council heard from a vocal group of area residents upset over four euthanizations that recently took place at the animal shelter.
SVASC has provided local animal control services since September 2011 for Waynesboro, Staunton and Augusta County.
Jessica Evans, whose dog Annabelle, was recently euthanized at SVASC, said she was not able to attend the meeting but was "in queue" by phone Monday night.
She expressed frustration that Waynesboro City Council did not take her call.
In a letter to the editor sent to AFP, Evans said what is done cannot be undone.
"We lost more than a dog. We lost a fur baby and a piece of our family," she said in her letter. "I can't find it in myself to tell my 7-year-old daughter where her Fluffo is or that she was murdered in the least.
"The ACO (animal control officer) and Jon (the executive director at SVASC) at SVASC have failed the community, the rescues, the advocates, but mostly my children, my boyfriend and myself," she wrote.
"I also do not appreciate the lack of accountability in this matter, no condolences to my family or those affected by this unjust action.
"As a community who pays for these services and salaries by taxation we will not let this go," Evans said.
Local animal advocates who attended the meeting in person did speak out about her dog's euthanization.
"I'd like to address some concerns about SVASC concerning the pet, Annabelle, that was killed in less than 72 hours of being at SVASC. Annabelle's owner wanted  her friendly dog back, and there was miscommunication and unnecessary barriers that led to Annabelle being needlessly killed," said Robin Hopkins, a Village Drive resident. "Why is there even a fee for picking it up? This is an unnecessary barrier for many low-income families in our community.
"Why can't the fee be sent as an invoice in the mail so that owners can be reunited with their pets ASAP, and taxpayers don't have to pay to feed and house a pet that has a home."
Hopkins said that Evans signed the papers under extreme distress – and didn't fully understand what the paperwork meant for the fate of her dog.
"These things demand immediate attention to prevent such a horrible thing from happening again."
She also questioned the price tag related to the shelter's relocation to Verona next year. Local residents have been asked the three localities to revisit the need for a new shelter if they can't pay for additional staffing to expand the number of pets SVASC can house. They don't want the localities to pay millions of dollars unless they can increase the capacity at the shelter.
"Why are the taxpayers paying $3 million for a new shelter in Verona? They will have the exact same capacity to house animals regardless of the dramatic increase in space. We've been told that there will be space available to expand for more animals. But what about the criteria for doing that? SVASC is in constant crisis due to its current capacity," she said. "So what additional evidence is needed to demonstrate that the increase capacity is a must at the new location?"
Augusta County resident Dulcey Fuqua also spoke about what happened to Jessica Evans, and her dog, Annabelle, or Annie.
"This is a case where a woman was coerced into surrendering her pet to the county by using a threat of a potential felony charge and leading her to believe she could not retrieve her personal property, Annabelle Annie without paying the fee first," said Fuqua. "Annabelle only lived at the shelter for 72 hours before she lost her life.
"She was a friendly dog who loved other dogs and children. She had an owner who wanted her back. This should have never happened. We hope this tragic situation will be a catalyst for change moving forward."
Related stories
Craigsville dog euthanized by shelter; owner was waiting for paycheck to pick up pet
Augusta County residents demand justice after shelter euthanizes four dogs
Critics question Shenandoah Valley Animal Services Center move, citing costs, capacity
Jessica Evans: Injustice caused by Augusta County Animal Control, SVASC
Municipal animal shelter to move to Verona Elementary School in 2024