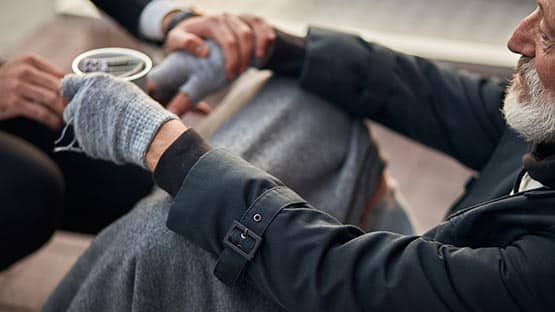 From the outside looking in, a former Waynesboro resident has been reading about the city's efforts related to homelessness. She's seen stories talking about the need for a day shelter and said a solution could cost a lot less than the $1.5 million to $5 million figures that have been discussed.
While she wishes to keep her name out of the news, she wants to share her experience trying to address the homeless crisis in the River City, that she said ultimately pushed her out of the state, where she still lives in fear of repercussions even for speaking out now.
For this story, we'll call the person Dana Smith, though this is not her real name.
Smith and her husband and nine children lived in Waynesboro until 2021.
In 2016, the couple purchased a property on Port Republic Road for around $10,000. The goal had been to operate a non-profit church complete with Bible studies. The couple renovated the space and eventually purchased a second property next door.
"We started to realize just how much need there was," Smith said.
A calling: Above and beyond church services
Like many churches in the area, Smith said they felt called to do more for the homeless people in the area. They were open seven days a week and started serving three meals a day. They opened up a clothes closet and food pantry to help not just the homeless but people who needed a hand up. Because many homeless people don't have a place to call home, they used some of their extra space to store belongings for them until they got back on their feet. She said the effort was a family project – where they invested their money to try to do what they feel they were called by God to do.
In the beginning, she said, the city welcomed her with open arms. Their non-profit church, called Community Bound, teamed up with Waynesboro Area Refuge Ministry as an overflow shelter during cold-weather months, much like many other churches do today. City Council members also toured their property to get a better idea of how this church and family were pitching in to help people struggling in the River City.
"We had people from the neighborhood that would come over and join us for meals, people, you know, that did have places to live, but, you know, food was tight. We had some senior citizens that were living in the apartments across the street that got to be regulars for the fellowship and for regular meals," she said. "And we just built our own community."
She said they served 30-50 people per meal. Over time, the family got to know many of the people stopping in, and she said, they felt bad saying, "see y'all later. Y'all go sleep in the woods, and we're going home."
Slowly, she said, they allowed people working on making changes in their life to stay overnight when WARM shelters weren't available. She said her husband would stay overnight with them. Sometimes, they had up to 10 people there.
"We were working on shower facilities. We were working on laundry facilities," she said.
They had momentum and felt they were doing everything they could to make Waynesboro a better place for everyone.
The building they purchased next door was going to be used for a thrift store where items could be donated, and then available to others at no cost. Unfortunately, they were never able to open up the free store.
And then everything changed. She's not sure if it was neighborhood complaints or the fact that they had decided to branch out from WARM, but she said they were blindsided by opposition.
Pushback from the city
"We started to get some pushback," she said. "We were never in it for the credit. We were in it for the people. And we loved the people. And that was who we were there for."
She said that in 2018, different city departments started showing up: the fire department, police department, zoning officials, etc. Even Child Protective Services showed up questioning them for having their children at the church with them. Her children were homeschooled by Smith – so they generally went where she did. However, she said, she never once felt her family was in danger in their church.
"They told us that we were going to have to shut everything down," she said. "We weren't allowed to have people there. We weren't allowed to do this. We weren't allowed to do that."
She said the fire marshal found a door that was locked that shouldn't be – and they immediately resolved the issue.
She said the city basically said they weren't a true church, and therefore, couldn't operate a shelter, how the city viewed them, at their current property.
"We had Bible studies," she said. "We're there to be the hands and feet of Jesus. And this is what we feel we're supposed to be doing."
After they were told to shut down, she said she sent a letter to zoning giving their reasoning for staying where they were legally.
"We felt legally we were allowed to do what we were doing as a church," she said. "We felt that it fell under what we were allowed to do – to provide outreach to people in need."
And then things quieted down for 6-8 months, she said.
"They left me alone," Smith said. "They basically abandoned their legal zoning issues – and then came after my family."
Accusations of child abuse 'blindsided' us
Smith said her husband and her have no criminal record. She said she's never done drugs or even smoked a cigarette, but "we were blindsided with all sorts of accusations of child neglect and drug abuse – and it just came out of the blue."
"We had our children participating in this (the ministry). We were all there. We were doing things together," she said. "I guess somebody didn't like the fact that we had people that were homeless or that were drug addicts. And our children were there; obviously closely supervised."
She said the accusations were traumatic, and while the claims were being investigated, she wasn't able to see her own children as part of a safety plan. She stayed at the shelter, and her husband took care of their children. She was forced to go to Verona for "supervised visits" with her kids.
The reason: "Charges were pending" against her, she said police told her. "I did every drug test. They did a hair follicle drug test. Every single time, it came back perfectly clean. I knew it would because I've never done anything like that."
Testing a theory, they closed the church
"I put on a different hat. I said, What is going on? What is the purpose of all of this? This is not random. I know I've done nothing wrong. I came to the conclusion that they thought they couldn't get rid of me legally because of the letter that I sent them. They knew I had a point.
"I think they were so desperate as a city to not have anybody know that there was a homeless problem in Waynesboro, and we made it slightly visible in that little area, and they didn't like that. They wanted us gone."
She said that she decided to test her theory. After a visit with her kids "supervised" in Verona, she went back to the building. She took the church sign down. And cried the whole time doing it.
"I took the sign down, and I closed the doors."
She said she visited her children the next day, and CPS called her and her husband back after the visit. She was told she couldn't be alone with her children, but she no longer needed to come in for supervised visits.
"With the building officially being shut down, everything started to just disappear," she said. CPS also concluded their investigation.
After closing the building, they spent time getting their home ready to go on the market.
"We really just didn't feel safe in Waynesboro anymore," she said. "We felt like if they are willing to go to these lengths to stop something, it wasn't a city we wanted to be in."
She said no matter the outcome, they are proud of what they accomplished in Waynesboro: helping people get apartments, get checked into drug rehab facilities, reconnecting people with their estranged families, providing help to get people food stamps or Medicaid and getting people back and forth to appointments.
The city's side to the story
Of course, there are always two sides to every story.
Waynesboro City Manager Mike Hamp said the zoning administrators notes related to the property showed a Certificate of Occupancy was initially issued for the property for a church. Churches, he said, are allowed in any zoning district.
However, Hamp said, the use morphed into more of a shelter/community services building.
He said that "building and zoning received complaints regarding the building being utilized as a shelter."
The notes said that a zoning official communicated to the owners that the only way they could operate as a shelter would be by obtaining a conditional use permit.
"The owners did not pursue a CUP application and continued to operate," Hamp said. "Ultimately, the city enforced against the owners as a violation of the zoning ordinance."
According to Captain Alyssa M. Zullig with the Waynesboro Police Department, there were 171 events at the Port Republic Road address from 2017 to 2021. The report provided by the department shows a number of reasons for the calls ranging from suspicious activity to drug-related incidents, disorderly conduct, noise disturbances, citizen complaints and simple assault. The call report also shows a number of visits related to paperwork, walk-throughs and visits to assist other agencies.
Simple solutions may be possible
Regardless of the reasons for the closure, the lesson from their story is that there may be solutions for a day shelter that don't involve millions of dollars.
Since most permanent solutions would take years, perhaps a church or organization could fill the gap temporarily – providing day services for a lot less than the numbers being thrown around in Waynesboro and other locations – as long as they have the correct permits to provide the day services. Perhaps the city and the organization could come to an agreement related to zoning for the short term.
After everything Smith and her family went through in Waynesboro, she said they are healing and doing what they can to help people in need elsewhere.
As for Waynesboro, she said the city should think outside the box when it comes to affordable housing: for example, maybe a tiny house village.
"There were a lot of gaps," she said. "We were able to help families that were not being helped by other organizations in the area.
"We were able to show them love, that we didn't care where you came from, what you're doing. We love you, and Jesus loves you, too. And we're here for you.
"We're not just giving them a meal and a nap," she said. "We're keeping them alive. We weren't putting barriers in place. We were a safe place."
Related stories
Evicted again: Police assisting B Street landowner with 'trespass enforcement' of homeless
Evicted: Waynesboro's homeless population served trespassing orders for Tent City
Homeless population packing up, moving out of Tent City in Waynesboro
Despite options, most Tent City residents 'pitched their tents elsewhere'
Resident: Tent City evictees land at B Street encampment, 'unsafe' for children
Citizens urge Waynesboro to take the lead on homelessness, affordable housing
Tent City evictions: Councilman thinks the city should have answers for housing problem
Ending homelessness: What can Waynesboro do to prevent the next Tent City?
Harrisonburg shares vision, designs for Homeless Services Center
Harrisonburg ready to share designs for planned Homeless Services Center