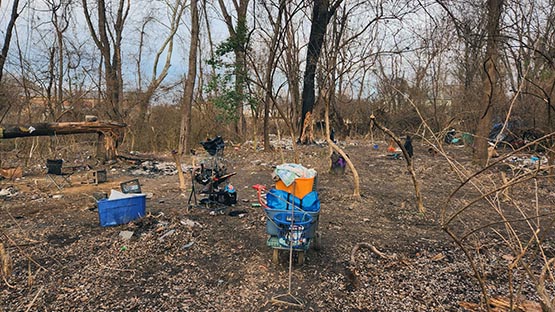 When Tent City in Waynesboro closed this month, 21 homeless individuals were forced to find other places to stay.
However, none came to the Waynesboro Area Refuge Ministry cold-weather shelter, said Brian Edwards, acting executive director for WARM.
"Some got places through rapid rehousing, others went with family members, but some declined and pitched their tents elsewhere, I assume," Edwards said.
Lydia Campbell with Valley Community Services Board said that her records show that eight of the individuals took advantage of storage space offered by LIFEworks and Embrace. She said a few people required temporary housing and agreed to contact the agency if they end up back outside. The rest provided their new camping location so VCSB could continue to provide outreach and resources.
Of the 21 individuals, Campbell said, five are in active housing searches with either the permanent supportive housing program or the rapid rehousing program.
"One has been approved for a unit," Campbell said, "and is just waiting for the lease date. I am aware of one who is eligible for and accepted a bed at Valley Mission but has not checked in."
Valley Mission is a homeless shelter based in Staunton.
According to Campbell, rapid rehousing is short-term, needs-based rental assistance for which the only initial eligibility criteria is literal homelessness.
"After three months of assistance," Campbell said, "folks household income has to be at or below the 30 percent income limit for area for continued rental assistance."
The goal, Campbell said, is to be able to rapidly rehouse someone who enters homelessness within 30 days of their entry.
"Based on the level of need in our community and lack of affordable units, that's just not often a reality," Campbell said.
Related stories
Evicted: Waynesboro's homeless population served trespassing orders for Tent City
Tent City evictions: Councilman thinks the city should have answers for housing problem
Homeless population packing up, moving out of Tent City in Waynesboro
Ending homelessness: What can Waynesboro do to prevent the next Tent City?