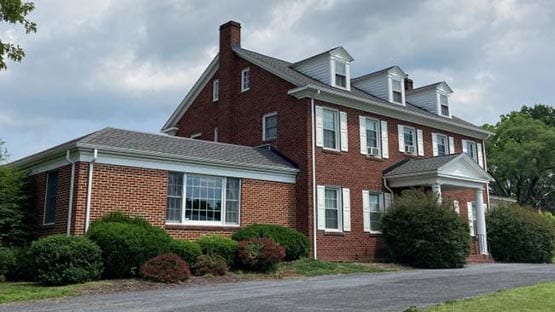 The City of Harrisonburg shared preliminary designs for its Homeless Services Center with the community earlier this month.
Harrisonburg, and the city's architectural firm for the project, MTFA, shared images and sought additional feedback from the community for the 1111 N. Main St. renovation before they finalize plans for a 24/7 day center and low-barrier night and cold-weather shelter.
"A key aspect of the latest presentation was a discussion regarding preliminary designs – both the potential functionality of the space inside and the aesthetics of the outside," said Harrisonburg's Director of Communications Michael Parks. "While it's still preliminary at this time, seeing the potential for the building start to come into focus is exciting. We are moving closer to being able to finalize the design and take the next big steps forward."
Some of the feedback from the stakeholders at the meeting included:
Mailboxes and storage lockers for personal belongings should be considered
Need for personal safe space for sleeping quarters; consider low partitions to create privacy
Durability and sturdy design needed due to high use of shelters
Small training rooms with computers should be provided
Bulletin board should be provided for resources, ride-sharing information
Provide access to bathrooms when shelter is closed
Consider light and sound control for those who might work second or third shifts
Provide safe outdoor space
Office space for case managers and private meeting spaces should be provided
Space for medication storage and dispensing as well as respite services should be included
Consider pay to stay options for some guests
Consider some kind of food pantry service within the shelter
The project will provide a day shelter with 75 permanent beds, 25 cold-weather beds, showers, laundry, a commercial kitchen, dining hall, community room, outdoor recreation space and multi-purpose rooms.
After sharing the overall vision, mission and values for the projects, MTFA also shared a project schedule and long-term vision for the project site.
The city and the design firm are still reviewing and updating designs based on the feedback received from agencies and community members.
"This continues to be a community-driven project, and we are grateful for all the organizations taking part in conversations to make sure this facility is the best it can be for those it will serve," said Parks. "These relationships and the support of our community is important now, but will be even more important once the facility is open."
Once the designs are finalized, the city should be able to put out an RFP for construction.
"We also will be putting out an RFP for a provider for shelter services, and a provider for day services. Those RFPs should go out in the spring," he said.
The city is hoping to have beds open for the homeless population by the end of the year.
"That remains our goal," Parks said. "We look forward to selecting an organization for construction so we can continue talks about what it will take to open this facility as soon as possible."
Related stories
Harrisonburg ready to share designs for planned Homeless Services Center
City moves forward on purchase of permanent homeless shelter property
Harrisonburg seeks input on prioritizing most critical needs for ARPA funds
Affordable housing program expert named Harrisonburg housing coordinator