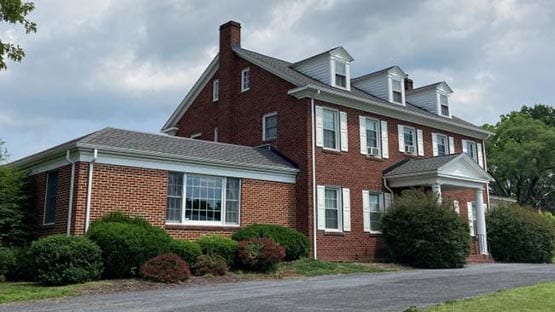 The City of Harrisonburg has learned that finding a solution to homelessness isn't a quick fix, and to be successful, the city needs the support of nonprofits and service providers. While the city is working to provide a space for a 24/7 day center, it isn't a service provider.
The Homeless Services Center in Harrisonburg is currently in the design phase. The building at 1111 North Main St. was purchased in 2022 for $700,000 with a goal to provide a permanent low-barrier shelter for adults experiencing homelessness.
The North Main Street location is within walking distance to many agencies providing services to the unsheltered population.
The design
In October, the city met with stakeholders to discuss the wants and needs for the building.
On Friday, the city's architectural firm for the project, MTFA, will share preliminary design images of the project and get additional feedback from the community before the plans are finalized.
While neighbors nearby in Waynesboro struggle with a solution to help those who are homeless, Harrisonburg is forging ahead with plans to provide a day shelter with 75 permanent beds, 25 cold-weather beds, showers, laundry, a commercial kitchen, dining hall, community room, outdoor recreation space and multi-purpose rooms.
According to estimates from the Harrisonburg Redevelopment and Housing Authority, there are at least 159 homeless people in Harrisonburg. A count was done last week – but final numbers have not been tallied.
History
Harrisonburg's Director of Communications Michael Parks told AFP that this solution took considerable time and effort.
In the summer of 2019, Parks said, Harrisonburg Mayor Deanna Reed started monthly meetings with area service providers to address the homelessness issue in the city.
"Through those conversations, we started to get a better idea of what the needs are that exist in our community," Parks said. "We really started to understand what some of the needs are that we could possibly accomplish as a city."
One of those needs, Parks said, was a permanent facility.
Funding
The city received $24.8 million in American Rescue Plan Act funds, and City Council immediately said they wanted to use some of the funds to build the shelter.
The estimated cost for the construction including the purchase of the property is $5 million. Additional funds will be needed for the annual operation and maintenance of the property and will likely come from the city's Civic and Community Organization grant funds, part of the general budget.
The $5 million price tag is much higher than the estimate from the Waynesboro Area Refuge Ministry who thought a facility of this nature might cost around $1.5 million.
Partnerships
After design, the next step for Harrisonburg, Parks said, is to put out an RFP, or Request for Proposal, for an organization that will run the overnight shelter and an organization that would be interested in providing day services as the facility.
"Once we finalize those designs and start finding some organizations to provide services at that building, because that's not a service that we as a city can offer, you know, we can't operate the shelter, but we certainly can provide space," Parks said.
The goal is to have the sleeping portion of the building completed by the end of the year – though the full project will not be complete until some time in 2024.
"We have not started construction there yet," Parks said. "It remains our goal to get the sleeping area and associated services available by the end of 2023."
On a typical night, the shelter may see 40 to 50 individuals who need a warm place to sleep. That number certainly does not accurately reflect the number of people experiencing homelessness in the city, Parks said. It doesn't include people sleeping on the street, on a friend's couch or in their vehicles.
Parks said the true number is likely much higher – and credits local nonprofits and service agencies for helping guide the city on this project.
"It's very important for us to work with these organizations. These organizations are the experts in our community. They are the ones that have been doing this work and doing incredible work for a long time here in Harrisonburg," Parks said. "I don't know where we would be without those organizations. We're very happy to work with them to understand what the need is and what resources we can bring to bear.
"We're very grateful to all the hard work from the nonprofits in our community, the volunteers in our community, the churches … everyone that provides food. Because space isn't the only thing that is needed," Parks said. "It's not just the City of Harrisonburg, we can't do it on our own. We are not the experts here, but we're lucky to have great experts in our community."
No 'quick fix' to address homelessness
With neighboring cities like Waynesboro searching for their own solutions to address affordable housing and homelessness, Parks said "it's not a quick fix."
"This is something we've been talking about for a long time. We've been talking in earnest since the summer of 2019. It is 2023, and we have not started construction on the building."
Parks said Harrisonburg isn't alone in dealing with an issue that cities across the nation are facing.
"We don't anticipate solving homelessness here in Harrisonburg," Parks said. "But we're going to do all we can to support individuals in need.
"For other communities that are looking to address this, we're obviously happy to talk with them and share what we've been doing. There are communities like Virginia Beach and others that are ahead of us on this kind of project," Parks said.
"It takes time, and it takes collaboration."
Harrisonburg homelessness resources
For more information on Harrisonburg's Homeless Services Center, visit https://www.harrisonburgva.gov/homeless-services-center
For individuals experiencing homelessness or who will lose housing in the next 10-14 days, a Central Housing Intake line is available at (540) 271-1701.
Related stories
City moves forward on purchase of permanent homeless shelter property
Harrisonburg seeks input on prioritizing most critical needs for ARPA funds
Affordable housing program expert named Harrisonburg housing coordinator
Evicted: Waynesboro's homeless population served trespassing orders for Tent City
Tent City evictions: Councilman thinks the city should have answers for housing problem
Tent City is not the solution: But Waynesboro doesn't seem to care about its homeless