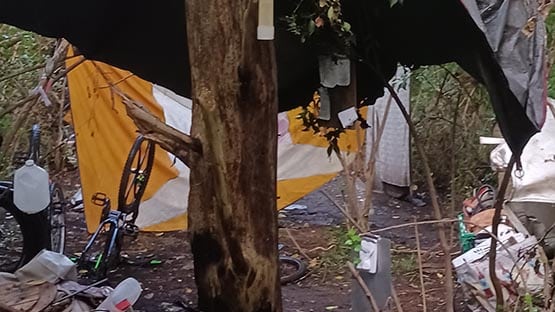 In Waynesboro, a B Street resident thought bringing attention to a homeless encampment and the activities there might help shut it down.
Unfortunately, in wake of the evictions at Tent City on Essex Avenue, Pamela Mitchell said the B Street area where she calls home has become a new landing ground for even more unsheltered people in the River City.
As we reported earlier this month, a woman contacted AFP upset that several homeless people in an encampment bordering the property lines at her house have stolen from her backyard – and have been urinating in the area – in plain sight of her children. She's also frustrated that despite numerous calls to the city police department, no action has been taken against the people living on the nearby property for theft or indecent exposure.
The Waynesboro Police Department replied to AFP to say that it had responded to three complaints about the encampment last year.
"Advice was given, and the encampment was determined to be on private, not city property," Sgt. Jamie Dunn said.
Mitchell said this week that things have only gotten worse in recent days.
On Valentine's Day, Mitchell said they had a truck load of people dropped off, and in her words, "junk" moved in with them.
"It's a total junkyard back there," she said. "My neighbor went back there and asked what they were doing. They said they had permission."
On Feb. 15, more people and belongings arrived in a van bringing more traffic to the area – especially at night, according to Mitchell.
The Waynesboro property appears to be owned by Linco Inc., a commercial grading company based in Waynesboro.
AFP reached out to Linco to discuss the encampment on the property but did not hear back. Mitchell said she has also called numerous times and sent an email, but no one has returned her calls or email. She said a staff member at Linco gave her the cell number for Jim Critzer, who appears to own the company, but calls to his number have also not been returned.
"I sure hope they listen," Mitchell said. "This is not OK around my children or anyone's. Kids used to fish and swim back there … it's not safe now for anyone.
"Someone has to know a way to help," Mitchell said. "This is not only unsafe for me and my children, but all of us that live around this area.
"What else can I do? It is so unsafe," she said. "And a total junk yard back here. It's so frustrating."
Related stories
Waynesboro homeowner says B Street homeless encampment 'not safe'
Waynesboro City Council to discuss homelessness at Feb. 24 retreat
Citizens urge Waynesboro to take the lead on homelessness, affordable housing
Homeless population packing up, moving out of Tent City in Waynesboro
Evicted: Waynesboro's homeless population served trespassing orders for Tent City