Gov.-elect Terry McAuliffe announced his "Common Ground for Virginia" transition committee on Thursday, a bipartisan group of Virginians from all regions of the Commonwealth who will work with McAuliffe over the next two months to build the foundation for a successful administration.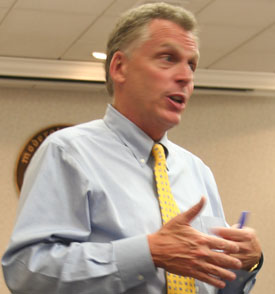 "I am honored to work with this bipartisan group of leaders representing a variety of backgrounds, political persuasions, and regions across the Commonwealth to build a strong and diverse administration that will help me bring Virginians together to grow our economy," McAuliffe said.
"The challenges we face require leaders who will put old battles aside and find common ground to move us forward together. I have no doubt that this transition committee will help me build an administration that is ready to hit the ground running on the issues that matter most to Virginia families."
The transition committee will operate out of the governor-elect's transition offices, located at Old City Hall, 1001 E. Broad Street, Richmond, Va.
The phone number for the transition office is 804-663-7474.
The Common Ground for Virginia Transition Committee  
Stephen Adkins
Chief, Chickahominy Tribe of Virginia
Charles City
Nancy Howell Agee
President & CEO, Carilion Clinic
Roanoke
Jaime Areizaga-Soto
Military Attorney
Arlington
Robert Blue
Senior VP, Dominion
Richmond
Mark Bowles
Executive VP, McGuire Woods Consulting
Goochland
Sharon Bulova
Chairman, Fairfax County Board of Supervisors
Fairfax
Vince Callahan
Former member, Virginia House of Delegates
Alexandria
Aneesh Chopra
Co-Founder & EVP, Hunch Analytics
Arlington
Karen Conchar
Secretary-Treasurer, SEIU Virginia 512
Midland
Frank M. (Rusty) Connor, III
Managing Partner, DLA Piper
Alexandria
Jim Corcoran
President & CEO, Fairfax County Chamber of Commerce
Fairfax
Doris Crouse-Mays
President, Virginia AFL-CIO
Vinton
H. Benson Dendy, III
President, Vectre Corporation
Richmond
Linda DiYorio
Former District Director, Office of Congressman Rick Boucher
Wytheville
Eileen Filler-Corn
Member, Virginia House of Delegates
Springfield
Jay Fisette
Member, Arlington County Board
Arlington
Paul Fraim
Mayor, City of Norfolk
Norfolk
W. Heywood Fralin
Chairman, Medical Facilities of America
Roanoke
Leni Gonzalez
President, Board of Director, Shirlington Employment and Education Center
Arlington
Marco Grimaldo
CEO & President, Virginia Interfaith Center
Richmond
Lori Haas
Virginia State Director, Coalition to Stop Gun Violence
Richmond
Eva Hardy
Former State Director, Office of Senator Mark Warner
Richmond
Joni Ivey
Office of Congressman Bobby Scott
Newport News
Ken Johnson
President & CEO, Johnson Inc.
Richmond
Meg Gruber
President, Virginia Education Association
Chesterfield
Mike Kennedy
District 17 Representative, United Mine Workers of America
St. Paul
Anne Leigh Kerr
Attorney, Troutman Sanders
Richmond
Babur Lateef, MD
Physician
Manassas
John LaVoie
Attorney, Cooley LLP
Alexandria
Alfonso Lopez
Member, Virginia House of Delegates
Arlington
Boyd Marcus
Former Chief of Staff, Office of Governor James Gilmore
Richmond
Donald McEachin
Member, Senate of Virginia
Henrico
Jeff Painter
Executive Director, Virginia League of Conservation Voters
Richmond
Chris Peace
Member, Virginia House of Delegates
Mechanicsville
Phillip Puckett
Member, Senate of Virginia
Lebanon
Linwood Rose
President Emeritus, James Madison University
Harrisonburg
Karen Schultz, MD
Director, Center for Public Service and Scholarship, Shenandoah University
Winchester
Will Sessoms
Mayor, City of Virginia Beach
Virginia Beach
John Sherman
Former CEO & Vice Chairman, Scott & Stringfellow
Richmond
Knox Singleton
CEO, INOVA Health System
McLean
Cianti Stewart-Reid
Executive Director, Planned Parenthood Advocates of Virginia
Richmond
Terrie Suit
CEO, Virginia Association of REALTORS
Virginia Beach
Susan Swecker
President, Dividing Waters Public Affairs, LLC
Richmond
Robert G. Templin, Jr.
President, Northern Virginia Community College
Centreville
Adam Thiel
Fire Chief, Alexandria Fire Department
Alexandria
Warren Thompson
President  & Chairman, Thompson Hospitality
Reston
Edmond Turner
Disability Consultant, Turner and Associates
Richmond
Katherine Waddell
Former Member, Virginia House of Delegates
Richmond
Jeion Ward
Member, Virginia House of Delegates
Hampton
Jody Wagner
President, Jody's Popcorn
Virginia Beach
Ryant Washington
Sheriff, Fluvanna County
Palmyra
Judy Ford Wason
Former VP for University Advancement, Christopher Newport University
Williamsburg
John Watkins
Member, Senate of Virginia
Powhatan