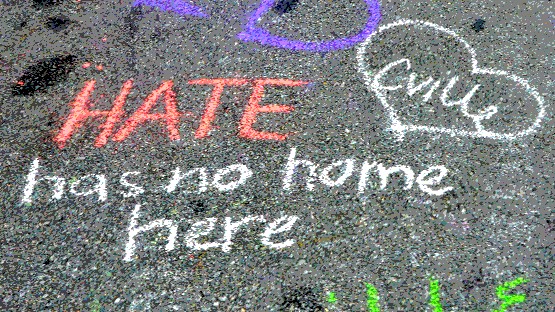 The 2017 Charlottesville Unite the Right white nationalist rally is the subject of the HBO documentary film "No Accident" debuting on Tuesday, Oct. 10 at 9 p.m. on HBO. The film runs 97 minutes.
The rally led to the death of Heather Heyer, 32, of Charlottesville, at the hands of a participant in the rally, James A. Fields Jr.
In 2019, Fields was sentenced to life in prison for his crimes.
Directed by Emmy Award-winning filmmaker Kristi Jacobson, the film gives behind-the-scenes access to attorneys Roberta "Robbie" Kaplan and Karen Dunn who filed a civil lawsuit against 17 white nationalist leaders and organizations on behalf of nine plaintiffs who suffered physical and emotional injuries while peacefully counter protesting the rally.
The lawsuit alleged that the event was not an isolated, spontaneous gathering, but rather a well-planned and coordinated conspiracy to incite racially motivated violence and to advance an anti-Semitic, race-war agenda.
"No Accident" chronicles the trial, where co-counsels Kaplan and Dunn along with attorneys Michael Bloch and Jessica Phillips, go head-to-head against alt-right and white supremacist leader Richard Spencer and extremist podcast host Christopher Cantwell, among other defendants.
When Spencer and Cantwell represent themselves at trial and act as their own attorneys, the plaintiffs must confront their attackers on the witness stand during cross-examinations.
Revealing the vitriolic online language and communiqués that led to the death of Heyer and the lasting trauma of many who were present on Aug. 12, 2017, through testimony from the trial, the film exposes a broad network of conspirators and details the challenges of holding those leaders and organizations liable for their actions.
"No Accident" will also be available to stream on Max.
Promo video
Related stories
Letter: Six years since Unite the Right
Published date: August 12, 2023 | 10:05 am
City police department monitoring chatter for Unite the Right anniversary weekend
Published date: August 1, 2022 | 6:02 pm
Unite the Right fifth anniversary marked with photo exhibit, walking tour
Published date: August 1, 2022 | 5:28 pm
Photography exhibit marks fifth anniversary of the deadly Unite the Right rally
Published date: July 19, 2022 | 3:43 pm
Court rejects effort to overturn James Fields convictions in Unite the Right case
Published date: November 16, 2021 | 3:22 pm
Special events ban still in effect in Charlottesville as city marks third anniversary of 2017 violence
Published date: August 11, 2020 | 2:50 pm
State Supreme Court upholds 'Unite the Right' conviction
Published date: August 5, 2020 | 7:43 pm
Appeals court denies appeals for Unite the Right convictions
Published date: November 12, 2019 | 12:45 pm
Beyer on 2018 hate crimes stats, Trump response
Published date: November 12, 2019 | 5:25 pm
Families of Heyer, Jabara urge passage of NO HATE Act
Published date: September 26, 2019 | 3:21 pm
Northam statement on anniversary of violence in Charlottesville
Published date: August 10, 2019 | 11:12 am
Warner on two-year anniversary of deadly Charlottesville rally
Published date: August 9, 2019 | 8:04 pm
Activists: Twitter needs to ban white supremacists
Published date: August 7, 2019 | 1:50 pm
Four California men charged in connection with Unite the Right Rally
Published date: October 2, 2018 | 8:31 pm
Sen. Warner on one-year anniversary of deadly Charlottesville rally
Published date: August 11, 2018 | 9:02 am
Tim Kaine statement on anniversary of white supremacist violence in Charlottesville
Published date: August 11, 2018 | 9:07 am
One year after Charlottesville: Warner, Kaine press DOJ for updates on combating racial hate
Published date: August 10, 2018 | 1:27 pm
Charlottesville activists respond to Unite the Right 2 rally
Published date: August 10, 2018 | 4:31 pm
House Democrats call for changes in state law on anniversary of Charlottesville rally
Published date: August 10, 2018 | 11:19 am
Northam, City of Charlottesville declare states of emergency for Aug. 10–12 events
Published date: August 8, 2018 | 4:26 pm
James Alex Fields Jr. indicted on 30 counts, including hate crime charge, in Aug. 12 rally incident
Published date: June 27, 2018 | 2:16 pm
Kaine: 'You have to condemn the intolerable'
Published date: August 20, 2017 | 2:51 pm
Breaking: Charlottesville to make 'major announcement' on Lee statue
Published date: August 17, 2017 | 4:16 pm
Warner, Kaine call on Sessions to step up efforts to combat hate-based violence
Published date: August 16, 2017 | 2:32 pm
Tim Kaine: 'We will not go back to the days of hatred and bigotry'
Published date: August 16, 2017 | 2:10 pm
David Swanson: Disarm Nazi disrupters of Heather Heyer funeral
Published date: August 15, 2017 | 6:13 pm
Paramount Theater to host Heather Heyer memorial service
Published date: August 15, 2017 | 3:17 pm
Marietta McCarty: Charlottesville is All-Right
Published date: August 14, 2017 | 10:37 pm
Update on murder at Charlottesville rally
Published date: August 13, 2017 | 11:05 am