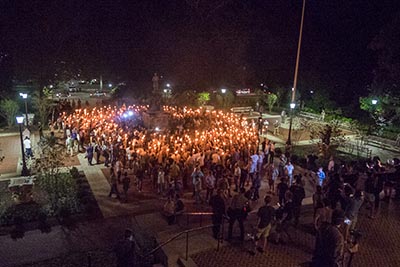 The Unite the Right rally in Charlottesville shook the Central Virginia city to its core when a counterdemonstrator was killed in a deadly car attack on the Downtown Mall.
Now, almost five years later, the Virginia Holocaust Museum in Richmond is hosting a photo exhibit of images from the deadly protest and aftermath by Longwood professor and photographer Alec R. Hosterman.
"There's Just Us" is on display at the museum through December 30. The museum also hosted the exhibit in 2018 for the one-year anniversary of the hate-filled rally.
Hosterman said that he had done protest photography in the past and was persuaded by a photographer friend to join them at the rally. He said he thought the images might be useful in some of his communication classes. He wasn't prepared for what happened. He had expected a gathering of 75 or so people. Instead, more than 300 people showed up and confronted a "small, brave group of a dozen counter-protestors" surrounding the Thomas Jefferson statue.
"I think the first feelings were shock and awe. While there, on both Friday night and Saturday, I was in photographer mode trying to capture what I saw." Hosterman said. "I really didn't have time to take it in. I was also trying to avoid getting hurt or enter the melee that happened.
"But afterwards, there wasn't a day I didn't think about what happened for at least the first year afterwards. That's when I realized I needed to do something with the images beyond posting them to social media."
The photography exhibit represents the violent clashes he saw when communities fight hate and bigotry as well as the collective voices that were brave enough to stand up for what they believe in no matter the cost.
"It's a privilege to host this powerful retrospective again in 2022," said Samuel Asher, executive director of the VHM. "It aims to remind us that the struggle for diversity and inclusion in our communities still continues, but we are never alone. Together, we can remember those voices who were silenced all too soon and resolve to make this world a better place to live."
The Unite the Right rally in Charlottesville took place on August 12, 2017. Counterdemonstrator Heather Heyer, 32, was killed when a 21-year-old motorist plowed a Dodge Challenger into a crowd of protestors on a one-way street. The driver, James Alex Fields, Jr., was sentenced to life in prison on federal hate crime charges in 2019. He pleaded guilty to 29 of 30 hate crimes charges in a plea deal to avoid the death penalty.
In all, 35 people were treated for injuries sustained in physical clashes between white nationalists and those opposed to them.
"People should expect to see images that not only document that weekend but also images that show what everyday people did to confront the protestors that day," said Hosterman. "The images are raw and unvarnished, and some are hard to view. But that's the point. 'There's Just Us' is about understanding how invasive white supremacy has become and the need to combat it wherever we can."
Hosterman is an associate professor of communication studies at Longwood University where he teaches courses in public relations, social media technologies and deception and lying.
The Virginia Holocaust Museum employs the history of the Holocaust and other genocides to educate and inspire future generations to fight racism, bigotry, and prejudice.
Located at 2000 E. Cary Street in Richmond's historic Shockoe Bottom, the Virginia Holocaust Museum is free and open to the public.
Hours are Monday-Friday from 9 a.m. to 5 p.m., and Saturday and Sunday from 11 a.m. to 5 p.m.
For more information, visit vaholocaust.org