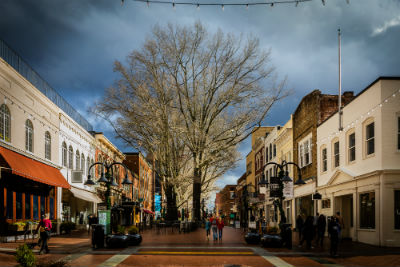 A photo installation is planned on the Downtown Mall to mark the fifth anniversary of the Unite the Right event that took place in Charlottesville.
"The Story of Us: Reclaiming the Narrative of #Charlottesville through Portraits of Community Resilience" exhibit's creator, local photojournalist and artist Ézé Amos, will lead the events that are open to all. Amos is a documentary photographer who immigrated to Charlottesville in 2008.
The remembrance events were organized by the Charlottesville Democratic Party in appreciation of the courageous activists and townspeople.
'The Story of Us' photography exhibit
"The Story of Us" exhibit opens August 11 with 36 larger-than-life 10′ x 8′ photos mounted on the front and back on trees all along the Downtown Mall. Each photo will have a QR code linking to a 3-minute recording of the person featured in the photo describing that moment at length in their own words in their own voices. The photos will be installed August 9-10.
"These personal narratives show what we know to be true about Charlottesville," said Amos. "It is a city with a complex history and many flaws, but it is also a place of resilience, of unity, of art, and of joy. National media outlets have portrayed our community in negative ways and overlooked all of the ways we've moved toward a better understanding of one another and our city's history."
Town-hall presentation
Amos will facilitate a town-hall style presentation at the Charlottesville Downtown Library on August 10 at 6:30 p.m. Amos will discuss his exhibit and offer attendees a chance to share their emotions and memories from that weekend.
Walking tour
Amos will also lead an hour-long walking tour of his photos, stopping at each of the 18 installations mounted on trees spanning the length of Charlottesville's Downtown Mall. The tour will take place on Saturday, August 13, at 11 a.m. Participants are asked to meet at the water fountain at the intersection with 2nd Street NE.
Unite the Right recap
The Unite the Right rally in Charlottesville took place on August 12, 2017. Counterdemonstrator Heather Heyer, 32, was killed when a 21-year-old motorist plowed a Dodge Challenger into a crowd of protestors on a one-way street. The driver, James Alex Fields, Jr., was sentenced to life in prison on federal hate crime charges in 2019. He pleaded guilty to 29 of 30 hate crimes charges in a plea deal to avoid the death penalty.
In all, 35 people were treated for injuries sustained in physical clashes between white nationalists and those opposed to them.