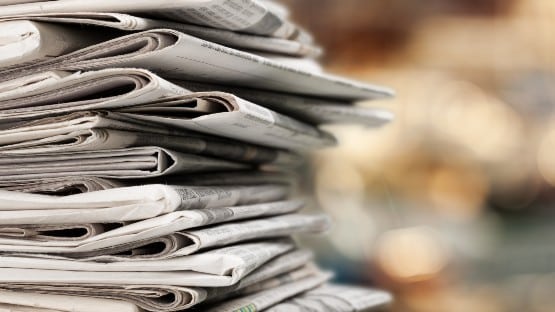 Six Virginia newspapers, including The News Virginian in Waynesboro and The Daily Progress in Charlottesville, will switch to a three-day-a-week print schedule beginning on June 27.
The newspapers, all owned by the Davenport, Iowa,-based Lee Enterprises, announced the print schedule change in similarly-worded "To Our Readers" items posted on their websites early Sunday.
"In an effort to preserve the excellent local news coverage you're used to, the print edition of The News Virginian will move to a different publication schedule starting June 27, with delivery three days each week: Tuesday, Thursday and Saturday," the "To Our Readers" item on the News Virginian website reported.
Each of the papers – along with the two local dailies, the list includes the Bristol Herald Courier, Culpeper Star-Exponent, Danville Register & Bee and Martinsville Bulletin – will transition from being delivered by a traditional newspaper delivery carrier to mail delivery by the U.S. Postal Service.
The moves come as Lee Enterprises, which also publishes the Richmond Times-Dispatch and Roanoke Times, among the 75 dailies that the company owns nationwide, is undertaking similar efforts at a total of 30 of its properties across the U.S.
The rollout of the news about the cutbacks is being spun with headlines promising "expanded" news coverage, though reductions in staffing at the Lee Enterprises properties could make that difficult.
The "To Our Readers" items promise a "'Sunday' reading experience" in the Tuesday, Thursday and Saturday print editions, "bursting with local news and opinions, investigative and watchdog journalism, personalities and profiles, sports stories that take you beyond the results of a game played a day or two ago, and a deeper look at the businesses and market leaders in our community and the world around us."
The same smaller staffs will have to produce all of that while also updating breaking news to their websites, which will be no small feat.
"As you adjust to changes in your print newspaper experience, just know that the truly meaningful things remain the same: There is still a team of dedicated local journalists who work for a local news company," the "To Our Readers" items noted. "We still care deeply about our readers. And we couldn't do this vital work without you and your financial support of local news. Every dollar counts — for you, and for our news organization — and your commitment allows us to sustain and grow local journalism in this community."
Related stories
Warner, Kaine urge funding to support local journalism
Published date: April 8, 2020 | 12:34 pm
Leave Louis Spilman's name on the WHS auditorium
Published date: August 22, 2019 | 11:15 am
Tribute to News Virginian sports editor Jim Gordon: Podcast
Published date: June 26, 2018 | 4:11 pm
Retired News Virginian sports editor Jim Gordon has passed away
Published date: June 22, 2018 | 3:32 pm
Media General explores sales of newspapers
Published date: February 23, 2012 | 10:23 am
More bad newspaper news
Published date: March 30, 2009 | 7:18 pm
News Virginian latest to furlough employees
Published date: February 19, 2009 | 3:04 pm
Progress, NV shift printing to new, more distant locations
Published date: July 8, 2008 | 2:18 pm