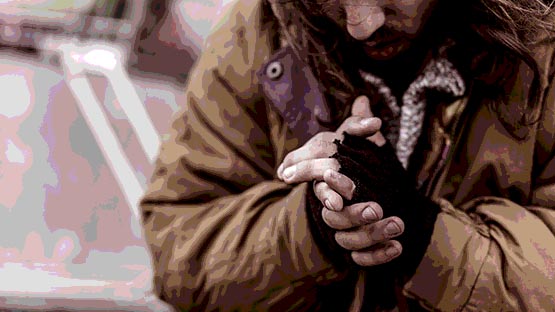 As summer turns to fall, Waynesboro Area Refuge Ministry is gearing up to prepare for cold weather and shelters to offer relief to the region's homeless during winter months.
With funding from the Community Foundation of the Central Blue Ridge, WARM is doubling the number of available beds for unhoused individuals – from 35 per night to 70 – from Thanksgiving to Easter.
WARM Acting Executive Director and Board Chair Brian Edwards said the funding couldn't come at a better time. Due to the shortage of affordable housing throughout the region, the nonprofit believes there will be a larger need for shelters this winter.
"I'm hoping it's enough, praying that it will be enough," Edwards said. "Between us and Valley Mission, hopefully we can accommodate most of the emergency housing needs while places like Valley Community Services Board and Valley Homeless Connection work at getting people into more sustainable housing."
Finding permanent placements for those on a waitlist for affordable housing can be challenging.
"In the past seasons, we've kind of kept our finger on the pulse of what the homeless population is," Edwards said.
However, with many tent cities shut down in Waynesboro, he said, it's harder for the organization to track the actual number.
Last winter, WARM had to turn away some homeless individuals from their cold-weather shelters due to staffing limitations.
When the shelters open in the City of Waynesboro, WARM must limit the number of guests to 20 at one church. They can open an overflow shelter at a second site – but there are staffing requirements that can be challenging due to another cold-weather issue: sickness like the flu, RSV or COVID.
In Augusta County, all 35 guests may stay in one location. And WARM has utilized a building at Augusta Expo to keep all guests under one roof 24 hours a day.
This winter, with the additional funding, they should be able to house 70 people at the Expo location in Fishersville in the coldest weeks of winter.
Edwards hopes doubling their capacity to 70 beds will be enough.
"It does give me some satisfaction to know that we're going to be able to provide," Edwards said. "I do enjoy socializing with many of our men. There have been a couple of them that I've interacted with, when I was a police officer, under not good circumstances. And then there are some that I've known when they were my dear students when they were like 10 years old. So that feels good to know that they're taken care of."
Defining homelessness
Edwards thinks it's important that people don't automatically assume every homeless person is a drug addict or has a mental illness.
"These are regular people who are battling inflation or get laid off – many of them. Many of our guests do have jobs, but it's just not enough to make a living," Edwards said.
A one- or two-bedroom home or apartment rental is often $1,300 a month or more plus utilities and other expenses.
"I think everyone should remember that the path to homelessness for everyone is very different. And anyone really can find themselves in that kind of situation, or close to that situation," Edwards said.
A major medical issue. A job loss. A natural disaster.
"A lot of people don't get a choice."
WARM doesn't just provide a bed but it provides a meal for guests and a place for its guests to socialize. Isolation is something that a lot of the area's homeless face – solitude, all the time, Edwards said.
The shelter often keeps the homeless out of area hospitals, or worse, out of jails, in winter months when previously, some unhoused individuals would do whatever it took for a warm meal and warm place to sleep.
"We provide a lot more than a bed," Edwards said. "It's really a chance for folks to kind of feel like a human being again."
Inside WARM
WARM is hosting a block party on Sept. 9 that is open to the community to attend and celebrate their new administrative offices. The event will be free and offer food and door prizes as well as an open house and ribbon cutting.
The ribbon cutting and open house will run from 2-3 p.m. followed by the community event from 3-5 p.m.
The event will be held on the WARM campus at 1035 Fairfax Ave. in Waynesboro.
Edwards said he is hopeful the community will join the Community Foundation in helping to sustain the shelter with funding for the initial 35 guests. They also have a regular need for clothes, socks, t-shirts, bottles of water, and things of that nature.
For information on current needs, Edwards said to visit their Facebook page or website.
Related stories
Waynesboro: Rising temperatures don't meet 'criteria for a cooling center'
Published date: September 5, 2023 | 3:32 pm
WARM concludes Cold Weather Shelter season for homeless in Waynesboro
Published date: April 10, 2023 | 1:49 pm
Despite options, most Tent City residents 'pitched their tents elsewhere'
Published date: February 24, 2023 | 10:36 am
Evicted again: Police assisting B Street landowner with 'trespass enforcement' of homeless
Published date: February 22, 2023 | 2:41 pm
Property owner responds: Has 'compassion' for homeless, will allow them to stay on land
Published date: February 22, 2023 | 10:51 am
Citizens urge Waynesboro to take the lead on homelessness, affordable housing
Published date: February 14, 2023 | 4:03 pm
Homeless population packing up, moving out of Tent City in Waynesboro
Published date: February 7, 2023 | 6:30 pm
Waynesboro homeowner says B Street homeless encampment 'not safe'
Published date: February 3, 2023 | 3:58 pm
Tent City evictions: Councilman thinks the city should have answers for housing problem
Published date: February 2, 2023 | 8:40 am
Evicted: Waynesboro's homeless population served trespassing orders for Tent City
Published date: February 1, 2023 | 11:42 am
City Council eases restrictions on cold weather shelters in Waynesboro
Published date: January 12, 2023 | 1:24 pm
'Incredibly difficult': Homeless shelter turns people away due to staffing, regulations
Published date: December 9, 2022 | 5:35 pm
Beyond the bikes: Man on a mission to help unsheltered community
Published date: November 18, 2022 | 8:20 am
Waynesboro: Homeless agency needs $40k to get through winter months
Published date: November 13, 2022 | 9:10 pm
WARM urges area churches to participate in cold weather shelter
Published date: September 14, 2022 | 1:21 pm
COVID-19 funding blessing to homeless community, but emergency shelters closing soon
Published date: August 11, 2022 | 12:12 pm