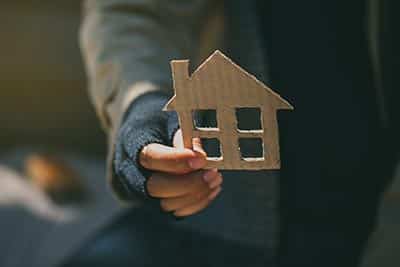 The COVID-19 outbreak created a lot of hardships for families, businesses and the community as a whole. However, in one area, homelessness, the pandemic was a blessing as far as funds directed to communities to shelter those living in tent cities, their cars, abandoned buildings, or worse.
The Coronavirus Aid, Relief, and Economic Security, or CARES, Act, provided immediate funding to keep homeless individuals and families in compliance with the governor's stay-at-home order. The act funded emergency shelters in our region at hotels in Verona and Waynesboro – providing separation and safety for the homeless population.
But the funding for the CARES Act comes to an end in September, and the 75 hotel rooms serving as emergency shelters will close as a result. Local organizations working to find alternatives, most notably permanent housing, include the Staunton-based Valley Mission or the Waynesboro Area Refuge Ministry, or WARM, through their Ruth Anderson WARM House for Women & Children.
There won't be enough housing for the entire unsheltered population – there is already a waitlist of 41 even with the emergency hotel shelters open, and local agencies are scrambling to try to find solutions. Cold-weather shelters won't open until Thanksgiving – and some churches that typically participated as shelter hosts are still hesitant to participate this year due to the pandemic.
The CARES Act
Brian Edwards, the acting executive director for WARM and the board chair for the organization, said that the CARES Act funding served its purpose when vaccinations weren't available. The shelters, he said, were really a bubble, where the homeless community remained safe and avoided COVID outbreaks.
The homeless population, in large part, was vaccinated and boosted, as soon those options were available.
"The unsheltered were not spreading the virus, so they were not part of the statistics that were filling up the emergency rooms and the morgues," he said.
Homelessness and the impact on the community
"This isn't a new problem," said Lydia Campbell with Valley Community Services Board, who serves as the coordinator for the Valley Homeless Connection, and VCSB serves as the fiscal agency for the emergency hotel sites. "Because of the pandemic, the rest of the community started paying attention."
Rural homelessness is often not seen, Campbell said.
"You don't have people laying on park benches or something like you would see in an urban area, it's completely different here."
She said it's going to be tough for those who have had shelter throughout the pandemic that may find themselves outside again because of the lack of funding and lack of available structures for permanent housing.
"It's not a good time for the funding to end," said Edwards. "Its initial purpose was satisfied. But now we have a new problem. You have unsheltered people and no place for them to live."
Permanent housing is difficult to find
The homeless individuals will be sent back to the streets at a time when there is a very dire housing inflation crisis, Edwards said.
"It's very frustrating to have more funding than we've ever had in the community and not be able to use it extremely quickly," Campbell said. "It appears that the disparity between really high-end apartments and affordable apartments is growing and growing."
They are averaging five housing placements a month across all their subsidy programs, Campbell said.
"That's just a drop in the bucket compared to what the need is," she said.
The inflation crisis is also causing a lot more individuals to be priced out of their current apartments and houses.
Campbell estimates that the Valley Homeless Connection Helpline is receiving 200+ calls per day because people are struggling to find housing they can afford.
It's not just about housing – it's about services
The Waynesboro hotel site is closing early – on Aug. 19 – due to staffing issues. Most of the people there are finding alternative housing or placement at the Verona location. But the Verona hotel location will also close on Sept. 19.
Augusta Health is providing a donation to help purchase supplies for individuals that may find themselves unsheltered again.
"When they are unsheltered and live in a tent city or their car, they are not only unsheltered," Edwards said, "but they are not receiving the services – substance abuse, mental health – that they were when we could more easily deliver to them when they are sheltered."
Edwards, who previously worked in law enforcement, said that the community has benefited greatly from having the homeless housed during the pandemic. He said he is confident that the number of homeless people being arrested or sent to the hospital decreased while the emergency hotel shelters were open.
"Now the shelters will be closed," he said. "My guess is that we are going to see a spike in homeless people being arrested, going to Middle River (Regional Jail) or going to the emergency room. Because sometimes it's three o'clock in the morning, and the officer is not going to know what to do with that person. So they will take them to the hospital or find a reason to arrest them so they can go to Middle River because it gives that person a place to be. However, it's not where the person should be."
Edwards said that the cost to house the person in jail or at the emergency room likely far exceeds what the cost would be to shelter the person – individually or in a congregate setting like Valley Mission.
What can communities do?
The cities in the region – Waynesboro and Staunton primarily – will likely see the most impact from the homeless populations back on the streets. Homeless people generally find locations where they have easier access to the grocery store, social services, schools, etc.
"Communities really have to come together, and say, 'What can we do?'" said Campbell. "They may not be seeing it (a problem) now. But they will come September, October. I think it's going to be more and more evident."
It's a big deal that a number of organizations are now at the table to help Campbell and Edwards address the homelessness issue. Augusta Health and The Community Foundation of the Central Blue Ridge have stepped up to work to find solutions in the region.
"The number one predictor of future homelessness is a previous episode of homelessness," Campbell said. "So if we are able to keep those episodes rare, brief, non-recurring, then the goal is to get these folks permanently housed."
The costs for organizations is much less when they can provide permanent housing because they don't need 24-hour monitoring so staffing needs are much less.
In a perfect world, the solution would be emergency housing immediately – and then placement in permanent housing within 30 days, Campbell said. When that isn't possible, the cold-weather shelters at least provide shelter 14 hours a day on the coldest days of the year.
Cold-weather shelters
In many cases, homeless people are working, and they still can't afford rent, utilities and transportation. Most don't have a fixed address, and some don't have state-issued IDs which provides additional challenges.
Edwards said that the cold-weather shelters do help, but they aren't 24/7 like the emergency shelters are. Churches generally work together to rotate locations from Thanksgiving to Easter.
"It's a problem, because there are some churches that are not ready to have us back," Edwards said. "They are still worried about COVID.
"We are going to be reaching out to our community. We're going to be reaching out to our faith-based organizations, our local government and nonprofits and individual donors and say this needs to be sustained."
Campbell is worried that the number of homeless in region is likely to increase as we head into the winter season.
"I think we are going to see more folks outside than we have seen in years past. Because we were able to get them inside, it's going to be tough for those who have to live outside now."
Campbell said that they won't give up despite the odds. She said that just because people aren't inside doesn't mean that they are not going to keep trying to find permanent housing for the unsheltered who are often living in areas not meant for human habitation.
"So often," she said, "we are the Band-aid and the Neosporin."
The picture that each of us have of the homeless isn't necessarily accurate. It isn't the person panhandling in the medians in Waynesboro, Edwards said. Giving to that person helps that one individual.
"We would like to see that generosity coming to organizations who can better use those funds," he said.
Related stories
City moves forward on purchase of permanent homeless shelter property
Posted Thursday, Jun. 23, 2022, 4:32 pm
A look at the current state of homelessness in Virginia
Posted Wednesday, May. 11, 2022, 1:52 pm
Virginia to receive $1.6M HUD grant to combat youth homelessness
Posted Tuesday, Feb. 1, 2022, 7:03 am
Local efforts to reduce homelessness getting help from state grant program
Posted Friday, Jan. 14, 2022, 10:32 am
Virginia Housing Trust Fund awards $6M in Homeless Reduction Grants
Posted Monday, Mar. 22, 2021, 3:55 pm
HUD awards $31M to renew support to Virginia homelessness programs
Posted Monday, Feb. 1, 2021, 6:23 pm
Top 5 necessary things to give homeless people during COVID-19
Posted Thursday, Nov. 5, 2020, 9:04 am
Local agencies, businesses partner to provide motel rooms for the homeless
Posted Saturday, Apr. 18, 2020, 11:45 am  (
Shenandoah offers armory building for homeless shelter
Posted Friday, Apr. 17, 2020, 4:12 pm
Mary Baldwin University to house homeless during pandemic
Posted Sunday, Apr. 5, 2020, 8:42 pm
Emergency funding will help shelter Virginia homeless
Posted Friday, Apr. 3, 2020, 3:14 pm
Harrisonburg opens homeless shelter at JMU's Godwin Hall
Posted Tuesday, Mar. 31, 2020, 8:52 am
Northam announces $12M for 25 affordable housing, homeless reduction
Posted Friday, Jan. 24, 2020, 12:10 am
Shenandoah Valley homeless count conducted Jan. 22
Posted Thursday, Jan. 9, 2020, 8:38 am