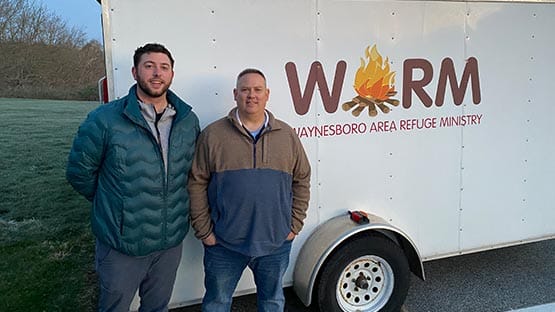 Waynesboro Area Refuge Ministry, Inc., better known as WARM concluded its Cold Weather Shelter on April 9. During the 20 weeks they were open, the organization served more than 150 of Waynesboro's homeless.
In total, 153 adult men and women stayed at the shelters for a total of 3,768 stays at shelter sites in Waynesboro and Augusta County.
In addition, 11,000 meals were provided by host churches, partner churches, restaurants, businesses and individuals. Snacks, water and clothing were donated during the season. Augusta Health also hosted two mobile clinics providing vaccinations and other preventative care.
Acting Executive Director and WARM board chair Brian Edwards said the season was a success.
Early on, Edwards had expressed fears that they might have to close the shelters due to church availability, funding and staffing issues. However, the organization with its partners persevered during the cold winter.
"Our faith-based community and other non-profits like Augusta Expo really stepped up to make this season a reality," Edwards said. "Our community of caring assembled quickly, so that we could provide shelter, meals and warmth to the homeless."
Due to space constraints and local fire and zoning regulations, some people were turned away from the WARM shelters this season.
The 2022- 2023 Cold Weather Shelter season opened on Nov. 21. This was the eighth year operating the ministry which runs from Thanksgiving to Easter.
WARM will continue to its other core ministry, the Ruth Van Cleve Anderson WARM House for Women and Children, year round as has since 2015.
Planning for the 2023-2024 Cold Weather Shelter has already begun.
"WARM's goal is to ensure that none of our neighbors should die cold and alone, ever," said Edwards.