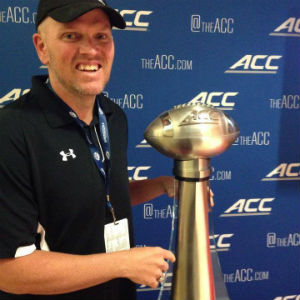 This isn't how it ends, #HokieNation, with a sea of empty seats in the fourth quarter at a home game, being relegated to mock-cheering a touchdown with a buck-thirty to go to avoid being shut out.
Oh, no. Not the end, not anywhere close. This is just the beginning of the end.
The end is fans who are so used to leaving early that they leave before they get there. (See: any 2014 UVA home game.) It's dressing up for games like you're going to a wedding and singing silly songs when your team scores because, what the hell, we're pretty much Eurofootball fans here, bored out of our minds, might as well sing!
The beginning of the end is you have a legendary coach who should be able to write his own obituary now the subject of whispers. Has the game passed him by? Should we blow this up and start over?
First George Welsh, now Frank Beamer. UVA fans couldn't stand that Welsh could only get to seven, eight, occasionally nine wins a year, compete every three or four years for an ACC championship, never win the really big game.
Fat and happy, then too fat, and less happy, you push the legend out the door.
Just a word of warning: that isn't going to go well. Virginia Tech football is a better job now than Virginia was in 2000, so the crop of candidates is likely to be top-shelf. Don't overlook the fact that Beamer, like Welsh, is special because he is the guy who built it.
The next guy at UVA, Al Groh, seemed a perfect fit: a Virginia alum with an NFL pedigree who talked the talk, saying you couldn't win championships until you said your aim was to win championships.
We're on our next next guy, so things don't always work out the way you want them to; the grass really isn't always greener on the other side.
This is Year 14 of the Great UVA Football Wandering. Y'all knew that; your team has won 10 straight in the rivalry game, if it can still be called that, and 14 of the past 15. Virginia has had two winning seasons in its past eight, one in its past six.
You guys have poked fun at us for years for how there are more of you than there are of us at the Tech-UVA games in Charlottesville. Somebody in your midst even had fun with our 2008 trip to the Gator Bowl, hiring a plane to make light of our "Virginia Pride" as the Hokies made another appearance in a BCS bowl game. (Classy, sure, but hey, pretty smart, give you credit on that one.)
Speaking for #UVANation, we forgive you your trespasses. We all know each other; some of us even intermarry (my hand is currently raised on that one). We sincerely want to help you cope with what will be a difficult time, these next 15 years or so, give or take.
You will get to a point where you decide that having a good time at the game includes catching up with friends, making sure you have good food, plenty of liquid refreshment and the like at the tailgate, that kind of thing, and then, win or lose, promising yourself that you're not going to get too high or too low, because likely it's going to be too low otherwise.
You'll realize in adopting this strategy that in so doing you're taking on spectator sports with a certain level of maturity that is probably appropriate anyway.
At the same time, yeah, it's because your team sucks so bad that you've lost all hope anyway, so what the hell?
The leaves are really pretty in the fall; you'll catch yourself wanting to drive around some Saturdays, for example, when Florida State is on the schedule, and take in nature's sights. The Blue Ridge Parkway is a wonder to behold, and pretty much in the dark from a radio and wireless Internet perspective, to help you avoid torturing yourself on the drive.
Sometime around the first of October, then, you can turn your attention to basketball season, which isn't that far away.
(Note to #HokieNation: this time of year can be especially depressing when you don't have basketball to look forward to. We recommend getting on that task stat.)
I wish we could help flesh out the end of the endgame to this end, but unfortunately for our side, it's not gotten to the darkest point for us, so we're not sure what the dawn of the new day looks like quite yet. Looks like we're going to be wallowing together in mediocrity for at least some undetermined time.
I will understand when some of you fight back against this diagnosis. No way we're as bad as UVA. This guy doesn't know what he's talking about.
We thought the same thing 15 years ago. George Welsh's last two seasons were 7-5 (1999) and 6-6 (2000). Virginia Tech's slide has 7-6 (2012), 8-5 (2013) and 4-4 so far in 2014, and with Frank Beamer's contract running through the end of 2018, well …
Just think of the money you'll save on season tickets.
– Column by Chris Graham