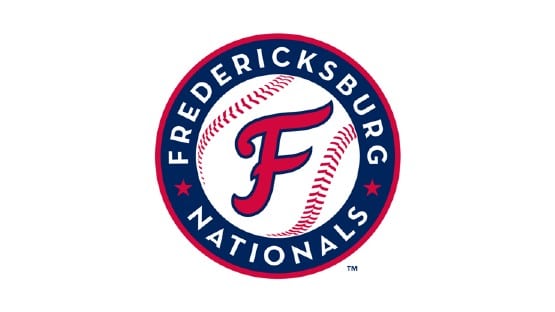 Armando Cruz delivered his third walkoff hit this season to lift the FredNats over the Lynchburg Hillcats 4-3 on Saturday night.
Lynchburg, the Low-A affiliate of the Cleveland Guardians, got a run across in the top of the first inning, against Luke Young. Guy Lipscomb opened things up with a single, then moved to second base on an errant pickoff throw. CJ Kayfus then slapped a single into right field to give the Hillcats a 1-0 lead.
The Freddies responded right away, as Elijah Nunez drew a leadoff walk, John McHenry reached on an E5, then Cristhian Vaquero moved Nunez to third with a sac fly. Fredericksburg then executed a double steal with runners on the corners, and Nunez was safe at the plate with the game-tying run.
After the first, the ballgame turned into a bona fide pitchers' duel between Luke Young and Lynchburg's Adam Tulloch. The Hillcat southpaw worked five full innings, allowing just the one hit and one run. And for Fredericksburg, Young hurled an absolute gem. The Texas-born righty worked seven innings, which is the longest appearance by a FredNat this year, and allowed two base hits and just the one unearned run, while striking out nine Hillcats.
After Young departed in the seventh, the FredNats lineup finally solved Lynchburg pitching. Marcus Brown walked to open the frame, then Cruz moved him to second base with a perfect sac bunt. After a strikeout, Geraldi Diaz punched a single into shallow right field to break the 1-1 deadlock.
Then in the bottom half of the eighth, Vaquero doubled, moved to third on a fielder's choice, and scored on a Cruz single to make it 3-1.
Lynchburg rallied in the top of the ninth. Lipscomb reached on an E3 with one out, then Jaison Chourio singled to put runners on the corners with one out. CJ Kayfus then flipped a single down the right field line to plate Lipscomb, pulling the Hillcats within a run at 3-2.
Nick Pogue induced a pop out for the second out, but then walked Jose Devers to load the bases, and then hit Angel Zarate to tie the game, and send it to the bottom of the ninth inning.
Fredericksburg got the bases loaded in the ninth, but could not bring a run across. On to the top of the 10th, where Bubba Hall kept the Hillcats off the board.
With Roismar Quintana placed on second base, Brown reached first on an E4 to move Quintana to third. Cruz then ended the ballgame with a single to right field, wrapping up a 4-3 win for the FredNats.
Hall got the win, while Wardquelin Vasquez suffered the loss.
In the series finale, Travis Sthele goes up against Alonzo Richardson.