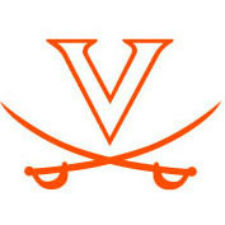 The Virginia women's tennis team opened the NCAA Tournament with a 4-0 win over youngstown state Friday (May 9) at Snyder Tennis Center.
The No. 3-seeded Cavaliers improved to 22-5 and will play Kentucky (17-11) on Saturday (May 10) in the second round with the winner advancing to the NCAA round of 16 next week in Athens, Ga. The Wildcats posted a 4-2 win over Columbia earlier today.
The win marked the 300th career victory for Virginia head coach Mark Guilbeau, who has guided the Cavaliers to their sixth consecutive NCAA Tournament and first ACC regular season and tournament championships in 2013-14.
"First and foremost, congrats to the girls and the effort they put forward today," Guilbeau said. "It's become a very business-like team and at the same time having a lot of fun. We've talked about having a purpose in practice and they've done that to the highest level. They've done a great job of valuing every match and we're getting to the point now where pretty much every point these kids are playing, they're giving one hundred percent. It's also fun to see them having fun out there and pulling for each other. I'm also impressed with youngstown state. They fought very hard and did some good things, and should be proud of their season."
Virginia claimed the doubles and point and received singles wins from Caryssa Peretz (Cherry Hill, N.J.), Rachel Pierson (Princeton, N.J.) and Stephanie Nauta (Galveston, Texas) in the victory.
The Cavaliers captured the doubles point with wins at Nos. 2 and 3. No. 7 Julia Elbaba (Oyster Bay, N.Y.) and Pierson blanked Annina Brendel and Nehel Sahni 8-0 on court one. The Cavaliers quickly clinched the point as Danielle Collins (St. Petersburg, Fla.) and Maci Epstein (Winter Park, Fla.) beat Marta Burak and Dominika Lackova 8-3 on court three. Nauta and Li Xi (Kunming, China) led Margarita Sadovnikova and Carolyn Jesko 6-3 on court one when UVa clinched the point.
Peretz gave Virginia a 2-0 lead with a 6-0, 6-1 win over Jesko on court six. No. 76 Pierson beat Brendel 6-0, 6-1 on court four and No. 53 Nauta clinched the win for the second straight match with a 6-0, 6-3 win over Lackova on court three.
The Cavaliers held leads on two or the remaining three courts as No. 4 Elbaba led Sadovnikova 6-2, 5-0 on court one and No. 32 Collins led Burak 6-3, 2-1 on court two.
First serve for the Virginia-Kentucky match is set for 3 p.m. Admission is FREE and live scoring is available at VirginiaSports.com.