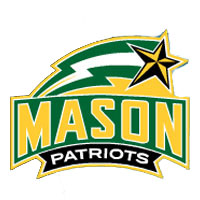 George Mason came up big at Saint Louis Sunday afternoon, notching its first Atlantic 10 Conference win and road victory of the season, defeating the Billikens 92-79.
For the second time this season, two Patriots recorded double-doubles in the same contest as both Marquise Moore and Shevon Thompson walked away in double-figures. Five Patriots overall finished in double-figure scoring numbers for the second time this season.
GAME NOTES
-Four lead changes and four ties encompassed the first half as Mason held the largest lead of seven points on two occasions. With Mason holding a seven-point lead with just over 14 minutes to play in the half, SLU used a 12-4 run over 5:42 minutes to reverse the deficit and takes its first lead, 21-20, with 8:16 on the clock.
-The Billikens would never hold more than a one possession advantage in the first half as Mason battled back, regaining a four-point lead three times before Moore hit a jumper with five seconds left to give Mason a 34-31 halftime lead.
-Moore led the Patriots through the first half with 11 points as Mason posted seven blocks in the half, tying the season-best overall. DeAndre Abram made three blocks in the period.
-SLU tied the game twice early in the second half, but Mason held strong and maintained its lead, pulling out to an 11-point lead, 57-46, on a Kameron Murrell three-pointer with 12:10 on the clock.
-The Billikens would cut the score to six points with just over five minutes to play, but Mason pulled back out to a double-digit lead and finished strong at the free throw line to close out the 92-79 victory.
-The win snapped Mason's four-game losing streak.
STAT BREAKDOWN
– Mason scored 18 points in the paint in the first half. SLU dished out 10 assists on 12 made field goals as the Billikens were led in scoring by Mike Crawford with 13 points. Mason shot 45.2 percent in the half to SLU's 32.4 percent.
-Shevon Thompson recorded his fifth double-double of the season and 21st of his career, finishing with 14 points and 11 rebounds. Marquise Moore notched his second career double-double and second straight 20-point game with 22 points and 10 rebounds.
-For the game, Mason shot 55.0 percent (33-60) and finished 19-of-22 from the free throw line (86.4 percent). The Patriots dished out 17 assists and recorded eight blocks.
-Saint Louis was led in scoring by Crawford with 22 points.
-Mason won the rebounding battle, 43-34, and hit seven three-pointers in the contest.
NEXT ON THE COURT
-Mason wraps up this two-game road swing at Fordham on Wednesday, January 20. Tip in the Bronx is slated for 7 p.m.