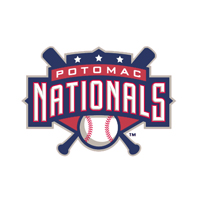 The Washington Nationals made official the assignment of the club's prized pitching prospects, RHP LucasGiolito and RHP Reynaldo Lopez to the Carolina League's Potomac Nationals.
Giolito and Lopez arrived to G. Richard Pfitzner Stadium Tuesday afternoon and are taking part in pre-game baseball activities in advance of the Potomac Nationals' home series opener against the Wilmington Blue Rocks (Kansas City Royals).
Giolito's talents made the ace the top ranked Washington Nationals farmhand by Baseball America and MLB.com in 2015.
Meanwhile, Lopez is logged as the number three BA prospect in Washington's system and the number four prospect in the organization by MLB.com.
Both hurling phenoms began the 2015 Minor League Baseball season at Washington Nationals Extended Spring Training in Viera, FL and will now enter the Potomac Nationals' starting pitching rotation.
Due to the fact both Giolito and Lopez hit their individual innings pitched caps last season, the Washington Nationals chose to supervise their progress at the team facility in Viera.
Lopez is set to receive his P-Nats debut on Wednesday, May 6th against the Blue Rocks while Giolito will be slotted in to make his first career Carolina League start on Friday, May 8th versus the Frederick Keys (Baltimore Orioles).
Giolito, 20, a native of Santa Monica, CA, was selected by the Washington Nationals in the 1st round of the 2012 MLB Draft with the 16th overall draft pick out of Harvard-Westlake School (Los Angeles, CA).
During high school play while Giolito was regarded as one of the most advanced prep prospects in the nation, his blistering fastball registered as high as 100 mph on the radar gun.
After undergoing Tommy John surgery in August of his draft year, Giolito flourished in stints with the Gulf Coast League Nationals and the Short-season A Auburn Doubledays in 2013, going a combined (2-1) on the hill with a 1.96 earned run average in 11 starts while fanning 39 batters in 36.2 innings pitched.
Giolito's repertoire includes a mid-90s overpowering fastball, a devastating down-angle 12-to-6 curveball, and a developing changeup that he continues to master with a lot of late sinking action which can be used as a "put-away" pitch.
In 2014, as Giolito was set for his first full-season in pro ball with the Class-A Hagerstown Suns, Baseball America recognized the six-foot, six-inch, 255-pound power righty for owning the "Best Fastball" and "Best Curveball" in the Washington Nationals Minor League system for the second straight year, and Giolito did not disappoint.
En route to claiming 2014 Washington Nationals Pitcher of the Year honors, Giolito hurled to a (10-2) record on the mound while maintaining an anemic 2.20 ERA and a 1.00 walks and hits per innings pitched ratio to complement a whopping 110 strikeouts and only 28 walks in 98.0 frames (20 starts).
At season's end, Giolito won the 2014 South Atlantic League Most Outstanding Pitcher Award and was ticketed as the South Atlantic League's "Top Major League Prospect" after dominating the circuit to the tune of a 10.1 strikeouts per nine innings ratio and a .197 opposing batting average against.
Giolito is still regarded to own the "Best Fastball" and the "Best Curveball" per Baseball America in the entire Washington Nationals Minor League chain.
Currently tabbed the number six overall prospect in baseball by MLB.com here in the 2015 campaign, Giolito has his sights set on his second professional full-season journey after standing out as one of the top Major League pitching prospects currently competing in the Minor League landscape.
Lopez, 21, of San Pedro de Macroris, Dominican Republic, is a fascinating flamethrower who enjoyed a breakout season in 2014 going a combined (7-3) on the mound with a 1.08 ERA in 16 starts between the Short-season-A Auburn Doubledays and the Class-A Hagerstown Suns.
Lopez logged a 1.92 groundball-to-flyball ratio and a 7.5 strikeout per nine inning ratio in 2014.  Lopez ranked as the number 49 prospect in all of Major League Baseball entering the 2015 slate after striking out 70 batters and walking just 26 men in 83.1 frames last year over two levels and allowing just one home run all season.
Following his '14 year, Lopez was rated by BA as the number three prospect in the South Atlantic League and the number two prospect in the New-York Penn League.
The dominant righty subdues hitters with an electric fastball that often sits between 96 and 99 miles per hour, a power curve with 11-to-5 bite, and a changeup that covets command.
Lopez stands at only six-feet tall, 185 pounds but maintains a free-and-easy delivery that appears to require little effort and he owns a career MiLB record of (8-5) to complement a 2.17 ERA in 23 appearances and 18 starts.
Lopez was sent down from Class-A Hagerstown in 2014 to Short-season-A Auburn to refine his front side follow-through to help him get on top of his heater before he flourished down the stretch helping Hagerstown to the 2014 SAL Playoffs.