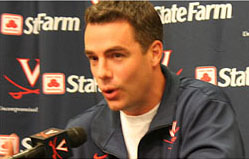 Sylven Landesberg – gone. Jeff Jones – gone. Sammy Zeglinski – injured.
If you've got a handle on the 2010-2011 Virginia basketball team, then you might want to give coach Tony Bennett a call, because he could use some help to that end.
"We're just trying to get our team as ready as we can with the number of new players and inexperience," said Bennett, whose roster features seven – seven! – freshmen as the Cavs prepare for their season opener Friday night at home against in-state rival William and Mary.
Bennett isn't "100 percent sure" of his starting lineup for William and Mary. Senior forward Mike Scott is a definite, and junior center Assane Sene probably gets the nod inside as well, but Bennett stressed that he'll be giving lots of guys looks both in the post and on the perimeter.
"We're trying to settle somewhat on a rotation, but that's difficult," said Bennett, who started Scott, Sene, senior Mustapha Farrakhan, sophomore Jontel Evans and freshman KT Harrell in Virginia's 82-50 exhibition win over Division III Roanoke College on Saturday.
Scott (16 points), Harrell and freshman Joe Harris (10 points each) led a balanced offensive attack that the Bennett system seems to favor. The balance could mitigate what appeared on paper to be a huge loss with junior point guard Sammy Zeglinski on the shelf following preseason ankle surgery. The surgery leaves Bennett with Evans and freshman Billy Baron as the only two true point guards on the roster, but the Bennett system doesn't rely on a pure point guard to initiate the motion offense, instead treating the two guard spots and the small forward spot as almost being completely interchangeable.
Evans struggled on the offensive end in 2009-2010, but "you know he's very good on the ball defensively," Bennett said, and as such can create some havoc on that side of the floor. Baron is more of an offensive weapon and has shot the ball well in practice and scrimmages, though he had some issues with ballhandling in the win over Roanoke College on Saturday.
"I want our point guards to be aggressive, but also be a steady hand. That will be important," Bennett said.
Story by Chris Graham. Chris can be reached at [email protected].