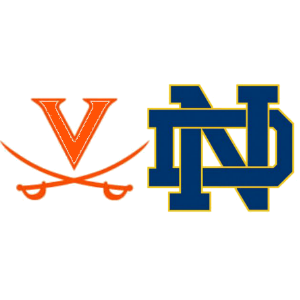 The No. 13 Virginia men's soccer team heads to No. 9 Notre Dame at 1 p.m. Sunday in a quarterfinal match in the ACC Tournament at Alumni Stadium in Notre Dame, Ind. Virginia is the No. 5 seed in the tournament, while Notre Dame is the No. 4 seed.
The advancing team plays either No. 1 seed Wake Forest or No. 9 Louisville at 7 p.m. Wednesday (Nov. 12) at the site of the higher seed.
Records
Virginia: 9-3-3 (ACC: 4-2-2/14 points)
Notre Dame: 9-3-5 (ACC: 4-2-2/14 points)
Broadcast Information
ESPN3 will provide a live online video stream. A link to live statistics can be located at VirginiaSports.com.
Virginia in the ACC Soccer Tournament
Virginia has an all-time record of 39-16-10 (.677) in the ACC Tournament. UVA has won a league-high 10 tournament titles (1988, 1991-95, 1997, 2003-04, 2009) and 15 championships overall. The Cavaliers have reached the semifinals in 25 of the tournament's 28 years.
Cavaliers Becoming Regulars in South Bend
Virginia has been a frequent visitor to South Bend since the Fighting Irish entered the ACC in 2013. UVA is making its fifth trip to Notre Dame in the past three seasons. The Cavaliers are 2-2 at Alumni Stadium, including a 1-0 win last year against the top-seeded Fighting Irish in the round of 16 in the NCAA tournament.
Virginia-Notre Dame: We Meet Again
ACC foes for just three seasons, Virginia and Notre Dame already are developing quite the rivalry. Virginia is 5-2-2 all-time against Notre Dame. The teams have met six times as ACC rivals, with an even 2-2-2 split.
They also are playing for the third straight year in the ACC tournament. UVa bounced the Fighting Irish from the 2013 tournament on penalty kicks (3-3 draw) before Notre Dame returned the favor in the 2014 quarters in South Bend (3-0 win).
Sept. 25: Notre Dame 3, Virginia 1
Virginia suffered its first defeat of the 2015 season on Sept. 25, falling 3-1 at then-No. 14 Notre Dame. Virginia had its 12-match unbeaten streak snapped, dating to its 2014 NCAA Tournament run.
Todd Wharton scored in the 79th minute on a penalty kick. The Cavaliers played with just 10 men for the final 20 minutes after Riggs Lennon was sent off after being shown a red card.
Notre Dame out-shot Virginia, 13-5, and put seven shots on goal to three for UVa. The Fighting Irish won six corners to two for the Cavaliers.
Noting Notre Dame
Notre Dame has outscored its opponents 33-15 this season, with Jon Gallagher boasting an ACC-best nine goals this season. Evan Panken is second in the league with eight assists. The Fighting Irish downed Pitt, 5-0, last Saturday at Alumni Stadium and boast a 7-1-1 mark at home this year, including a 4-0 mark in conference play.
Last Time Out: Virginia and UNC Play to Scoreless Draw
Virginia played No. 5 North Carolina to a scoreless draw last Friday (Oct. 30) at Klöckner Stadium. Prior to the match, UVA conducted Senior Day ceremonies for its quartet of fourth-years, Andrew Freschi, Marcus Salandy-Defour, Scott Thomsen and Todd Wharton.
North Carolina out-shot Virginia, 13-7, although Virginia put more shots on frame, 4-2. UVA recorded its second straight clean sheet and has not allowed a goal in 270 minutes, 31 seconds.
Virginia Extends Streak of Winning Seasons
Virginia has clinched its 35th straight winning season, the longest current streak in Division I men's soccer. It also is tied for the fifth-longest streak of winning seasons in NCAA history. UVa has won seven national championships during that span.
Cavaliers Battle Tested in Close Matches
Virginia knows a thing or two about close matches. Every match has been tied or within one goal at intermission. All 15 UVa matches have been determined by two goals or a draw – with just three by two goals. UVA has been up two goals in four matches (84:47 total) and trailed by two goals in two games (36:15 total).
Virginia No. 23 in Latest RPI
UVA ranks No. 23 in the NCAA's latest RPI figures (released Monday). Eight of Virginia's 15 opponents are ranked among the top 40. Notre Dame is No. 6 in the latest RPI.