Louisville quarterback Lamar Jackson is trying to do something that only one man has ever done before him, that is to become a back-to-back Heisman Trophy winner.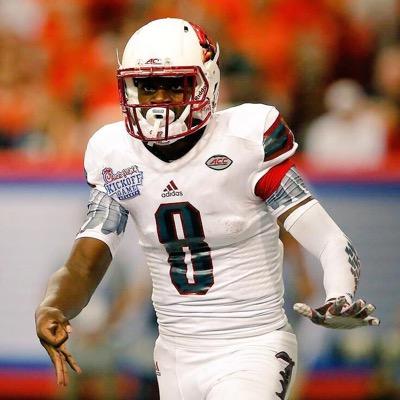 The junior is joining the likes of Matt Leinart, Johnny Manziel, Jameis Winston and Tim Tebow of quarterbacks that had the chance to be the first two-time Heisman-winning quarterback.
If you ask Jackson about the Heisman he has the same approach as he does last year: "Well, you know, I don't really worry about it. It's done. I have it. I'm going to every game trying to win it. I'm not worried about the Heisman Trophy or anything like that. I wasn't trying to win it last year. It happened."
Last year that approach earned Jackson a place in history as the first Louisville player to ever be awarded the Heisman.
Florida State head coach Jimbo Fisher, who was the coach of former Heisman Trophy winner Winston knows all about the difficulty it takes to win a second Heisman from seeing it with Winston himself.
"It is tough because people put some much expectations and they put so much clutter in your mind, there are so many things you got to do now and responsibilities and you got to go back and remember to play ball, and I am sure he will do that," Fisher said.
Last season Jackson threw for 3,543 yards, 30 touchdowns and nine interceptions. Jackson also ran for 1,571 yards and added another 21 touchdowns on the ground as well. With those numbers, you may not think there is a lot for Jackson to try and improve upon.
Louisville, however, is looking to make Jackson a better passer as now the team is starting to run plays under center in practice and are looking to make Jackson just as dangerous in the pocket as he is running all over the field. Coach Bobby Petrino thinks it will not just help Jackson but the team overall.
"We did work him more underneath the center. We wanted to get him comfortable doing that. In fact, the first week of spring ball we stayed under the center. He can really drop and throw it from under there," Petrino said.
Jackson believes that he is doing well with the transition.
"I feel like I am progressing well, I just can't wait for the Purdue game to show it to everyone," Jackson said.
Jackson believes the biggest part of the transition dealt with his footwork.
"You go to be fast under center, like I said before, if you do not get under center fast enough you will get stepped on, sacked by your own teammate," Jackson said.
Petrino also believes that Jackson's footwork under center has been going well through the summer.
"He also worked real hard on his footwork, making sure he gets set, gets his back leg under his hip, and when he does that and stands tall, he's a very, very accurate thrower," Petrino said.
Louisville is hoping all this work will help make him an even better passer and make the team a greater offensive threat in the fall.
Cardinals defensive back Jaire Alexander thinks Jackson looks even better in practices this year.
"Lamar defiantly is more accurate. He puts a zip on the ball sometimes that I do not even want to catch," Alexander said.
Continuing to show how Jackson has improved since last season. The one area of the team that may be the biggest question mark for Louisville and may make it hard for Jackson to repeat the success of this past season is the Cardinals offensive line.
Jackson was sacked 46 times last season, 22 of which came in the last three games, all of which the Cardinals lost.  Despite this Jackson still had confidence in his offensive line last year and still thinks the line will give him the time he needs to make the big plays in 2017.
"I was confident in the last year. Twenty-two sacks don't mean anything. Just keep moving on and now I am even more confident in them, they are bigger like I said before, and athletic they are moving around and know what they are doing," Jackson said.
The Cardinals will have three new starters on their offensive line that will hopefully give Jackson more protection this fall. Jackson will have plenty of opportunity to show his newfound skillset against quality competition this season with games with Florida State, and North Carolina State on the road and a big home match against Clemson.
Jackson is still improving himself as a quarterback passing, and we have all seen how dangerous running he can be.
If the offensive line gives him the time he needs this fall there is no reason to think that Jackson will not be in the Heisman race again and that Louisville will not be playing for an ACC title.
Story by Seth Megginson/Augusta Free Press