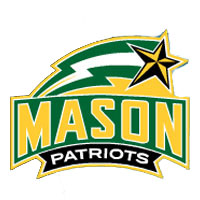 The George Mason men's basketball team will play 14 home games during the 2014-15 season as unveiled on Wednesday in conjunction with the Atlantic 10 Conference schedule release. The Patriots' 18-game conference schedule features nine home games and six televised games, including three in the Patriot Center.
The season kicks off with Mason hosting Cornell on Friday, November 14 in the Patriot Center. The Patriots cap off the season-opening homestand welcoming Princeton on Sunday, Nov. 16 before heading to the Puerto Rico Tip-Off Nov. 20-23. Mason will face West Virginia in the first round game on Nov. 20 at 7:30 p.m. on ESPNU.
Following the holiday tournament, the Patriots host Manhattan on Saturday, Nov. 29 before opening December with Old Dominion in the Patriot Center on Dec. 3. The Patriots will play their final game before the exam period on Dec. 6at northern iowa. After the break, Mason returns with a home game against Iona on Dec. 20. A pair of road games at wright state (Dec. 23) and Oklahoma (Dec. 31) will close out the non-conference slate.
Mason's second season in the A-10 gets underway on January 3 hosting La Salle in the Patriot Center. Mason will then travel to Richmond for a 7 p.m. tilt on Jan. 8 to be aired on NBC Sports Network. The Patriots return home for a Jan. 11matchup against UMass at 1 p.m. before beginning a two-game road trip at St. Bonaventure on Jan. 14. The Patriots and Bonnies will meet on neutral ground in Rochester at the Blue Cross Arena. Mason closes out the road swing at George Washington on Jan. 17. The contest at the Smith Center will be aired on NBC Sports Network with a 4:30 p.m. tipoff.
Following the tilt with GW, Mason faces the newest member of the A-10 as Davidson visits the Patriot Center on Jan. 24. A home contest with Saint Louis will follow on Jan. 29 at 7 p.m. on the A-10 Network. A trip to Duquesne closes out the month of January as the Patriots and Dukes square off at 7 p.m. on Jan. 31.
Mason faces VCU for the first game of the home-and-home on February 4 in the Patriot Center. The contest will be aired on CBS Sports Network. Back-to-back road games at Saint Joseph's (Feb. 7) and Davidson (Feb. 11) are followed by a three-game homestand featuring Richmond (Feb. 14) on Homecoming, Fordham (Feb. 18) and Rhode Island (Feb. 21). The Patriots visit Dayton on Feb. 25 and Saint Louis on Feb. 28 to wrap up the month.
The Patriots play their final two regular season A-10 contests against a pair of rivals beginning with a home game against local foe George Washington on March 4. The game is set for 7 p.m. on the A-10 Network. Mason's final regular season contest will be played at VCU on March 7 at 5:30 p.m. on NBC Sports Network.
All 14 teams will advance to the 2014 Atlantic 10 Men's Basketball Championship at Barclays Center in Brooklyn, N.Y. There are two first round games Wednesday, March 11, which air on SNY. Second round games will be played Thursday, March 12. The winners of those four games will advance to the quarterfinal round on Friday, March 13. Both the second round and quarterfinals air on NBCSN. Semifinal games will be played on CBS Sports Network Saturday, March 14 and the finals on NCAA Selection Sunday, March 15, which will air live on CBS Sports.
George Mason 2014-15 Schedule
Nov. 14                 CORNELL                                              TBA
Nov. 16                 PRINCETON                                        TBA
Nov. 20-23          at Puerto Rico Tip-Off                    TBA
Nov. 29                 MANHATTAN                                    TBA
Dec. 3                    OLD DOMINION                               TBA
Dec. 6                    at Northern Iowa                             TBA
Dec. 20                 IONA                                                     TBA
Dec. 23                 at Wright State                                  TBA
Dec. 31                 at Oklahoma                                      TBA
Jan. 3                     LA SALLE*                                            TBA
Jan. 8                     at Richmond*                                    7 p.m.                   NBC Sports Network
Jan. 11                  MASSACHUSETTS*                          1 p.m.
Jan. 14                  at St. Bonaventure*                       TBA
Jan. 17                  at George Washington*                4:30 p.m.             NBC Sports Network
Jan. 24                  DAVIDSON*                                       TBA
Jan. 29                  SAINT LOUIS*                                    7 p.m.                   A-10 Network
Jan. 31                  at Duquesne*                                   7 p.m.
Feb. 4                    VCU*                                                    TBA                        CBS Sports Network
Feb. 7                    at Saint Joseph's*                            TBA
Feb. 11                 at Davidson*                                      TBA
Feb. 14                 RICHMOND*                                      TBA
Feb. 18                 FORDHAM*                                        TBA
Feb. 21                 RHODE ISLAND*                               TBA
Feb. 25                 at Dayton*                                          TBA
Feb. 28                 at Saint Louis*                                   TBA
Mar. 4                   GEORGE WASHINGTON*             7 p.m.                   A-10 Network
Mar. 7                   at VCU  *                                             5:30 p.m.             NBC Sports Network
Atlantic 10 Championship (Barclays Center, Brooklyn, N.Y.)
Mar. 11                 Opening Round                                TBA
Mar. 12                 First Round                                         TBA
Mar. 13                 Quarterfinals                                     TBA                        NBC Sports Network
Mar. 14                 Semifinals                                           TBA                        CBS Sports Network
Mar. 15                 Championship Final                         1 p.m.                   CBS Sports
*Denotes Atlantic 10 Conference game
Home games in BOLD CAPS
All Times Eastern
Schedule subject to change