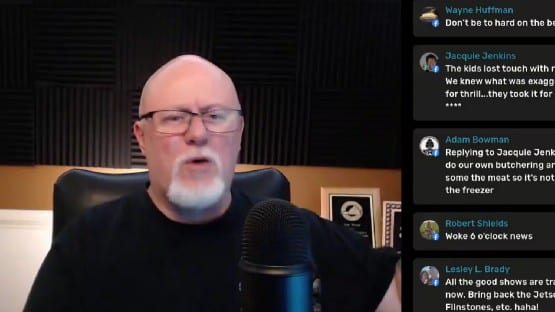 One Waynesboro City Council member, Terry Short, has called on Jim Wood, the city's vice mayor, to resign his Ward D seat, in light of his homophobic slur of Transportation Secretary Pete Buttigieg. Two others, Mayor Lana Williams and Kenny Lee, have suggested to Wood that he step down as vice mayor.
Wood had nothing to say to his fellow City Council members at Monday's business meeting after their statements on his hateful rhetoric.
Waynesboro resident Dan Sullivan, one of several speakers who addressed the issue with Wood later in the business meeting, has an idea as to why Wood kept silent.
"I know that Jim Wood has been shamed by what has occurred," Sullivan said. "He has taken down all the podcasts, and in the interest of transparency, he owes it to post them again, and make them available. Because they include a lot of gems, not just this one. One, like, the Jews own all the banks, I know that because all my Jewish friends told me that. And then a diatribe, that shows that he may not have the competence to be on Council, where he talks about the general orders, and says one of them is to obey all lawful orders. Which means to him that if he doesn't agree with the order, he doesn't have to obey it.
"I will tell you, that I'm greatly concerned that it will reflect upon the City of Waynesboro, if you continue on Council, Mr. Wood. I'm also embarrassed as a veteran that you did that," Sullivan said.
Wood, a prolific podcaster, did indeed remove more than two years of content from the interwebs, though not before private citizens were able to download episodes of his podcast, "The Liberty Room with Jim and Dwight," and his Facebook talk show, "Conservative Conversations."
Augusta Free Press has obtained digital copies of the downloads, and we're now working to transcribe the content, to be able to fact-check the claim by Wood and his supporters that his slur of Buttigieg, whom Wood referred to as "ol' Pete Buttplug, or whatever his name is" on his Feb. 15 "Conservative Conservations" talk show, was made in jest and otherwise out of character.
We already know that Wood and his podcast co-host, Dwight Williams, tried to cast the politically motivated hammer attack on Paul Pelosi, the husband of then-House Speaker Nancy Pelosi, as a gay lovers' spat in a Nov. 2 episode of "Conservative Conversations," with Wood punctuating a long diatribe on the attack with a tasteless joke.
"The best dad joke I've heard in a while has been floating around today, said right before that incident, you know, Nancy Pelosi, she texted Paul to say, I hope you're not drinking and driving. And the reply was, No, I'm just staying at home getting hammered," Wood said on the Nov. 2 talk show.
In a live video posted on Jan. 6, 2021, Wood offered his thoughts on the attack on the U.S. Capitol by supporters of then-President Donald Trump, telling his viewers, "I didn't say we wouldn't win without violence. Because I promise you, sometimes it comes to that. Absolutely, it comes to that. Find a way to get myself shut up off of Facebook by promoting violence, but I'll tell you what, you get to a point where it will happen, it will happen, and it will happen honestly."
He added later: "I'm on the side of the patriots who marched on the Capitol today. … I wish I could have been there today."
The pro-insurrection and pro-political attack rants being what they are, the slur of Buttigieg, a former Navy intelligence officer who came out as gay in 2015 during his successful run for re-election as mayor of South Bend, Ind., stands to impact the city's ability to win approval for a federal transportation grant needed to jumpstart a project to connect Waynesboro to the Claudius Crozet Blue Ridge Tunnel.
Two days before the talk show slur, Wood's name appeared with others from Waynesboro City Council on a letter formally signed by Mayor Lana Williams addressed to Buttigieg asking the transportation secretary to give his backing for the federal grant.
"As a proud and resilient post-industrial community, the City of Waynesboro is at a crossroads in its examination of the new economy that we must deliver not only for Waynesboro residents, our region, but also for all Virginians," city leaders wrote to Buttigieg in the letter. "The successful award of the requested RAISE Grant will tremendously assist us in this endeavor, and provide a meaningful transportation option for all Virginians."
The U.S. Department of Transportation is reviewing applications for the RAISE grants – the acronym is short for Rebuilding American Infrastructure with Sustainability and Equity – this spring, and final grant awards will be made at the end of June.
AFP first reported on the Buttigieg slur on Feb. 17, two days after the podcast. It took Wood until Feb. 21, four days after the first reporting from AFP, and followup reports that ended up making national headlines, for him to issue an apology, which made reference to the "constant political attacks and threats on me by certain groups have been nonstop since the election," an apparent attempt to deflect attention from the hate speech to his critics.
"I am honestly sorry that my words were hurtful to some, but I hope people take the time to see through the 'political theater' to know that I have nothing but the best of intentions and will put forth my best efforts for the future of Waynesboro," Wood said.
That half-hearted effort at an apology may not be enough to keep the heat off Wood, as was clear at this week's City Council business meeting.
"I want to say to the Council members, thank you for giving your honest opinions of what you're thinking of the situation," city resident Marcia Geiger said. "And I would say that I am going with Mr. Short's recommendation here, that Mr. Wood resign from this Council. It is way too important for the city to move forward, and you will not be moving forward in the right way with him on Council."
"I want to thank Council for making the statements they did in the opening of this meeting. I particularly want to thank Terry Short for his position," Augusta County resident Randall Wolf said. "I hope that Councilman Wood considers that strongly and steps down for the sake of this community. A couple of weeks ago, I thanked a couple of the Council members for attending the YMCA vigil about hate. This is no different than that, than swastikas on a wall in our community. This is no different."