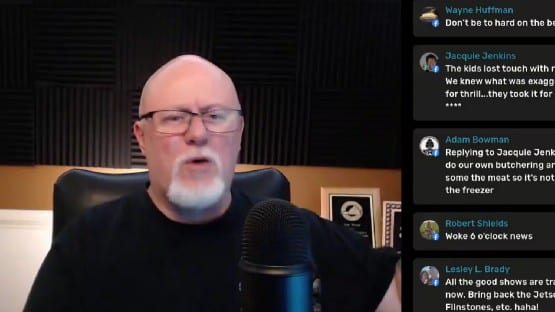 Nine people spoke in support of embattled Waynesboro Vice Mayor Jim Wood at Monday's Waynesboro City Council meeting.
One is a former Waynesboro Republican Party chair. One is the current city GOP chair, who also co-hosted a podcast with Wood for nearly two years.
One headed up the local GOP group's "Election Integrity Committee."
One donated money to Wood's City Council campaign.
One is an Albemarle County man known locally for standing at a busy Waynesboro intersection with signs denigrating Democrats and liberals, often with foul and misogynistic language, who was convicted in 2021 in Charlottesville for using one of his signs to attack a passerby.
The support for Wood, who faces calls that he step down from his City Council seat in light of his homophobic slur of Transportation Secretary Pete Buttigieg on a Feb. 15 Facebook talk show, didn't exactly feel, shall we say, organic.
And neither was it all about just supporting Wood.
No, there was an obvious effort by Wood's backers to use the platform to attack fellow city residents who think the slur crossed the line and should lead the vice mayor to step down.
"Sitting in the back and watching some of the behaviors of people, especially when people start preaching tolerance and inclusion and acceptance, and then they do anything but, it just reeks of hypocrisy," said Danny Ledford, the former Waynesboro Republican chair.
There was plenty of hypocrisy in the air at Monday's meeting, at which the Feb. 15 episode of Wood's Facebook talk show, which has since been deleted, along with videos and podcasts featuring Wood dating back to 2020, was center stage.
Wood, in the Facebook talk show, referred to Buttigieg, a former Navy intelligence officer who came out as gay in 2015 during his successful run for re-election as mayor of South Bend, Ind., as "ol' Pete Buttplug, or whatever his name is."
The slur was broadcast two days after City Council approved a request to Buttigieg for his approval of a federal grant that the city is seeking related to a project that would link Waynesboro to the Claudius Crozet Blue Ridge Tunnel.
Augusta Free Press was the first to report on the slur, which wasn't a one-off for Wood, who in a Nov. 2 episode of his talk show tried to cast the politically motivated attack on Paul Pelosi, the husband of then-House Speaker Nancy Pelosi, as a gay lovers' spat, claiming that the attacker, David DePape, "is a friend of Paul Pelosi and a male prostitute and advocate for Black Lives Matter and LGBTQ."
Pelosi suffered a fractured skull after being attacked with a hammer by DePape, which Wood referenced in a "dad joke" on the Nov. 2 talk show.
"The best dad joke I've heard in a while has been floating around today, said right before that incident, you know, Nancy Pelosi, she texted Paul to say, I hope you're not drinking and driving. And the reply was, No, I'm just staying at home getting hammered," Wood said.
AFP was also the first to report on those homophobic comments from Wood, for which he never offered an apology.
The attention to the Buttigieg slur did eventually lead to Wood, four days after the first reporting on the slur, to issue something he cast as an "apology" but was more a veiled political attack, this one aiming at his imagined critics, claiming that "constant political attacks and threats on me by certain groups have been nonstop since the election."
"I am honestly sorry that my words were hurtful to some, but I hope people take the time to see through the 'political theater' to know that I have nothing but the best of intentions and will put forth my best efforts for the future of Waynesboro," Wood said, by way of a supposed apology.
To Ledford, and others who spoke on behalf of Wood at Monday's City Council meeting, this tiny step in the general direction of "political theater" contrition is enough.
"Whether you want to accept Jim Wood's apology or not, the fact is, it was an apology, and it's not for me or anyone else to make you accept it," Ledford said.
Sheryl Carey, who was listed in 2022 as the chair of the Waynesboro Republican Committee's so-called "Election Integrity Committee," defended Wood by observing that "none of us are paragons of virtue, none of us, including me, has never had said anything wrong."
"And for everyone to come up here, the comment was wrong, I read in the paper, he apologized, it was taken wrong," Carey said. "We're not perfect. And it seems like everybody wants to just load on down on it. And it's just not right. It's like you're trying to drum up hate."
The Wood campaign donor who spoke, Craig Scott, who is also the vice chair of the Waynesboro Republican Committee, offered a series of odd off-topic observations about how the world is on the verge of World War III and "a great depression that'll make the 1930s look bad," and that the federal Department of Housing and Urban Development is "unlawful and unconstitutional," before finally getting to his point on Wood.
"I will quote one of our framers, a great man, because we have these lights on and liberty, he who dares not to offend cannot be honest. Let's stop the pearl clutching," Scott said.
The new Waynesboro Republican chair, Dwight Williams, who was the co-host of a podcast with Wood, "The Liberty Room with Jim and Dwight," and was a regular guest on Wood's Facebook talk show, took a different tack in his remarks on Wood, suggesting that he didn't think Wood even needed to apologize.
"He apologized to the entire community. Something he didn't have to do. Could have held the line, just not say anything, but he actually apologized," said Williams, who then parroted a line used by Wood in his initial defense of the Buttigieg slur, that it was "a play on his name only.
"When it comes to the term that he used, it was done in jest," Williams said, before using the remainder his three minutes at the speaker's podium to go on the attack against those who want to see Wood step down.
"We've got people that show up here specifically to divide. They were incited to come out," Williams said, apparently oblivious to the irony of being among a group of speakers who appeared to have been prearranged to speak on Wood's behalf.
"They were not here to support City Council or support Councilman Wood. They are here to divide. There are folks in this audience who I can also point out, I won't put their names out, some people behind me, they're probably laughing at me right now, that's fine, who have personally attacked Vice Mayor Wood online, defamed his name, and he has yet to return fire on them," Williams said.
Note that Williams said that Wood "has yet to return fire" on his critics.
That's either a threat, or a promise, right?
"The point of the matter is that he's apologized. It's time for us to move on. We will be less divisive. Let's end this right now," Williams said.
Related stories
Waynesboro City Council member asks Jim Wood to resign over Pete Buttigieg slur
Waynesboro mayor rebukes Jim Wood on 'Pete Buttplug' slur: 'No place in our City'
Waynesboro Vice Mayor Jim Wood offers half-hearted apology for 'Pete Buttplug' slur
Waynesboro vice mayor defends 'Pete Buttplug' slur of Pete Buttigieg
Waynesboro vice mayor hits Buttigieg with gay slur after asking for federal money
Waynesboro's vice mayor joked about the Pelosi hammer attack: How funny is it now?
Vice mayor's podcast critical of coverage of Waynesboro YMCA swastika incident
Waynesboro: The vice mayor vote, the swastikas on the mural, are part of a pattern
Waynesboro elects Facebook talk show conspiracy theorist Jim Wood vice mayor
Waynesboro: Don't vote in the MAGA guy who thinks it's funny to hit Democrats with a hammer
Waynesboro Republicans cast doubt, then joke about attack on Pelosi