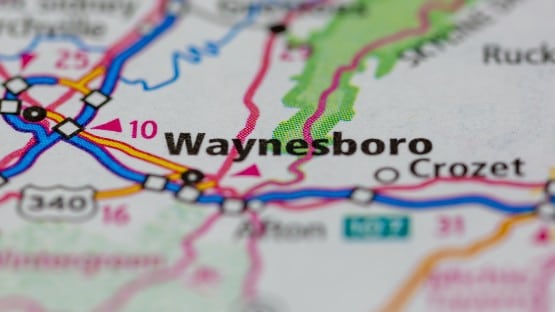 Waynesboro Mayor Lana Williams didn't mince words in a strong rebuke of Vice Mayor Jim Wood, who used a homophobic slur to refer to Transportation Secretary Pete Buttigieg on his Facebook talk show last week.
"As the Mayor of Council and a leader in our community, I cannot condone Mr. Wood's comments in the podcast. Although Mr. Wood was speaking as a private citizen, his comments have a negative impact on the City, its residents, and Council," Williams said in a statement.
"Mr. Wood's comments do not reflect the City or City Council. Nor do his comments reflect the policy of the City and Council to respect and be respectful of everyone and to treat everyone with compassion and dignity. Such language is just unacceptable in any context and has no place in our City," Williams said.
Wood, who was elected to City Council in November, and was elected vice mayor by his peers on City Council last month, referred to Buttigieg, a former Navy intelligence officer who came out as gay in 2015 during his successful run for re-election as mayor of South Bend, Ind., as "ol' Pete Buttplug, or whatever his name is," on his Feb. 15 Facebook talk show, "Conservative Conversations with Jim," which he has since deleted from his Facebook page.
The pejorative "Pete Buttplug" is used widely in far right conservative circles on social media and message boards to denigrate Buttigieg's sexual orientation.
The "Pete Buttplug" slur was not the first instance of homophobia from Wood on his Facebook talk show. On a Nov. 2 show, Wood asserted that the politically motivated home invasion hammer attack on Paul Pelosi, the husband of then-House Speaker Nancy Pelosi, was as a "domestic dispute" perpetrated by "a male prostitute and advocate for Black Lives Matter and LGBTQ."
"Both in their skivvies, and both had a hammer. Nothing to see here. Huh? How about that? Yeah. Yeah. Funny how that works," Wood said.
Later in his rant on the attack, Wood offered what he called a "dad joke."
"The best dad joke I've heard in a while has been floating around today, said right before that incident, you know, Nancy Pelosi, she texted Paul to say, I hope you're not drinking and driving. And the reply was, No, I'm just staying at home getting hammered," Wood said.
Wood, feeling the heat, issued a half-hearted apology on Tuesday that seemed to excuse his use of the slur by trying to reference what he claims have been "constant political attacks and threats on me by certain groups (that) have been nonstop since the election."
That may not be enough to soothe his relations with fellow City Council members, who, according to the mayor, are discussing their options for dealing with the fallout.
"Even if Mr. Wood did not mean for the comment to be interpreted as a slur, he should have at least recognized that others in the community would take his comment as a slur. Because it is a slur," Williams said. "As a representative of the people of Waynesboro, he should not be making comments that are insulting and demeaning to our residents. I have heard from many of those residents, and they are not happy. I understand Mr. Wood's 1st Amendment rights, but we as members of Council must hold ourselves to a heightened standard."
Related stories
Waynesboro Vice Mayor Jim Wood offers half-hearted apology for 'Pete Buttplug' slur
UPDATE: Waynesboro vice mayor defends 'Pete Buttplug' slur of Pete Buttigieg
Letter: Shame on Jim Wood for his hateful comments on Pete Buttigieg
Waynesboro vice mayor hits Buttigieg with gay slur after asking for federal money
Waynesboro's vice mayor joked about the Pelosi hammer attack: How funny is it now?
Waynesboro: The vice mayor vote, the swastikas on the mural, are part of a pattern
Waynesboro elects Facebook talk show conspiracy theorist Jim Wood vice mayor
Waynesboro is good at doing nothing: Now we have somebody who will blame it all on the libs
Waynesboro: Don't vote in the MAGA guy who thinks it's funny to hit Democrats with a hammer
Video: Waynesboro Republican clowns have a laugh over the attack on Paul Pelosi
Waynesboro Republicans cast doubt, then joke about attack on Pelosi