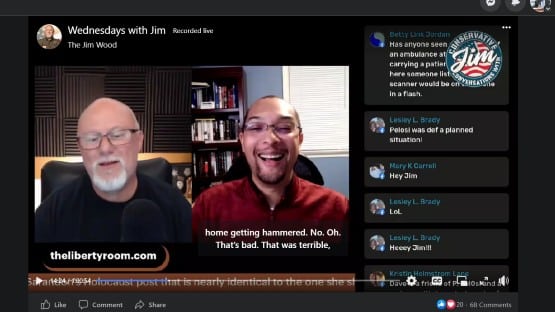 You may remember that Waynesboro Vice Mayor Jim Wood used the Oct. 28 attack on the husband of former House Speaker Nancy Pelosi as fodder for chuckles for his Facebook talk show five days later, on the eve of the 2022 city elections.
A California judge ordered the release on Friday of a recording of the 911 call made by Paul Pelosi and videos of the break-in by suspect David DePape, DePape violently attacking Paul Pelosi with a hammer and then his interview with police interrogators.
How funny is it all now, Mr. Vice Mayor?
Wood and Waynesboro Republican Committee chairman Dwight Williams had themselves a good ol' time during a rollicking back-and-forth on Wood's Facebook show on Nov. 2 in the aftermath of the attack on Pelosi, who is still recovering from injuries suffered in the attack, which included a broken skull.
"You know, it's funny how this all happened right before the midterms, right?" Williams said in the video. "I mean, here we are six days away, and now Paul Pelosi is having surgery over a hammer incident. I don't believe in coincidence. I think everything is planned when it comes to politics. Nothing is by chance. It's very interesting how I've heard multiple stories of how DePepe got into the house, whether it was he was let in, or he broke in."
Video from a security camera at the Pelosi home makes it clear that it was a break-in, showing DePape arriving at a back door to the home at 5:09 a.m. the morning of Oct. 28, putting on gloves, swinging a hammer at a door for about a minute, then stepping through a broken window.
Wood, who would go on days after his embarrassing Facebook meltdown to win the Ward D seat on Waynesboro City Council by a 17-vote margin over the incumbent, Sam Hostetter, first termed the attack a "domestic dispute" on the Facebook show, then took it to a whole 'nuther level.
"Dave is a friend of Paul Pelosi and a male prostitute and advocate for Black Lives Matter and LGBTQ, both in their skivvies, and both had a hammer. Nothing to see here. Huh? How about that? Yeah. Yeah. Funny how that works," Wood said.
Yeah, funny. Funny how the recording of the 911 call makes clear that Pelosi doesn't know the man who broke into his home, telling the emergency dispatcher as much, as he tried to relate the severity of the situation he was facing with DePape hovering nearby.
"This gentleman said that he thinks I definitely ought to – he's telling me to put the phone down and just do what he says. OK?" Pelosi said, as DePape tried to interject that he was a "friend of theirs," obviously catching on that Pelosi was on the phone with a dispatcher.
Wood, on his Facebook show, after having opined that the attack was a domestic dispute and then a lovers' spat, offered one more conspiracy theory – that Pelosi had made the entire thing up.
"You know, it's a wonder they didn't find Paul Pelosi laying in the floor with a noose around his neck with two white guys saying this is MAGA country, this is MAGA country," Wood said in the video. "I don't know, maybe ol' dad, maybe ol' Papa Pelosi, got a case of the juicy sommeliers. And, you know, I guess we'll see somewhere down the road. Maybe after the midterm elections. Maybe. I think this is something to stir a little crap, to get a little bit of attention."
The body-cam footage of the attack that Wood thinks is so knee-slapping hilarious is shockingly violent.
Officers knock on the front door of the Pelosi home, and when the door opens, are met with a confusing scene – the much-larger DePape and the 82-year-old Pelosi each holding on to a hammer, DePape with the obvious advantage, Pelosi just as obviously holding on for dear life.
One officer tells the men to drop the hammer. DePape replied, "Uh, nope," and overpowered Pelosi for control, then swung at him as Pelosi tried to lunge away from him.
Officers can then be seen making an arrest as Pelosi is sprawled out on the floor unconscious from the blow to the head with the hammer.
Keep that imagery in your mind when you reconsider the "dad joke" that Wood told on his Nov. 2 Facebnook show.
"The best dad joke I've heard in a while has been floating around today, said right before that incident, you know, Nancy Pelosi, she texted Paul to say, I hope you're not drinking and driving. And the reply was, No, I'm just staying at home getting hammered," Wood said.
The guy telling the joke, remind you, got elected by Waynesboro voters a week later, and not only that, three of the other four members of the City Council voted for him to be the city's vice mayor earlier this month.
That nobody here seems the least bit embarrassed by this says all you need to know about Waynesboro.
Related stories
Waynesboro: The vice mayor vote, the swastikas on the mural, are part of a pattern
Waynesboro elects Facebook talk show conspiracy theorist Jim Wood vice mayor
Waynesboro is good at doing nothing: Now we have somebody who will blame it all on the libs
Waynesboro: Don't vote in the MAGA guy who thinks it's funny to hit Democrats with a hammer
Video: Waynesboro Republican clowns have a laugh over the attack on Paul Pelosi
Waynesboro Republicans cast doubt, then joke about attack on Pelosi