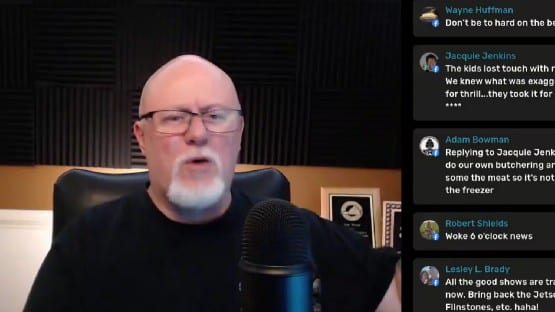 Waynesboro Vice Mayor Jim Wood is trying to say that his homophobic slur against Transportation Secretary Pete Buttigieg was actually a "play on his name only."
Wood offered this defense in a text to News Leader reporter Patrick Hite on Monday.
Augusta Free Press first wrote last week about Wood referring to Buttigieg in his Feb. 15 Facebook talk show as "ol' Pete Buttplug, or whatever his name is."
The Leader reported that Wood texted that him calling Buttigieg, who is gay, "Pete Buttplug" was "absolutely NOT a reference to (Buttigieg's) sexual orientation."
"It was a play on his name only," Wood texted. "His lack of action in helping people affected by the train derailment in Ohio was the topic of conversation. Nothing was said about his personal life."
Lost in translation here is how "Pete Buttplug" would be a play on "Pete Buttigieg," given that the pronunciation of the first syllable in "Buttigieg" is "boot," not "butt."
The pejorative "Pete Buttplug" is used widely in far right conservative circles on social media and message boards to denigrate Buttigieg, a former Navy intelligence officer who came out as gay in 2015 during his successful run for re-election as mayor of South Bend, Ind.
Wood, who was elected to Waynesboro City Council in November by a 17-vote margin over Ward D incumbent Sam Hostetter, made headlines in the days leading up to the election for homophobic comments directed at Paul Pelosi, the husband of then-House Speaker Nancy Pelosi.
Addressing the politically motivated home invasion hammer attack on Paul Pelosi on his Nov. 2 Facebook show, Wood asserted that the attack was as a "domestic dispute" perpetrated by "a male prostitute and advocate for Black Lives Matter and LGBTQ."
"Both in their skivvies, and both had a hammer. Nothing to see here. Huh? How about that? Yeah. Yeah. Funny how that works," Wood said.
Later in his rant on the attack, Wood offered what he called a "dad joke."
"The best dad joke I've heard in a while has been floating around today, said right before that incident, you know, Nancy Pelosi, she texted Paul to say, I hope you're not drinking and driving. And the reply was, No, I'm just staying at home getting hammered," Wood said.
Wood started broadcasting on his Facebook page in March 2020, during his first campaign for a seat on Waynesboro City Council, which came up short in the May city elections that year.
Most of the shows get in the area of a few dozen to a little over 200 views, according to data from his Facebook page – with the Feb. 15 show, "Conservative Conversations with Jim," garnering 127 views at this writing.
---
UPDATE: Monday, 10:30 p.m. A reader noticed that Wood had removed the "Conservative Conversations with Jim" videos from his page sometime during the day on Monday, and a check of the page Monday night confirms that those branded weekly videos, dating back to January 2022, are no longer online. Other video content dating back to March 2020, including a live stream from Jan. 6, 2021, is still online at this writing.
---
Last week's show aired two days after Wood joined members of Waynesboro City Council in formally approving an effort to lobby the U.S. Department of Transportation, headed by Buttigieg, to back a federal grant for a project to connect Waynesboro to the Claudius Crozet Blue Ridge Tunnel.
Wood's name appeared on a letter signed by Mayor Lana Williams addressed to Buttigieg asking the transportation secretary to approve the city's request for funding from the Rebuilding American Infrastructure with Sustainability and Equity program to go toward the project.
"As a proud and resilient post-industrial community, the City of Waynesboro is at a crossroads in its examination of the new economy that we must deliver not only for Waynesboro residents, our region, but also for all Virginians," city leaders wrote to Buttigieg in the letter. "The successful award of the requested RAISE Grant will tremendously assist us in this endeavor, and provide a meaningful transportation option for all Virginians."
USDOT is accepting applications for the RAISE grants through Feb. 28, with review being done this spring, and final grant awards being made at the end of June.
Related stories
Letter: Shame on Jim Wood for his hateful comments on Pete Buttigieg
Waynesboro vice mayor hits Buttigieg with gay slur after asking for federal money
Waynesboro's vice mayor joked about the Pelosi hammer attack: How funny is it now?
Waynesboro: The vice mayor vote, the swastikas on the mural, are part of a pattern
Waynesboro elects Facebook talk show conspiracy theorist Jim Wood vice mayor
Waynesboro is good at doing nothing: Now we have somebody who will blame it all on the libs
Waynesboro: Don't vote in the MAGA guy who thinks it's funny to hit Democrats with a hammer
Video: Waynesboro Republican clowns have a laugh over the attack on Paul Pelosi
Waynesboro Republicans cast doubt, then joke about attack on Pelosi