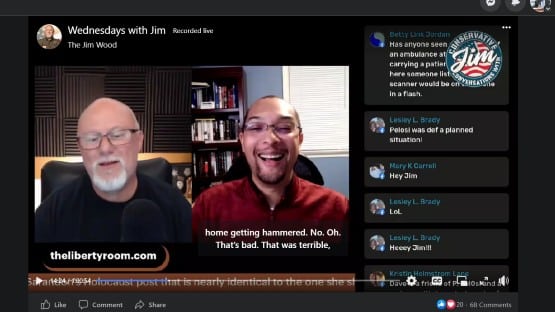 Waynesboro Republican chair Dwight Williams, speaking on a local politics podcast last month, didn't seem to think the incident in which a vandal painted a swastika on a Waynesboro YMCA mural, and how the incident fits into the city's uncomfortable recent embrace of racial and political hate speech, deserved the news coverage it was getting.
"I mean, it must be a slow news cycle there to cover this stupid stuff," said Williams, on an episode of "The Liberty Room with Jim and Dwight" podcast posted on Jan. 12.
Williams is the "Dwight" in "The Liberty Room with Jim and Dwight."
The "Jim" is Jim Wood, the vice mayor of Waynesboro.
The official position of their show, from what we can tell: news coverage of hate speech is bad.
If that's the kind of thing you want from a local politics podcast, you're out of luck, for the moment, anyway.
Wood and Williams had been podcasting together dating back to a debut episode of "The Liberty Room with Jim and Dwight" on April 28, 2021, but they're currently on hiatus.
'A play on his name only'
The reason for the hiatus: the controversy over the use of a homophobic slur by Wood in his Facebook talk show, "Community Conversations with Jim."
Wood, in the Feb. 15 episode of his Facebook show, referred to Transportation Secretary Pete Buttigieg, a former Navy intelligence officer who came out as gay in 2015 during his successful run for re-election as mayor of South Bend, Ind., as "ol' Pete Buttplug, or whatever his name is."
Wood, after the comment was first reported on by Augusta Free Press, and other local media outlets picked up on the original reporting, offered a half-hearted apology, saying the slur of Buttigieg was "a play on his name only," before appearing to try to justify the slur by referencing "constant political attacks and threats on me by certain groups" that "have been nonstop since the election."
Wood, who had been broadcasting far-right commentaries on a dedicated Facebook page since 2020, then deleted his talk shows, and made the Facebook pages for "Community Conversations" and "The Liberty Room" unavailable to the general public.
Wood is no stranger to self-generated political controversy. To wit, on the eve of the 2022 city elections, Wood pushed buttons on his Facebook talk show with his homophobic characterization of the attack on the husband of former House Speaker Nancy Pelosi, and in a video posted to his Facebook page on Jan. 6, 2021, Wood said he was "on the side of the patriots who marched on the Capitol today," adding later, "I wish I could have been there today."
It's a sign of where Waynesboro is politically that a guy with all of that on his resume could go on to be elected to Waynesboro City Council in November, which happened when Wood defeated the incumbent in Ward D, Sam Hostetter, by 17 votes.
Wood was then elected vice mayor by a 4-1 vote of his fellow members of the City Council in January.
Monday night, two of the four City Council members who voted him into the vice-mayor post, Lana Williams, who is the city's mayor, and Kenny Lee, who represents Ward C on the City Council, called for Wood to step down from the ceremonial position.
A third City Council member, Terry Short, who was the "1" in the 4-1 vote that gave Wood the vice mayor post, called on Wood to outright resign his City Council seat.
'There's a lot of support, a lot of people who think like we do here'
The still-unsolved swastika case that Wood and Williams spoke about in the January "Liberty Room" podcast was reported to Waynesboro Police on Jan. 9.
The mural, painted in 2020 by Richmond street artist Nils Westergard, was defaced in an act that Jeff Fife, the executive director of the Waynesboro YMCA, called a "hate crime."
Westergard himself had noted in a June 2022 interview with WMRA public radio's Randi B. Hagi that the race of the father and daughter depicted in the mural had been the source of unexpected controversy.
"People got kind of pissed in Waynesboro. People were complaining that it was like a Black Lives Matter mural or something," said Westergard, who is White.
Wood, in the Jan. 13 podcast discussing the hate crime, took issue with an editorial piece in AFP highlighting the growing racial tensions in Waynesboro being realized in the elections of Wood to the City Council seat and then the vice mayor post.
Noting the "good things about running for office," Wood said that he "got to meet a lot of people, and you know, and find out that there's a lot of support, a lot of people who think like we do here," but regarding the editorial piece, "this is the opinion of somebody who's never took the time to know me, never asked for an interview, never spoke to me, never reached out, an email, you know, nothing like that," Wood said in the podcast.
Note from the It Takes Two to Tango Department: Wood never reached out to AFP regarding his City Council campaign, which he launched early last year.
If he'd have asked, the interview would have been done.
It wouldn't have been chock full of softball questions, but it would have been done.
'People who know me know that I don't put up with that crap'
A little later in the Jan. 13 podcast, Wood cited the support of Lee, an African American, in the vote for vice mayor as evidence that his presence on City Council isn't about perpetuating hate.
"We've got a really good City Councilman here who is an independent, not a political guy, he's an independent. He also happens to be an African American, and you know, he's one of them who voted for me for vice mayor," Wood said. "So apparently, the people who know me know that I don't put up with that crap. So those who write that stuff, they can continue to write it, because the people who know me know different, and, you know, and we'll move forward, no matter how much he wants to move backward."
Lee, as noted above, called on Wood to step down from the vice mayor post.
This is what Wood had to say at Monday's City Council meeting on Wood.
"As an African American, I'm not immune to derogatory slurs used to describe people of color. Even serving in the armed forces for 28 years, I experienced this type of behavior," Lee said. "I want to emphatically state that I deplore any such behavior to any group. And I'm shocked, angry and sad that my colleague decided to use such a disparaging term against the LGBTQ community.
"It is difficult that we must address this tonight, rather than doing what we were elected to do. It is difficult that this will only create yet another opportunity to divide us, not unite us. It is difficult that Waynesboro has now made national headlines in a negative way," Lee said.
"It is difficult, but the right thing to do, that I ask my colleague to voluntarily relinquish the title of vice mayor," Lee said. "We all make mistakes, and forgiveness should be the order of the day. But Mr. Wood's comments, while not representative of Waynesboro or this Council, have clearly shown that the title of vice mayor should not be associated with his name."
Kenny Lee, remember, was one of the guys that Wood said was one of "the people who know me know that I don't put up with that crap."
It would appear that at least one person who Wood thinks knows him might know Wood better than Wood thinks.