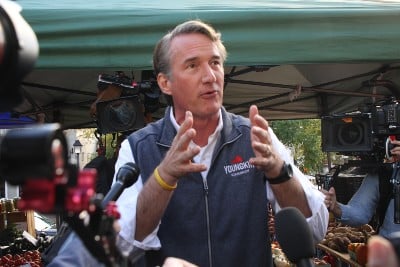 Gov. Glenn Youngkin claimed in a tweet on Tuesday that the Department of Justice had "labeled parents in Loudoun County as terrorists." Which isn't true: what Youngkin was referring to was a letter from the National School Boards Association to President Biden requesting federal law enforcement to counter "domestic terrorism" at school board meetings, not anything from the Department of Justice.
News reports on the September 2021 letter, predictably, led to a firestorm of controversy from the right, and was part of the patchwork of issues in public education that formed the foundation of Youngkin's upset victory in last year's gubernatorial race.
Which is what it is, but it wasn't the DOJ; it was the school boards association.
Sen. Tim Kaine called Youngkin out on the tweet in a Wednesday call with Virginia-based news reporters.
"That's just a lie. The Department of Justice never labeled Loudoun schoolchildren or their parents as domestic terrorists," Kaine said.
What Youngkin really getting at in the tweet was the FBI search of former president Donald Trump's Florida golf club in connection with the federal investigation into boxes of missing classified documents.
The governor called the search "a stunning move by the DOJ and FBI," and added that "selective, politically motivated actions have no place in our democracy."
Youngkin is presuming a lot there, most notably that the investigation into the missing classified documents is automatically "politically motivated."
The DOJ has been investigating the missing documents for several months, reportedly retrieving 15 boxes of White House documents from Trump's Mar-a-Lago estate in January, and seizing another 10 boxes of documents on Monday, after receiving a tip from an unnamed Trump insider.
One could forgive Youngkin for conflating the school boards association letter requesting federal help as having been from the DOJ in a hastily written tweet. Thing is, when reached for comment by the Times-Dispatch in Richmond, Youngkin's spokesperson, Macauley Porter, not only didn't offer an apology on behalf of the governor for the misstatement, but actually used the opportunity to attack Kaine for having brought it up.
"It's alarming that Senator Kaine doesn't think Virginians deserve an explanation from Attorney General Garland and the Biden Administration on the unprecedented raid of the private residence of a former president. His clear disagreement with many of his Democratic colleagues and Virginians is notable," Porter said.
Great job of not answering the question there.
And on the matter of Kaine being in "clear disagreement with many of his Democratic colleagues" demanding an explanation for the FBI search, who, exactly, would Porter be referring to there?
I get it; that's his job as a politics PR guy, to obfuscate.
Even so.
Youngkin, you may remember, is exploring a run for the 2024 Republican presidential nomination, touting as his main qualification that he was able to get elected in a Democrat-leaning state.
This is where things get tough for guys like Youngkin. He wants to be both the moderate who can get elected in a blue state, and a loyal Republican, which in 2022 means being a loyal member of the Trump cult.
He'll soon find out that by trying to be both, he'll end up being neither.