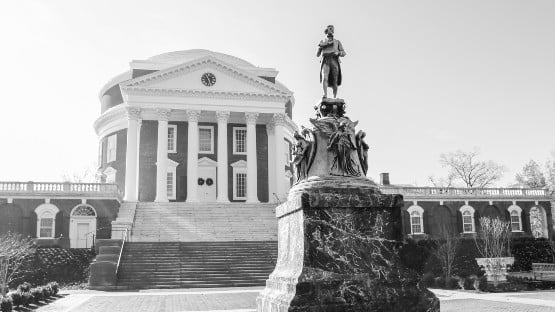 Seven percent of the undergraduate students at the University of Virginia are Black, up a tick from the 6.7 percent rate in 2020, when UVA President Jim Ryan convened a task force on racial equity that has come under fire from the far right, and under direct attack by Republican Gov. Glenn Youngkin.
Youngkin began his war on racial equity at the University last summer with his appointment of a far-right ideologue, UVA alum Bert Ellis, to the UVA Board of Visitors.
Ellis and Youngkin are the tip of the sword of a push from people on the far right who are concerned that Ryan's diversity, equity and inclusion efforts might one day move UVA to enrolling a student population that better reflects the state population, which is currently 20 percent Black.
Egads, indeed.
"Whether this is an effort to focus on the aspects of DEI that seem to threaten academic freedom and push toward ideological conformity, or whether it's an effort to turn back the clock to 1965 — it's hard to know," Ryan told The New York Times, hitting the nail squarely on the head.
Ryan's racial equity task force, appointed in 2020 in the aftermath of the murder of George Floyd, and the summer of protests that followed, recommended, among other things, that UVA double the number of professors from marginalized groups, increase enrollment of students of color, and contextualize its representation of Thomas Jefferson, the school's founder, the third president of the United States, the principal author of the Declaration of Independence, and a slaveholder who fathered children by one of his slaves.
The DEI push comes across to people involved in The Jefferson Council, a far-right group that claims more than 1,400 members, ironically, considering the source, "as really extreme," according to the group's executive director, James A. Bacon, who told the Times that the task force "laid out a whole vision for, in their minds, redressing past inequities in bringing a more woke regime to UVA."
Note the use of the term "woke" as a pejorative.
That's the racist dog whistle you just heard.
It's also where things are going, inevitably.
Youngkin gets to add four more appointees to the Board of Visitors in June. The Times reported that at least one member of The Jefferson Council is being vetted.
By next summer, the Youngkin appointees will control the BOV.
Don't let anybody tell you otherwise: that slight upward tick in the number of Black undergrads on Grounds, which is still barely a third of where it should be, based on the state's demographics, is what's under attack here.