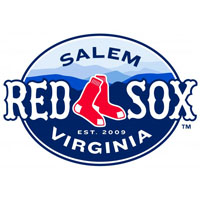 J.B. Wendelken (4-4) improved his record against Salem to 4-0 with seven superb innings as the Winston-Salem Dash took game one of the four-game set, 3-0.
Wendelken surrendered just three hits, walking one and striking out four Red Sox. The righty is now 4-0 in four starts against Salem, and 0-4 in five starts against the rest of the carolina league.
Cody Kukuk (1-2) picked up the tough luck loss for the Red Sox. Kukuk allowed 2 runs, just one of which was earned, and five hits in six quality innings of work. The lefty walked one and struck out five.
The Dash started their scoring in the 2nd. Grant Buckner reached on an error and came around to score after a Keon Barnum double and an RBI single by Joey DiMichele. Then in the 4th, the Dash scratched across their lone earned run off of Kukuk. Barnum reached on a walk, stole second, and scored on DiMichele's second RBI single of the night. The Dash's final run came in the 8th of Kyle Stroop. Jacob May led off the frame with a single. May reached 2nd on a balk by Stroop, stole third, and scored on a single by Buckner.
The Red Sox best chance to get back in it came in the 9th. Mario Martinez singled to lead off the final frame off of Brad Goldberg. Then Carson Blair doubled for the second time on the night, scoring Martinez. That prompted the Dash to bring in Brandon Hardin from the bullpen. He walked Aneury Tavarez which put the tying run on first. But Hardin retired Tim Roberson and Kevin Mager to pick up his second save.
Salem's second straight loss drops the Sox 5 games behind the Pelicans in the South Division. The Sox and Dash play a double header at LewisGale Field Wednesday night. Luis Diaz and Justin Haley will make the starts for the Sox. First pitch of game one is at 5:05