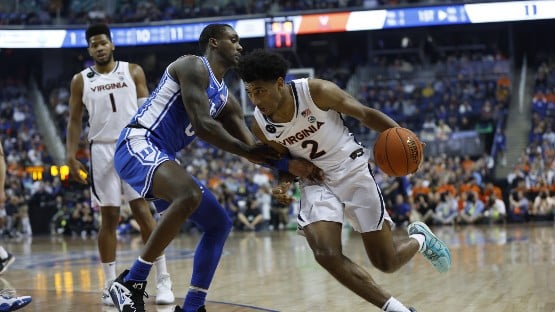 Virginia shot 51.8 percent in last month's 69-62 OT win over Duke, and if not for awful free-throw shooting – 3-of-12 in regulation, 9-of-22 for the game – it wouldn't have been close.
Something was missing Saturday night.
"We tried a few things, we just, when we played them at our place, we spread them out a little bit. And we're obviously a little bit different without Ben, but we've got to adjust to that," UVA coach Tony Bennett said after the 59-49 loss in the ACC Tournament title game.
The Cavaliers shot 33.3 percent and turned the ball over 12 times in the defeat on Saturday night, the first time this week that it looked like they missed starting center Ben Vander Plas, who broke his right hand in practice on Wednesday, and is out for the season.
Vander Plas, who averaged a modest 7.4 points per game this season, was able to stretch defenses with his perimeter shooting, creating creases that allowed guards Reece Beekman, Kihei Clark and Armaan Franklin to get into the lane for rim runs and kickouts to open shooters.
Vander Plas had 13 points in the Feb. 11 win over Duke, but his productivity had been on the wane as he tried to play through a back injury.
Bennett weaved his mover/blocker-sides offense back into the mix last week, the tweak helping the 'Hoos to regular season-closing wins over Clemson and Louisville, ahead of the bad news about losing BVP for the season to the hand injury.
The offense found a different gear in wins in the ACC Tournament over North Carolina and Clemson, but nothing seemed to work against Duke in the championship game.
Part of that was how the game was officiated. Duke's game plan was to fight through screens, and with defenders given a good bit of rope in terms of being able to put and keep their hands on Virginia's guards, there just weren't a lot of openings coming off screens, bogging down the whole operation.
Bennett finally changed things up late in the game, getting away from mover/blocker to try more of the middle screen and high screen action that he had favored earlier in the season, and it worked – Virginia shot 7-of-12 from the floor over an eight-minute stretch to cut the deficit to four inside of a minute to go, but the adjustment just came too late.
The focus now shifts to what's next: the NCAA Tournament.
For the issues on the offensive end, Virginia kept itself in the game with its work on defense, holding Duke to 42.2 percent shooting and forcing 11 turnovers.
As tough a night as it was, Virginia was still in it in the final minute.
That's the lesson to take to next week.
"The effort was there, and this was a good experience to be in, and let's use it, absolutely learn from it and get ready to play," Bennett said.