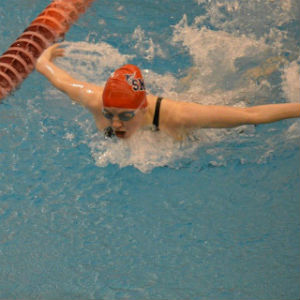 The Waynesboro YMCA Swim Team (SMAC) competed at the YMCA Long Course Nationals in Indianapolis, Indiana from July 28-Aug. 1.  Long course meets are swum in 50 meter pools – the same size that is used in the Olympics.  SMAC was one of 193 Y swim teams competing in the National Meet.  SMAC had it strongest showing in history scoring 82 total points and placing 22nd overall.
Congratulations to the following SMAC swimmers who qualified for meet and made the trip to Indianapolis to compete:  Jessie Arnold (17), Bobby Carey (16), Alexander Flowers (15), Colleen Higgins (16), Norah Hunt (16), Justin Merritt (16), Charlotte Rumsey (14), Remedy Rule (17) and Jake Zamalis (17).
The first day of the saw several new SMAC records set.  Arnold started off the record breaking session by dropping 2 seconds in the mile (17:11.64) and breaking the record she set last year.  Flowers then broke the SMAC record in the 800 free and mile, only to see his records broken shortly thereafter by team mate Bobby Carey.  Carey now holds the boys 15 and over record in the 800 (8:48.51) and mile (16:37.14).  Other highlights of the meet included: the girls 800 free relay finishing 8th  overall, Arnold finishing 4th in the mile, 7th in the 800, 8th in the 400 free and 12th in the 200 back, Hunt dropping 17 seconds in her mile to finish 11th and finishing 10 in the 800, Carey setting 2 new SMAC records and dropping time in every event, Flowers setting 2 new SMAC records even if only for a short time, Higgins swimming very fast relay splits, Merritt dropping time in the 50 fly, Rule coming from behind to help secure 8th place in the 800 free relay, Rumsey dropping time in her 200 free and competing at Y nationals at just 14 years old and Zamalis dropping time in all 3 of his breast stroke events.
SMAC has 3 swimmers with competitions remaining this summer: Kristen Wagner (12) is competing this week in the Eastern Zone Championships in Richmond VA; Rule is swimming at Senior Nationals in Irvine CA this week and Arnold travels to Hungary at the end of the month to race in the Junior World Open Water Championships.
The SMAC swim team is a Waynesboro Y program and practices are held at the Waynesboro Y, Augusta Health and Ridgeview Park Pool. The start of the season is right around the corner.  Anyone interested should contact Norm Wright, Director of Competitive Swimming at the Waynesboro Y at 942-5107 or email him at [email protected]
For more information about SMAC, please visit their website: http://www.smacswimming.org/