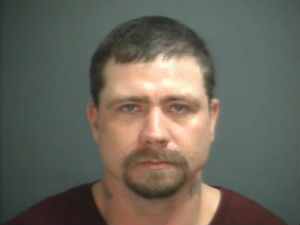 The Waynesboro Police Department arrested a Ruckersville man on multiple charges after a brief foot chase Thursday evening that ended near the Salvation Army.
On Thursday  at approximately 7:10 p.m., an officer went to a residence in the 300 block of Market Avenue to arrest Dennis Wayne Morris, 36, on multiple outstanding warrants from Greene County. The officer found Morris outside the residence cooking on a grill.  When the officer attempted to handcuff Morris, he broke free and fled. Minutes later, officers intercepted Morris in the alley by the Salvation Army on Arch Avenue where he was arrested without further incident.
Morris has been charged with the following:
Greene County
Trespassing, misdemeanor
Destruction of Property, misdemeanor
Violation of a Protective Order, misdemeanor
Probation Violations, felony
Resisting Arrest, misdemeanor
Morris is being held without bond at Middle River Regional Jail.