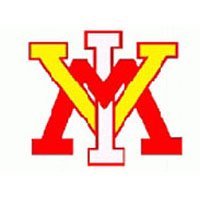 Jordan Tarsovich had the tie-breaking single in the sixth inning and the VMI bullpen held the Richmond Spiders to just two hits over the final six frames, sending the Keydets to a 4-2 win in non-conference baseball action Wednesday in Lexington. The win was VMI's (18-13) third consecutive midweek victory.
With the score deadlocked at 2 in the sixth, Thomas Stallings had a one-out single off Spider reliever Ray Harron. Drew Bryan followed with an infield hit, but Matt Winn flew out for the second out of the inning. Tarsovich then stroked a 2-2 pitch into right center for the go-ahead hit, and David Geary followed with a looping single to left to make it a 4-2 game and account for the final margin.
The two-run sixth-inning uprising made a winner of Taylor Edens (1-0), who allowed just one hit and struck out four in three sterling innings. Rian Ellis picked up his first collegiate save with a 1-2-3 ninth and Harron (2-1) took the loss for Richmond (14-16-1) after surrendering two runs on five hits over two innings of work.
Richmond got on the board in the first inning against Campbell Henkel. Tanner Stanley started the inning with a leadoff single and Tyler Beckwith followed with a double down the left field line. Doug Kraeger then had a RBI single, scoring Stanley for a 1-0 ur lead.
The Keydets tied it in the bottom half, as Tarsovich and Geary had back to back walks. Angus then dropped down a bunt single to load the bases, and Tarsovich scored on a wild pitch to tie the game, 1-1. ur starter Robbie Baker recovered however, striking out Eric Mayers and Red Dowdell before getting Will Connerley on a fly ball to escape the inning having allowed only one run.
ur took the lead in the second on a Stanley RBI single that plated Nick Poulos, and the Spiders held that 2-1 edge until the fourth. Connerley led off with a single and Stallings followed with a walk. Bryan bunted into a fielder's choice and Winn grounded into one as well, but with two down, Tarsovich drew a walk to load the bases.
Zach Grossfeld relieved Baker and immediately uncorked a wild pitch, allowing Stallings to score to tie the game, 2-2. That was the game's last run until the sixth, when the Keydets took the lead for good.
After VMI plated two in the sixth, Richmond got just one runner into scoring position against three Keydet relievers, as Miles McQuaig, Austin Heenan and Ellis combined to allow just one hit and post five strikeouts over the final three innings.
At the plate, both Tarsovich and Stallings went 2 for 3 on Wednesday night. Stallings is now 4 for his last 5 with a walk over the Keydets' last two contests. Stanley led Richmond by going 3 for 4 out of the leadoff spot.
Neither starting pitcher figured in the decision, as Baker went 3 2/3 innings for Richmond and allowed two runs on four hits, walking five and striking out three, while Henkel gave up two runs on five hits with five strikeouts in three complete innings.
With the victory, VMI goes to 13-4 at Gray-Minor Stadium this season, tying the home win total from all of last year. In addition, the Keydets are now 10-3 this year in games decided by two runs or less, and still have yet to lose a game in which they have the lead at the end of a complete innings this season.
VMI baseball will return to action Friday, taking on the high point Panthers in the opener of a crucial divisional three-game Big South series. First pitch in High Point, N.C. is set for 6 p.m.