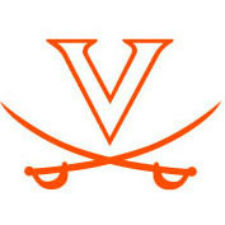 The UVA women's soccer team announced its 2014 schedule Thursday, which includes 11 home games at Klöckner Stadium and seven contests against 2013 NCAA Tournament teams.
"After a challenging and productive spring, we are looking forward to the fall season ahead and the opportunity to continue to improve as a program," said head coach Steve Swanson. "With the combination of our team, which includes an experienced core of returning players along with the addition of a large incoming class, the challenges of the upcoming schedule and the support of our fans, we are hopeful we can recreate the exciting atmosphere that was present at so many of our games last season at Klöckner Stadium."
Last season Virginia set school records with 34,616 total fans and an average attendance of 1,923 at Klöckner Stadium. The season produced the five-largest women's soccer crowds in school history, highlighted by the record 3,894 fans for the overtime win over No. 3 Florida State.
Two of the seven 2013 NCAA Tournament teams on the 2014 schedule, Florida State and Virginia Tech, joined the Cavaliers at last year's NCAA Women's College Cup. Four others, Boston College, Duke, Notre Dame and Wake Forest, reached at least the round of 16.
The Cavaliers will open the season with a three-game homestand. A first-ever match with Marshall will kick off the season on August 22. The following week, Virginia hosts Richmond on August 29 as part of a doubleheader with the men's soccer team, which opens the season that night against Old Dominion. The homestand concludes on August 31 against Villanova.
Virginia will travel to the state of Alabama for a pair of games to open September. On Sept. 5, the Cavaliers will play at Alabama and on Sept. 7 will play at Samford.
After the Cavaliers return from Alabama, they conclude the non-conference schedule with three home non-conference games, beginning with the Virginia Nike Soccer Classic on Sept. 12-14. Virginia plays Tennessee and Hofstra in this year's event, while Duke and Richmond will also be part of the tournament. The non-conference schedule concludes on Sept. 17 with a home game against Old Dominion.
The ACC schedule will consist of 10 games this season and opens on Sept. 20 when the Cavaliers host Miami. Following a home game with Wake Forest on Sept 25, Virginia will travel to 2013 NCAA runner-up Florida State and Notre Dame over the next two weeks. The Cavaliers have a pair of home matches in October, hosting Boston College (Oct. 9) and NC State (Oct. 12) before closing out the month with visits to ACC-newcomer Louisville, Duke and Virginia Tech. The regular season concludes on Nov. 1 as Pittsburgh makes its first trip to Klöckner Stadium.
This year's ACC Tournament will feature the top-four teams competing Nov. 7-9 at the WakeMed Soccer Park in Cary, N.C. The NCAA Tournament begins on Nov. 14 and runs through the College Cup on Dec. 5-7 in Fort Lauderdale, Fla.
Prior to the season, the Cavaliers play two exhibition games. On Aug. 15, Virginia will play Michigan State in Maple City, Mich. The Cavaliers return home for an exhibition game on Aug. 18 against VCU, which will have free admission.
Virginia returns five starters from last year's College Cup squad, including Hermann Trophy winner Morgan Brian (St. Simons Island, Ga.) and fellow All-Americans Makenzy Doniak (Chino Hills, Calif.) and Danielle Colaprico (Freehold, N.J.). Virginia went 24-1-1 in 2013, including a perfect 18-0-0 record at Klöckner Stadium.
Virginia soccer season tickets go on sale July 8, and offer the best value. Season ticket holders from last season will receive a renewal application in the mail. All other fans can order season tickets online, in person or by telephone. To purchase tickets online, visit VirginiaSports.com/Tickets. In-person purchases can be made at the Virginia Athletics Ticket Office in Bryant Hall at Scott Stadium on weekdays between 9 a.m. and 5 p.m. Telephone purchases can be made by calling 1-800-542-UVA1 (8821) or locally at 434-924-UVA1 (8821).
Women's soccer reserved season tickets are $45. Reserved season tickets were sold out in 2013 and these ticket holders will have the first opportunity to renew their seats. All new orders will be placed on a waitlist and customers will be contacted after the July 29 priority deadline regarding their status. General Admission season tickets, which include both men's and women's soccer home games, are available for adults ($40), Youth/Senior ($30) and UVa Faculty/Staff ($30).
Single-game tickets go on sale Aug. 7 and are $7 for adults and $5 for youth, seniors and faculty/staff. Group ticket orders of 20 or more tickets are $4.