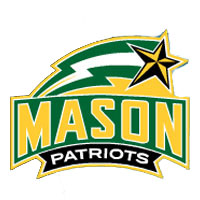 Rhode Island hit 12 three-pointers to come away with an 81-63 victory over George Mason men's basketball Tuesday night in the Ryan Center. Shevon Thompson finished with a double-double behind a team-best 17 points and 10 rebounds.
GAME NOTES
-URI opened the contest draining a trio of three-point attempts and led 10-6 following McGlynn's second trey of the night at 16:47. Mason tied it up twice immediately following, but after holding a two-point lead at the second media timeout, URI used an 11-5 run over three minutes to gain a 25-17 advantage with 8:47 on the clock, forcing Mason to burn a timeout.
-Following the timeout, DeAndre Abram scored five points to slice the deficit to six, but with URI leading by eight following the next possession, the Patriots answered with an 11-3 spurt of their own to tie the ballgame at 33-33 with 3:25 to play in the first half.
-The Rams hit a pair of treys in the closing three minutes and held a 41-37 halftime advantage after going 7-of-13 from three-point range in the half. McGlynn, who was 4-of-7 from the three-point arc, led all scorers at the break with 17 points.
-Abram opened the second half hitting a triple to cut the score to 41-40, but the Rams went on a 13-3 run over the next five minutes to gain a 54-43 edge and force the Patriots to burn another timeout.
-The Rams continued to connect from long range and extended their lead to 68-52 following Jarvis Garrett's fourth three-pointer of the evening at 9:59, marking the 11th trey from URI.
-URI led by as many as 24 in the contest and hit 12 three-pointers in the contest to close out the win.
STAT BREAKDOWN
-Mason finished 15-of-16 from the free throw line to shoot 93.8 percent, but it wasn't enough with URI hitting 12-of-21 three-pointers for a 57.1 percent efficiency.
-The Patriots won the rebounding battle 39-31 led by Thompson with 10 rebounds. Mason converted 12 offensive rebounds into 16 second chance points.
-For the game, Mason shot 36.1 percent (22-61) to URI's 53.3 percent (32-60). Thompson led the Patriots with 17 points followed by DeAndre Abram with 16 points.
-The Rams were led by Four McGlynn with 25 points (six three-pointers) followed by Jared Terrell with 19 points and Jarvis Garrett with 17. Hassan Martin led URI with seven rebounds. Garrett and Terrell each dished out five assists.
NEXT ON THE COURT
-Mason returns to Fairfax to open a two-game homestand beginning with Homecoming 2016 on Saturday, February 13 against Davidson. The Patriots and Wildcats tip at 4 p.m. in EagleBank Arena and the game will be broadcast on MASN.