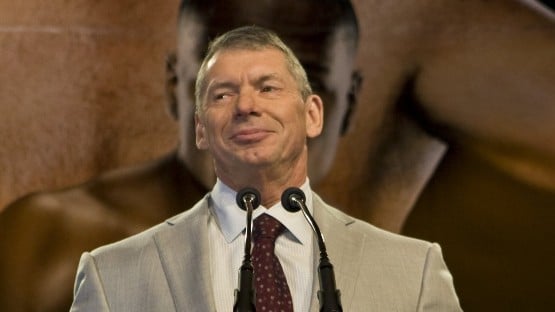 Vince McMahon reportedly wants $9 billion – yes, billion, with a b – for WWE, which is a full 50 percent over its $6 billion market cap.
This means one of two things: the Saudi Public Investment Fund is going to end up with WWE, or it ain't going anywhere.
Endeavor, the company that owns UFC, doesn't want in; neither does Comcast, the parent company of NBCUniversal.
It makes sense for Comcast, Fox and Disney, the parent company of ESPN, to stay on the sidelines, given that a huge chunk of WWE's revenues, and a bigger chunk of the profit margin, is tied up in media rights, which would only exist on the books if a content company were to end up controlling WWE.
The lack of interest from Endeavor is a sign that the marketplace feels the next round of media-rights deals isn't going to go well for WWE, which is currently bringing in around $450 million a year from its deals with NBCUniversal and Fox, but can't seem to get above the 2 million viewers a show range for its "Raw" and "Smackdown" products.
For comparison, AEW is getting $43 million a year for its "Dynamite" and "Rampage" products, which bring in about 35-40 percent of the viewership of the WWE weekly shows.
AEW is most certainly undervalued given its numbers, and will get a bump with its next media deals, but WWE is looking a bit overvalued, and is due for a market correction.
Which is why the companies that would have to be able to foresee return on investment for their $9B commitment are exiting stage left.
The Saudi Public Investment Fund may be the only player here at the $9 billion asking price. The Fund has shown a willingness to blow big wads of money on its new golf tour, which is almost certainly never going to make a dime, because it has different motivations than businesses that look at things like bottom lines and potential for profitability.
The interest of the Saudis is on what we've come to know as sportswashing, using their oil riches to buy media time in the U.S. and the West to cast the repressive Saudi regime in a more positive light.
The issue for the Fund would be the negotiations on a new TV deal with U.S. networks that may not want to be associated with the Saudis.
That was an issue for the new golf tour, for which the Fund had to barter time on the off-brand CW to get exposure on U.S. TV.
Which is why it wouldn't surprise me to see a third scenario to emerge: no immediate buyer coming forward, WWE going through as it is structured now with negotiations for a new TV deal, getting contracts signed, then making a sale to the Saudis once the deals would be done.
That may be the only way a Saudi-owned WWE would end up on mainstream U.S. TV, and how Vince McMahon gets his $9 billion asking price.
And you could assume that McMahon would be able to finagle remaining in control of the WWE product if the deal were to go down this way.
When this is all said and done, we may realize this was the way things were going to go all along.