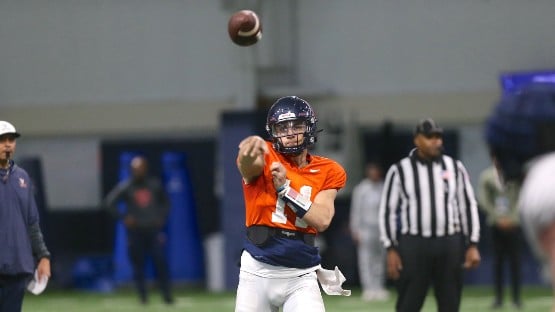 A year ago this spring, Tony Muskett was getting ready for his junior season at Monmouth, an FCS school that competes in the Big South, which he had led to a playoff berth in the 2021 spring season, and a 7-4 mark that fall.
The Hawks would go on to a 5-6 record in 2022, with Muskett, a native of Springfield, missing four games with injury, but he still put up solid numbers – 249.6 yards per game, 17 TDs, eight INTs, a 64 percent completion rate.
Muskett entered the transfer portal after the 2022 season in search of an FBS opportunity, and landed at Virginia, which may work out well for him, considering that the QB1 spot opened up with the departure of record-setting signal-caller Brennan Armstrong, and that Armstrong's two-year backup, Jay Woolfolk, is preoccupied this spring with his role as the closer for the seventh-ranked Virginia baseball team.
It very well could be Muskett's job to lose.
From the looks of it, he's putting himself into position to be the starter when Virginia opens its season on Sept. 2.
"He's been doing a good job of being what we thought he was, having a great presence on the field, and kind of, what we'd say, running the show, if you will, right, running the show from the quarterback position. He's got a lot of moxie, and he does a really good job of, the kids are attracted to him, so that's a plus," quarterbacks coach Taylor Lamb said.
Muskett came into winter conditioning at his new school with the mindset that "I have to come in, I have to show that I'm gonna be a hard worker, and I'm gonna do my job and do everything right," he told reporters last week.
Before he could be the guy commanding attention of his offensive teammates in the huddle, he knew he had to learn to "be a great team player, do everything right, and then you, little by little, I think you earn a little bit of respect."
Muskett has already earned the respect of the guy he's battling with for the QB1 spot, Woolfolk, who is limited in spring practice in terms of being able to take snaps and make throws due to his duties with the baseball team, but is around most days for meetings and non-throwing drills, and has been able to develop a bond with Muskett in the process.
"Tony is, you know, a really good guy, I like Tony. Tony's, you know, you can see like me and him building a relationship together," said Woolfolk, who said he thinks he and Muskett are "gonna become brothers more and more."
"We see each other every day. And then the other quarterbacks that were here last year, like Davis Lane and Jared (Rayman) and all of them, you know, we've been brothers since the summer. But yeah, so, me and Tony, we're, you know, we're building that relationship together, not just on the field, but off the field also," Woolfolk said.
Muskett's focus is on picking up the offensive scheme from Lamb and offensive coordinator Des Kitchings. He said the scheme is similar to the offense that he ran at Monmouth for three years, so that's a plus.
"I think, for the most part, I've got most of it down," Muskett said. "Obviously, I'm not perfect yet, so there's still room for improvement. So, you know, I can't get complacent just because I think I know this, or I think I know that. But it's been awesome working with Coach Lamb and Coach Kitchings. They've made everything very simple for me, very easy to, you know, transition the terminology back from Monmouth. I feel very comfortable."