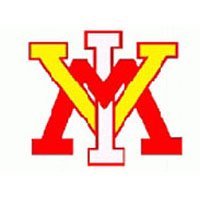 Senior guard Marcus Johnson hit a corner 3-pointer with  :18 remaining to help hold off a VMI rally as Samford outlasted the Keydets, 73-67, on the Bulldogs' Senior Day in Southern Conference basketball action Saturday afternoon at Pete Hanna Center.
The Keydets (7-19, 2-13 SoCon) had trailed by 15 points with 13 minutes remaining in regulation, but cut it to 69-67 when guard Q.J. Peterson converted a 3-point play with 1:36 left. An offensive foul by Samford's Wyatt Walker gave the Keydets possession and a chance to pull closer, but a 3-point try by Peterson missed with :49 left and Samford rebounded.
The Bulldogs looked inside on the ensuing possession but settled for a perimeter corner pass to Johnson who drained a 3-pointer from the left side with one second on the shot clock which pushed the Samford lead to 72-67. Peterson then missed an off-balance 3-point try on the ensuing possession and the Bulldogs rebounded and were fouled. Guard Christen Cunningham converted one of two free throws for the final margin.
Peterson, who torched Samford for 34 points in a VMI win over Samford in January, led all scorers with 33 points hitting 13 of 23 from the floor and draining five 3-pointers. Senior forward Phillip Anglade added 12 points and nine rebounds for the visitors before fouling out. Anglade, who hit double figures scoring for the sixth time over the last seven games, also blocked four shots to move into sole possession of third place in career blocks (187) on the VMI all-time list.
Samford (13-17, 4-13 SoCon) ended a three-game skid and placed five in double figures for the second consecutive game. Freshman forward Wyatt Walker scored 14 points and grabbed eight rebounds and guards Jamal Shabazz and Darius Jones-Gibson each added 13 points.
Samford outscored VMI 42-30 in the paint and outrebounded the Keydets 36-26. The Bulldogs shot 53.8% from the floor.
VMI shot 42.4% from the field and held a 13-9 advantage in points in the paint and 15-8 count in fast break points.
Samford took control early and led 19-14 following a Matt Rose free throw but the Keydets responded with a Julian Eleby layup and six straight points from Peterson to take their first lead at the 7:57 mark. The first half would see four lead changes and Samford led 38-32 at the break using full court pressure throughout  to force the Keydets into 11 first half turnovers.
The Bulldogs appeared on the verge of breaking the game open midway in the second half using a 7-0 spurt to take its largest lead of the game, 54-39, after a Walker layup. The Keydets later countered with a 12-2 run capped by an Eleby wing 3-pointer to pull the Keydets within 62-48 with 7:46 left and the game remained with a single- digit margin for the rest of regulation.
Junior forward Trey Chapman was held out of the starting lineup for the first time this season to rest a knee injury sustained in the Chattanooga game last Thursday night. Senior Jordan Weethee made his first start of the year at forward, but was limited to 16 minutes because of early foul trouble.
With their regular season road schedule completed, the Keydets return home to Cameron Hall next Thursday, February 25th for a three-game home stand starting with Mercer. Tipoff is 7 p.m. and it will be Hoops against Hunger night with fans that bring a non-perishable item receiving a $5 ticket to the contest. For order, go to www.vmitickets.com or call 540-464-7266.