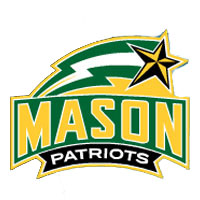 Sherrod Wright and Bryon Allen combined for 37 points as George Mason shot 56.3 percent from the field to sink Richmond, 69-60, Wednesday night and pick up its first Atlantic 10 victory at home. The Patriots led by 21 points at the half and scored 46 points in the paint.
Trailing by three early in the first half, Allen drained a triple to tie the game and spark an 11-0 Mason run as the Patriots led 15-7 at the 11:56 media timeout. Wright would open Mason's first double-digit lead with a bucket at7:05 as the Patriots would pull away from the Spiders and lead 37-16 at the half, the largest halftime deficit for the Spiders this season. Mason shot a 59.3 percent clip from the field in the first half.
Coming out of the first media break of the second half, Richmond used an 18-4 spurt to cut the score to 46-39 with 10:21 remaining. ShawnDre' Jones pulled the Spiders to within five, 55-50, using a jumper with just over five minutes to play, but Mason reopened a double-digit lead with five unanswered from Patrick Holloway. A bucket from Trey Davis with 48 seconds would be Richmond's final field goal as the Patriots finished 2-for-4 at the free throw line to cap the 69-60 victory.
Wright led Mason with 19 points, followed by Allen with 18. Holloway finished with 10 points. Led by Jalen Jenkins with nine rebounds, the Patriots won the battle on the glass, 35-33. Kendall Anthony led Richmond with 23 points and was 5-for-17 from three-point range. For the game, the Spiders were 10-for-30 from long range, marking the most 3-point field goal attempts by an opponent since northern iowa in 2011.
Mason returns to action on Sunday, March 2 making the short drive to george washington. Tip time is slated for1 p.m. on NBCSN as the Revolutionary Rivalry continues in Washington, D.C.