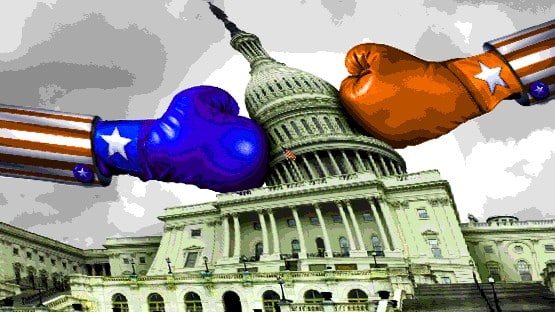 Democratic voters lean more to supporting Palestinians in the Israel-Gaza conflict. Republicans don't want more aid to go to Ukraine, so by extension, they're more in the camp of Russia in that one.
What a country we live in.
The numbers are from poll data released by Quinnipiac University on Thursday.
First, to Gaza.
The background there: Hamas, the terrorist group that has been terrorizing Gazans since coming to power in 2006, launched a series of terrorist attacks on southern Israel on Oct. 7 that killed 1,200 and resulted in the kidnappings of 240 more.
The overwhelming military response from Israel that Hamas leaders have said publicly they wanted so that they could get attention to their cause – their cause is the annihilation of Israel – has killed more than 11,000 Palestinians.
Democrats, by a 41 percent-to-34 percent plurality, say their sympathies lie more with the Palestinian side in the Israel-Gaza conflict, and a 60 percent-to-27 percent majority of Democrats doesn't approve of the Israeli response, according to the Quinnipiac University poll.
Again, Hamas attacked southern Israel on Oct. 7 and killed and kidnapped people hoping to elicit an overwhelming Israeli response.
Caught in the middle of Hamas and the Israeli government in this – innocent Israelis and innocent Gazans.
Republicans (80 percent-to-7 percent) and independents (48 percent-to-22 percent) say their sympathies are with Israel in the conflict; Republicans (73 percent-to-18 percent) approves of the Israeli government response, with independents disapproving by a 44 percent-to-40 percent margin.
Next, to Ukraine.
The background: Russia invaded in 2022, for no discernible good reason – Ukraine is becoming more Westernized, but it's hardly a threat to Russia, any more than Russia is a threat to itself, given who is in charge.
The U.S. and Western powers have been supplying Ukraine with arms and money in what is basically a proxy war between East and West.
Republican voters, spurred by right-wing media and GOP politicians, at the lead of the former president, well-known friend to Vladimir Putin, Donald Trump, don't like the continued U.S. support for Ukraine.
A reductionist way of looking at this: Republicans like them some Russian autocrats the way Democrats like them some Hamas terrorists.
I digress.
The Quinnipiac University poll has the numbers now at 59 percent of Republicans not approving of more military aid for Ukraine, and 37 percent opposing.
Democrats are firmly supportive, by a 77 percent-to-20 percent margin.
Independents are split 50 percent in favor, 43 percent opposed.
How much the independent split has to do with TV monitors at the gym playing Fox News on repeat would be a good question for a future poll.